Organic Mushrooms
There is not a big difference in how organic and conventional mushrooms are grown.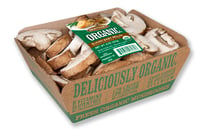 Mushrooms are grown indoors and the compost is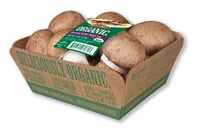 pasteurized prior to planting. Synthetic pesticides are not allowed in organic production. The main difference is the nitrogen used in the growing process. For conventional mushrooms, Urea, a synthetically produced input material is used for nitrogen. Organic mushrooms utilize fresh (or dried) chicken manure for nitrogen in phase 1 of the composting process. Compost is later pasteurized.

The organic mushrooms we grow are certified organic by the USDA. Look for the USDA symbol on packages of our biodegradable and recyclable tills.
Organic mushrooms are produced using methods that preserve the environment and avoid synthetic materials, such as pesticides and antibiotics. Our certified organic products are produced under the defined set of standards to produce organic food and fiber as determined by the United States Department of Agriculture (USDA).
For selection, storage, and care tips, click here.