Fresh Brown, Portabella, Baby Bella Mushrooms
Look out, meat-lovers! Brown mushrooms are hearty in taste.

Portabella mushrooms, a favorite of ours. Monterey Mushrooms® is known for popularizing the portabella, arguably the tastiest of all fungi. Their texture makes them a "burger" or "steak" to be reckoned with. Grill and serve this flavorful vegetarian alternative on toasted buns.mushrooms are grown similar to white mushrooms. The portabella is a mature baby bella. It's about three days older and is grown on a bed that has been thinned to allow the mushrooms to gain size. Portabella mushroom caps range in size from three inches to six inches in diameter.
Did you know: portabella and portabello are the same mushroom! West Coast chef's commonly refer to them with a 'a' at the end and East Coast chef's prefer portabello with an 'o'.
Monterey Mushrooms® Baby bella mushrooms are grown and harvested in the same manner as white mushrooms. The reason they have a darker color and slightly denser texture is that they come from a different strain of spores. The baby bella caps range in size from one inch to two inches in diameter.
Portabellini® mushrooms are in between a baby bella and a portabella in size. The portabelini caps range from two inches to three inches in diameter.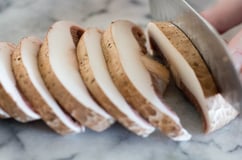 For selection, storage, and care tips, click here.