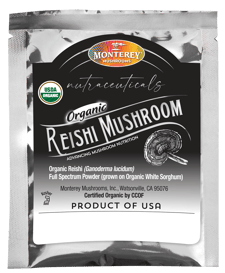 Food manufacturers have a new secret ingredient for boosting the health benefits of their products: nutraceutical mushroom powder.
Monterey Mushrooms® Nutraceuticals can be blended into a number of major food and beverage products — from smoothie boosts and protein-based shakes to chocolate bars and nutritional supplements — without compromising the taste consumers have come to love.
These powders also provide support for a healthy mind, energy, endurance and immune support, really boosting your Nutrition Panel.
Request a sample of Monterey's nutraceutical mushroom powder so you can evaluate how to incorporate it into your products.
Our non-GMO full spectrum and mycelium powders are a rich source of nutrients, including polysaccharides, beta-glucans, vitamins and minerals. We also offer high vitamin D Just Mushrooms(TM) powder.
All are grown, processed and packed in the United States— as well as certified organic by CCOF, and Kosher by KOF-K.