The Monterey Mushrooms® Story
Think Mushrooms… Think Monterey!
In 1971, Monterey Mushrooms® started as a single mushroom farm located in Watsonville, Calif. We've since expanded to 10 farms strategically located across North America. We provide all major US cities with fresh, locally-grown mushrooms year round.
Our Story
In 1971, Monterey Mushrooms® started as a single mushroom farm in Watsonville, Calif. The company has since expanded to 10 locations in the United States and Mexico and offers a variety of fresh and value-added mushroom products. Today, driven by the leadership and vision of President and CEO, Shah Kazemi, and the executive team, Monterey Mushrooms is the largest grower of mushrooms in North America.
Monterey Mushrooms is known for popularizing the portabella, arguably the tastiest of all fungi. Other extraordinary innovations include the company's mushroom washing processes, and a patented "sunlight" system that naturally enriches mushrooms with high levels of vitamin D.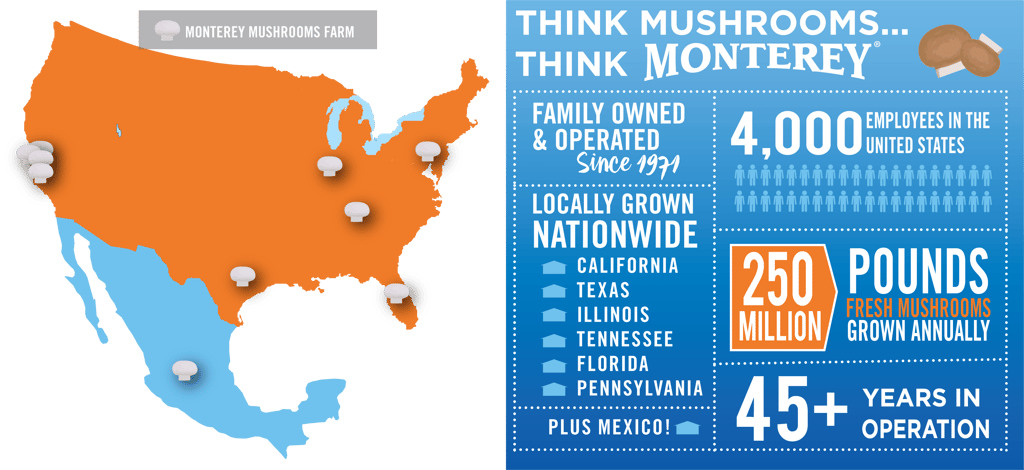 Monterey Mushrooms grows the finest quality mushrooms using patented spawn varieties and growing supplements. The company's farming and packing operations are strategically located to ensure that the freshest quality mushrooms are delivered to all major markets within three days of harvest.
The vision at Monterey Mushrooms is to be the best at delivering superior value to the people who enjoy its products. When it comes to people, quality, efficiencies, and customer service, the company strives to be the best, because that is what mushroom enthusiasts expect. The company is dedicated to providing wholesome food and healthy working conditions, while minimizing the impact on the environment.

Company President and CEO Shah Kazemi is devoted is to his family, employees and friends. Without people, an organization lacks the opportunity to be successful. His commitment to bettering the lives of the people around him is clear; he has awarded $2.7 million in scholarships to the children of Monterey Mushrooms employees.

Shah's son and company vice president, Kyon Kazemi, is following the entrepreneur path his father started more than 45 years. Kyon holds a degree in business and in culinary arts. He is a bonafide mushroom farmer and a key member of the company's executive team.
Read more