July 24th is National Lasagna Day— and we welcome you to celebrate this tasty holiday with the team at Monterey Mushrooms. We've chosen recipes with our favorite fungi to give your dish an extra savory taste!
Check out these three delicious mushroom lasagna recipes and get cookin'!
1. Blended Mushroom Lasagna Roll-Ups
Instead of wasting time prepping layer after layer in your baking pan, create neat lasagna roll-ups. Simply cook up your noodles, line your mixture and roll them up, for easy-to-scoop-out servings. This mushroom lasagna recipe blends healthy mushrooms, lean ground beef, and spinach to create a lighter-than-usual Italian meal. Of course, it doesn't skimp on the ricotta or mozzarella though and is smothered in well-seasoned sauce. Serve with a summer salad or your favorite red wine.
Thank you to The Mushroom Council for sharing this delicious lasagna recipe.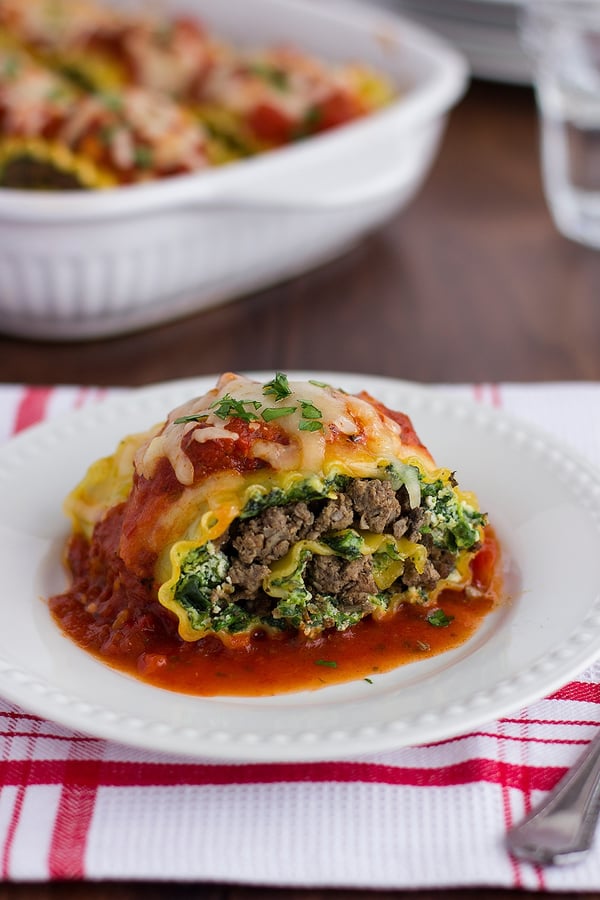 Ingredients
1/2 lb of finely chopped mushrooms, White or Brown
1 lb lean ground beef1 small onion, chopped
10 oz frozen chopped spinach, thawed, well drained
1 1/2 cup ricotta cheese
1 egg, lightly beaten
1 tsp Italian seasoning
12 oz lasagna noodles, cooked per package instructions
2 cups spaghetti or marinara sauce
1 cup shredded mozzarella
Ready to make a tray?
Head over to our recipe page for instructions.
2. Portabella Lasagna
Who says lasagna has to be slathered in tomato sauce? This recipe dresses your pasta with béchamel white sauce, made up of a mixture of creamy milk, smooth butter, and cheesy goodness. The sliced Portabellas give this meat-free dish a unique texture and savory taste, with fewer calories. Paired with a dash of ground nutmeg, olive oil and spinach, it's hard for vegetarians or alfredo-lovers to resist.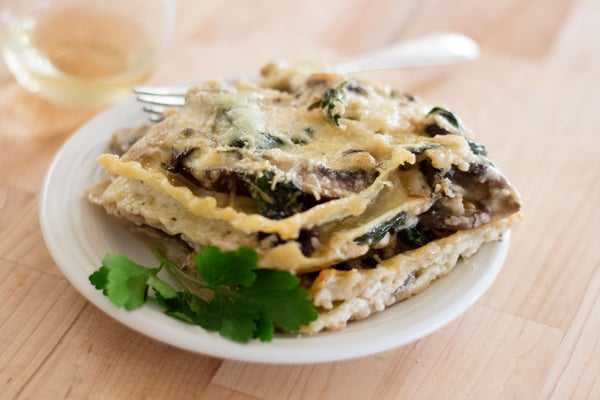 Ingredients
Kosher salt
Olive oil
3/4 lb dried lasagna noodles
4 cups whole milk
12 tbsp (1-½ sticks) unsalted butter
½ cup all-purpose flour
1 tsp freshly ground black pepper
1 tsp ground nutmeg
24 oz Portabella mushrooms (6 caps)
5 oz fresh spinach leaves
1 cup freshly ground Parmesan
Bake for 45 minutes and this creamy dish is ready to serve. Get the recipe on the Monterey Mushroom blog.
3. Mushroom Skillet Lasagna
Sub out the 13x9 pan for a hot skillet! This skillet lasagna is a hearty, steamy dish to serve on National Lasagna Day to impress any dinner guest. Dice up your favorite fresh mushroom variety in your food processor and mix it with classic lasagna staples: like onion, garlic, and tomatoes. The pecorino romano cheese and optional liquid aminos give this recipe its bold taste, adding extra creaminess and that "meaty" taste you love, without the beef.
Thank you to The Mushroom Council for this inspirational lasagna recipe.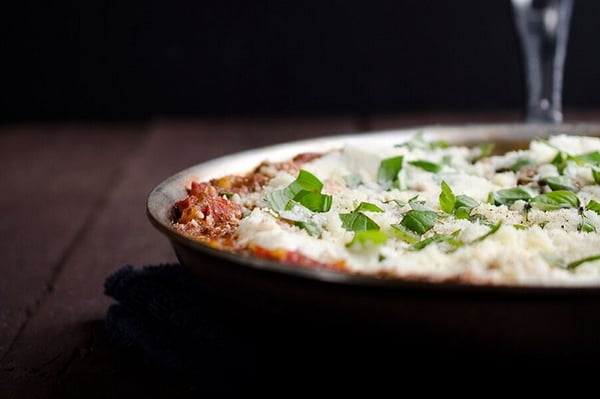 Ingredients
12 oz fresh mushrooms 1 tbsp olive oil, divided
1/2 tsp salt, divided
2 tsp Braggs Liquid Aminos
1 medium yellow onion, diced finely (approximately 2 cups)
3–4 garlic cloves, minced
1/2 tsp crushed red pepper flakes
14.5 oz canned diced tomatoes
8 oz canned crushed tomatoes
1/4 cup tomato paste
1 cup water
8 lasagna noodles, broken into squares
3/4 cup pecorino romano cheese, grated
1 cup whole or part-skim ricotta cheese
3–4 tbsp fresh basil, sliced thinly
Get the full cooking instructions on our blog.
Add a Few More Recipes to Your Book
If you think these mushroom lasagna recipes sound amazing, you'll love the dishes featured in our More Flavor, Less Guilt ebook. Enjoy 15 flavorful, healthy mushroom recipes, for free, by downloading the cookbook today.