August 19th is National Potato Day. You know what that means…. Unfasten that top button on your pants!
We tease; you don't really have to stuff yourself with that many potatoes. But this fun holiday is a good enough excuse for us to embrace a little starch.
Honor the beloved tater with these tasty potato recipes, all of which include savory mushrooms:
1. Blended Breakfast Hash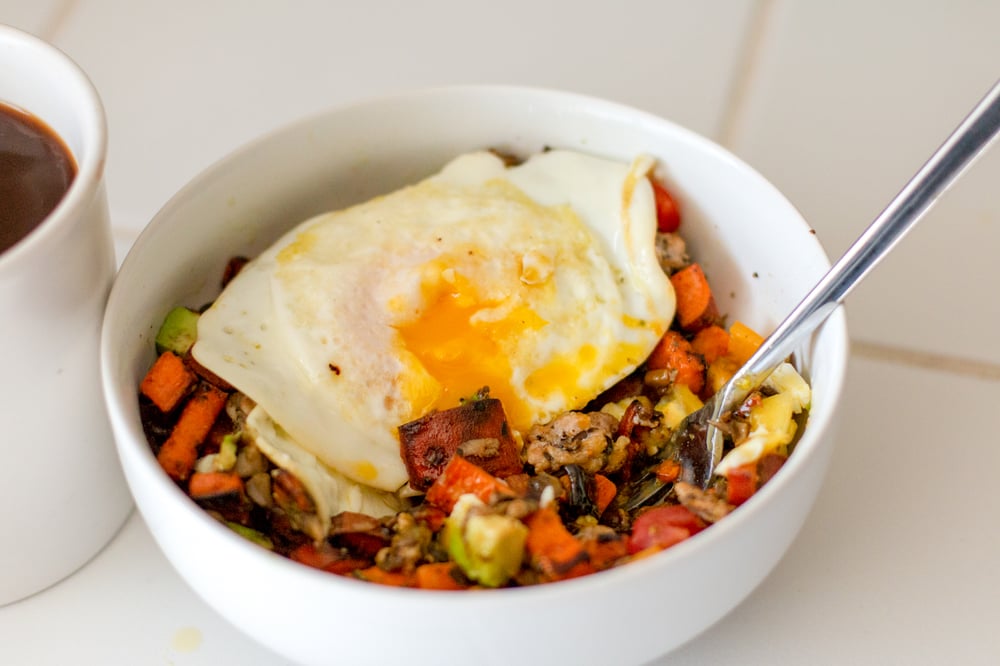 There's one thing better than a plateful of breakfast fixings: a BOWL full of breakfast fixings. Let all those tasty foods kiss for an incredible infusion of flavor in this breakfast hash recipe. Take a generous spoonful of slightly browned sweet potatoes, smokey sausage, and savory mushrooms. It's all blended with your favorite vegetables: bell pepper, onion and cherry tomatoes. Top it all with creamy avocado cubes and a steamy fried egg— and it sure beats a bowl of cereal any day.
Ingredients
8 oz mushrooms (any variety), finely diced
2 tsp Italian seasoning
1/2 lb ground pork sausage
1 medium sweet potato, diced
1 tbsp olive oil
1/2 cup green bell pepper, diced
1/2 cup onion, diced
1/2 cup cherry tomatoes, halved
1 avocado, diced
2 eggs
Eat all the potatoes your heart desires this National Potato Day, with the full recipe on the Monterey Mushroom's blog.
2. Blended Turkey & Mushroom BBQ Stuffed Sweet Potatoes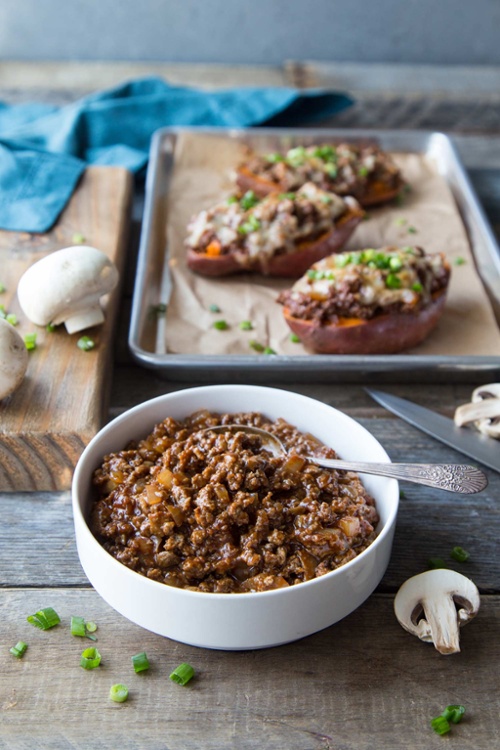 Pluck some plump sweet potatoes from your local farmer's market and save them for National Potato Day. These taters were born to be stuffed with a blend of White mushrooms and juicy ground turkey. This delicious combo will be seasoned with a tangy barbecue and topped with creamy cheese. Best of all, they only take about 15 minutes of prep. You can even skip the oven and microwave the taters to save time instead! Now that's what we call some "sweet" potatoes.
A special thank you to The Mushroom Council for this mouthwatering potato recipe.
Ingredients
4 large sweet potatoes (about 1 lb each)
16 oz White Button mushrooms
1 lb lean ground turkey
1 small yellow onion, diced
2 cups prepared barbecue sauce
2 cups shredded Monterey Jack cheese
4 green onions, white and green portion sliced
Discover the baking temperature and time by viewing the full recipe here.
3. Mushroom & Chive Potato Salad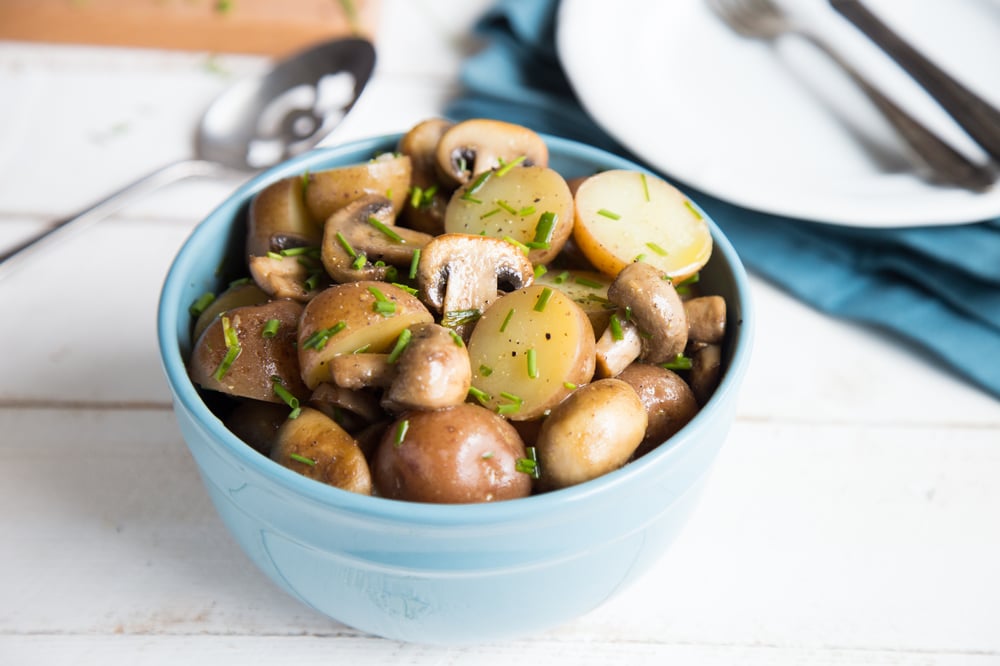 If all you have at home is a few red potatoes and mushrooms, you're in luck. This Mushroom & Chive Potato Salad recipe requires barely any special ingredients— it's all fixings you should have lying around. Boil the taters and dress them with tangy apple cider vinegar, brown mustard, and a little EVOO. A few pinches of salt, pepper, and chopped chives later, and you're celebrating National Potato Day right! We love this summer recipe for its cool and refreshing taste and for it's fewer calories than your usual mayo-laden potato salad.
We have The Mushroom Council to thank for this delicious potato recipe!
Ingredients
1 ½ pounds small red potatoes, halved
1 tbsp olive oil
8 oz White mushrooms, halved
Pinch of fine sea salt
Pinch of ground black pepper
Dressing
2 tsp apple cider vinegar
1 tsp brown mustard
¼ cup extra virgin olive oil
2 tbsp chopped chives
½ tsp fine sea salt, or to taste,
¼ tsp ground black pepper, or to taste
Check out how long to boil the potatoes and how to assemble this salad on our blog.
4. Portabella Fries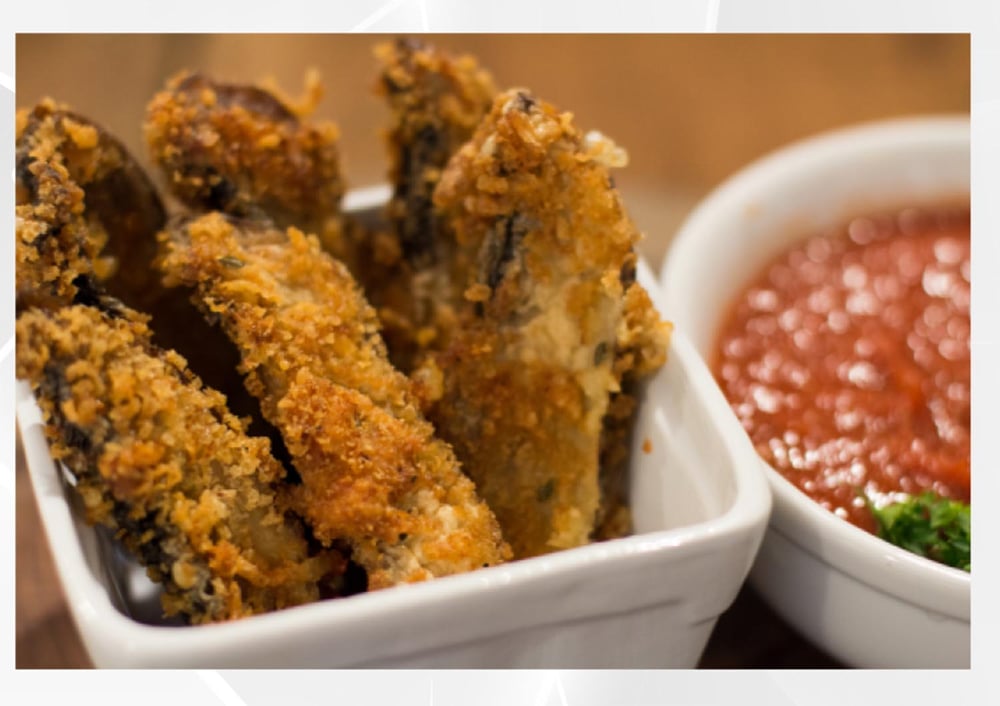 Okay, we admit it. These Portabella fries don't contain any potatoes: they're pure mushrooms! But you might be surprised by how well large Portabella caps can mimic the shape of baked or fried potato wedges. Cut your starch intake this National Potato Day with these Panko-coated mushroom fries. The rich natural umami flavor the mushrooms gives each bite a salty hit without needing to reach for the salt shaker! Enjoy the creamy Parm and fresh thyme in each crunch without the extra calories or guilt.
Ingredients
8 oz Portabella mushroom caps
1/2 cup flour
1 egg, lightly beaten
3/4 cup Panko bread crumbs
1/4 cup Parmesan cheese, grated
1/2 tsp fresh thyme leaves, chopped
Salt and pepper to taste
Once breaded, these Portabella fries only need to bake for 8-12 minutes. Get the directions here or watch our YouTube video.
Keep the Summer Fun Rollin'
We hope these starchy favorites inspired you to get creative with the humble potato this August.