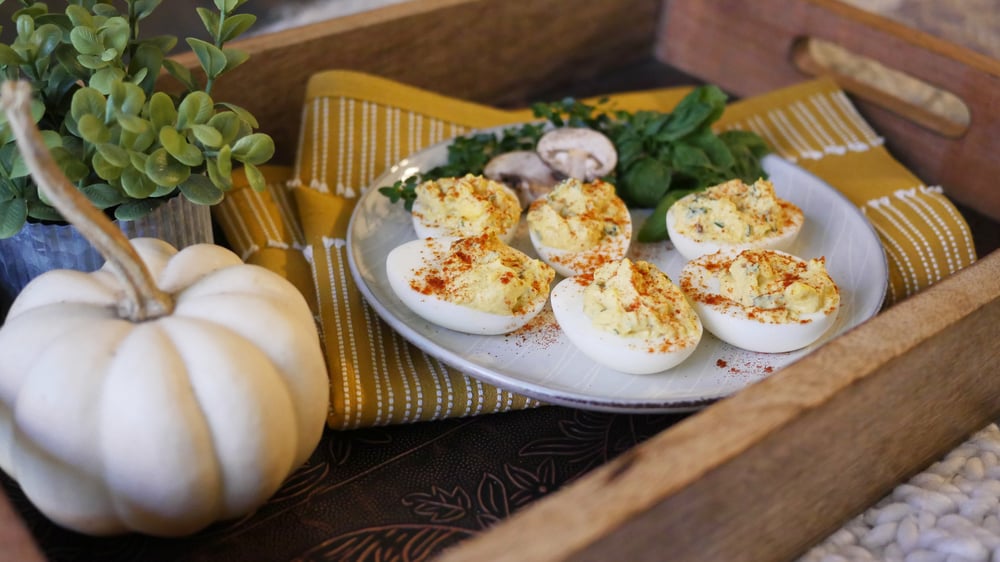 Be the talk of your next get together by stepping in with a tray of savory and creamy deviled eggs. This non-traditional take of your favorite finger food substitutes Greek yogurt for fattening mayonnaise, without sacrificing flavor. That's because it includes savory mushrooms and a myriad of fresh herbs to delight the senses, matched with a bite of paprika and garlic.
As if this deviled egg recipe wasn't unique enough already, it contains one "secret" ingredient: sweet relish. While commonly seen on hot dogs and other grilled meats, this pickled condiment isn't often found in deviled eggs— yet it gives this dish a tangy edge like no other.

We have Monterey Mushrooms' very own blogger, Jennifer Villa, to thank for this delicious creation. Jenn gave her family's long-standing recipe a special twist by adding fresh mushrooms— coining her new variation "De-VILLA'ed Eggs."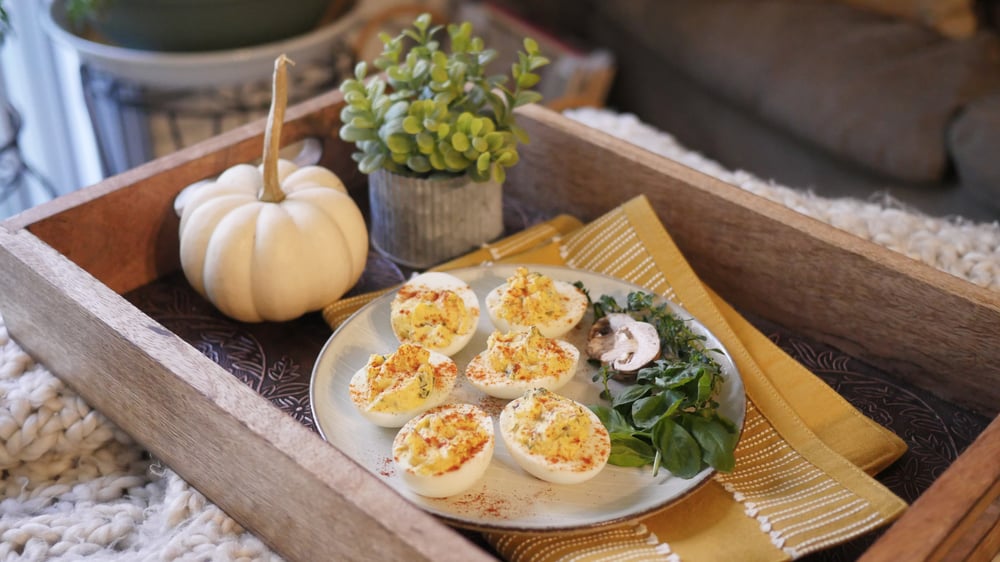 Ingredients
12 eggs
3/4 cup plain Greek yogurt (or mayonnaise)
1 tsp Dijon mustard
1 tsp ketchup
1-½ tbsp Monterey Mushrooms® (Whites or Baby Bellas), finely diced
1 tsp of sweet relish
1 tsp fresh basil, very finely chopped
1 tsp fresh thyme, very finely chopped
3-4 cloves of garlic, very finely chopped
1 tsp Himalayan pink sea salt
A dash of cracked black pepper
A dash of paprika
A spritz of fresh lemon juice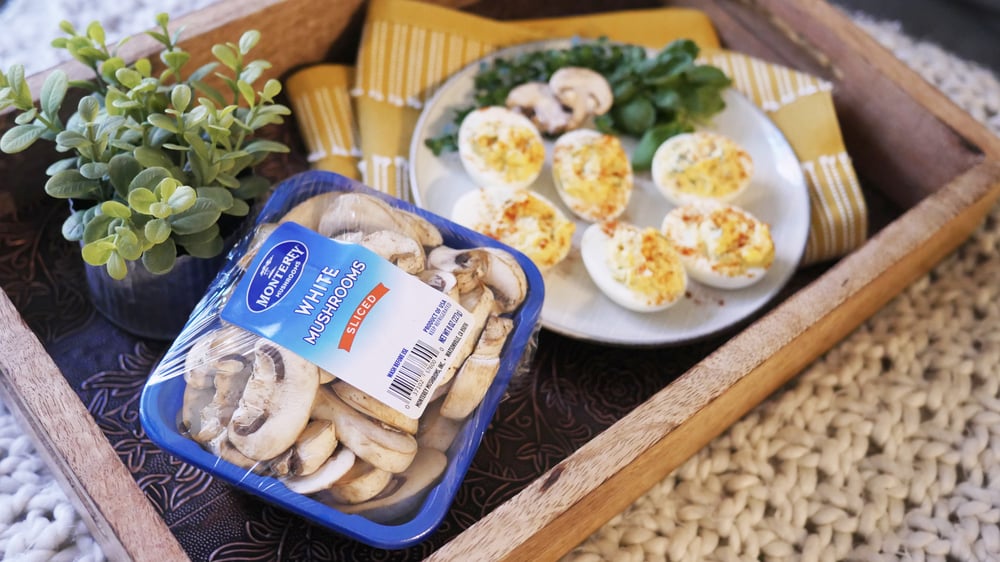 Instructions


Prior to starting your recipe, place one dozen eggs on your countertop. Let set at room temperature for one hour.





Bring a pan of water to a rolling boil, uncovered. Stir in one teaspoon of Himalayan pink sea salt. (This helps to prevent your egg shells from cracking under extreme heat).





Using rubber tongs, gently place each egg one at a time into the pan and boil for approximately 11 minutes, uncovered.





After 11 minutes, remove the pan from the hot burner and allow the eggs to sit in the warm water for 10 minutes before using your rubber tongs to pick each out and gently place into a bowl.





While the eggs are cooling, prepare your other ingredients. Chop your herbs, garlic and mushrooms and combine in a small bowl. Measure out and combine the yogurt (or mayo), mustard, ketchup and relish in a medium-sized bowl. Cover both containers and refrigerate.





After about an hour after removing your eggs from the water, gently crack and peel them.





Place your eggs on a cutting board and slice in half. Using a teaspoon or your hands, remove the solid yolk centers and place them in a bowl. Set your egg whites in the individual slots of your egg trays.





Using a fork, smash the egg yolks until creamed together. Combine your smashed yolks into your yogurt mixture and stir until smooth. Add your mushroom mixture and crack some black pepper overtop to taste.*





Using a teaspoon, add yolk mixture to each egg white half. Dress each egg with a dash of paprika and fresh thyme leaves, or a spritz of fresh lemon juice.





Place in fridge for at least two hours before serving. Enjoy up to five days after making for the freshest experience.

*Taste your mixture before adding to egg halves to test if additional ingredients are needed. Your mixture should be creamy, savory and earthy.

As the recipe creator Jenn puts it, "This recipe was passed down over the years without real measurements; I was told 'use a squirt of this, a scoop of that.' She says that everyone has different tastes, and recommends using her measurements as recommendations rather than exact matches. "For instance, I usually use whatever fresh herbs I have on my windowsill, 'oh rosemary this time, great!' and almost always put an extra clove or two of garlic in— because you can never have too much garlic— although my dad begs to differ. Shhhh. He'll never know... (he always knows)."