Sick of ordering the same drinks time-and-time again?
Next time you're at the bar, don't be afraid to get a little adventurous with your order — bartenders sure are.
A new trend hitting counters is mushroom-infused cocktails. That's right; mixologists across the United States are embracing umami-rich fungi as a unique cocktail ingredient.
A drink called the Truffle Pig was one of the first to earn a name for itself all across New York. This mushroom cocktail combines DeLeon tequila with lemon juice and honey simple syrup infused with Chanterelle and Maitake mushrooms. The finishing touch — a huge shiitake garnish — crowning this intense, earthy drink as the King Cocktail it is.
Try making these fancy drinks right at home, by starting with these two exciting recipes:
Mushroom Manhattan Cocktail
To many, there's no liquor that quite compares to the oaky, tobacco-reminiscent taste of whiskey. This revered drink boasts many variations depending on where it's made and how it's distilled, but while delicate notes differ bottle-to-bottle, one thing remains the same: its earthy mouthfeel. The whiskey in this cocktail is quite unique, having been infused with dried fungi for a full day before being poured into your shaker.
This mushroom soaked whiskey pairs excellently with sweet vermouth, a dark brown libation with aromatic, caramel properties. True to a traditional Manhattan, this cocktail also contains a few dashes of orange bitters, giving it a citrusy undertone. Chilled and shaken with care, it pours smoothly into your favorite glass. Rub an orange peel and skewer a few button mushrooms for delicate garnishes. This drink pairs fabulously with the fresh herb of your choice, though we prefer a small sprig of thyme.
Next date night, knock their socks off with this inventive cocktail.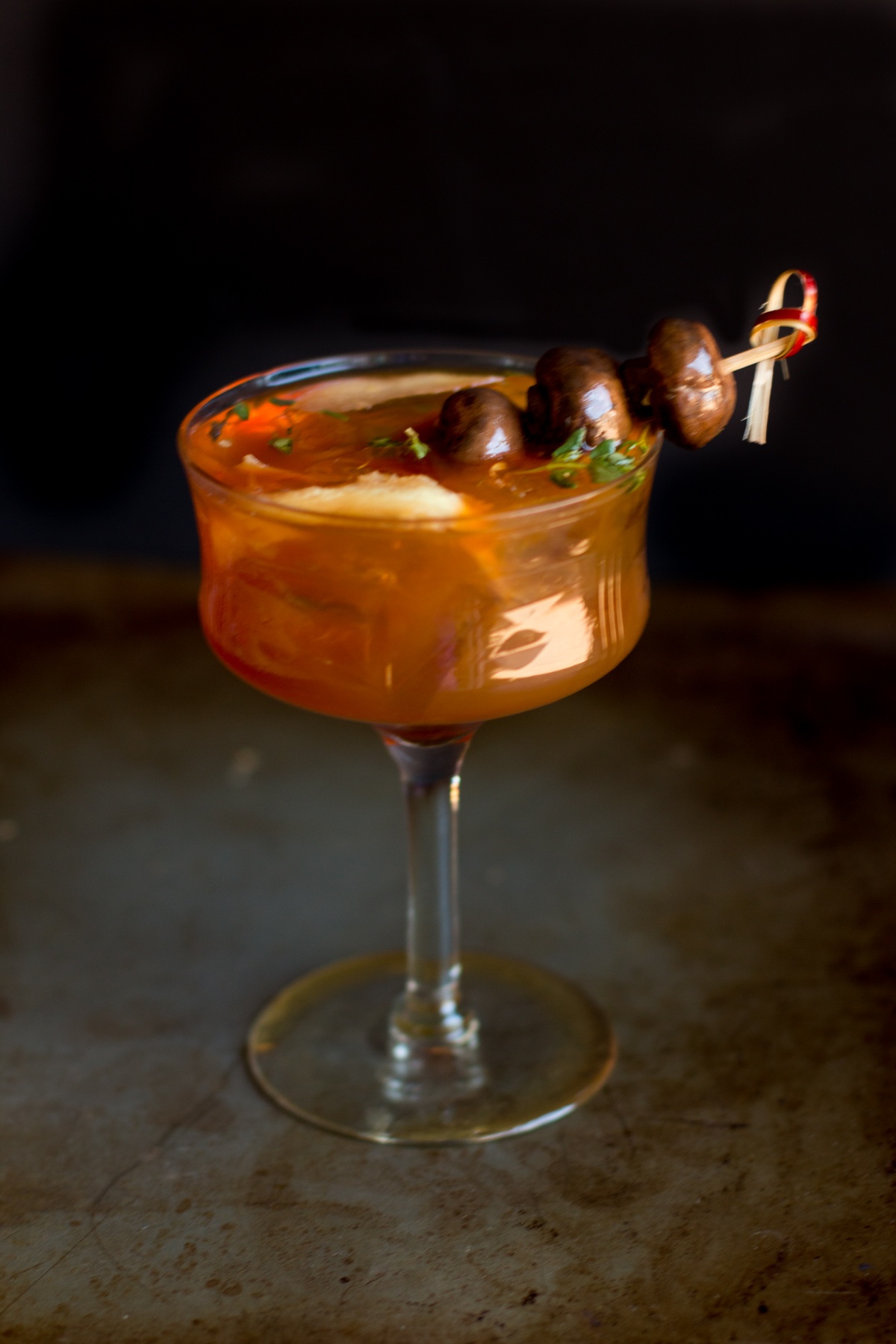 Ingredients
Ice
2 parts whiskey, infused with dried mushrooms for at least 24 hours
1 part sweet vermouth
1 to 2 dashes of Angostura orange bitters
Marinated mushrooms, for garnish
Orange twist
Mushroom Martini with a Twist
Gin: you either love it or can leave it. This pine and juniper-forward liquor is the primary ingredient in a classic martini, but in this cocktail, it's taking a new form. The London dry in this mushroom martini was soaked with dried mushrooms for at least 24 hours before serving, infusing it with a savory, robust edge.
Like any martini, the gin is always paired with a splash of its favorite partner, dry vermouth. The two swirls create a strong and warm bite, tickled by a touch of olive on the back of the throat. Shake your mix with ice and pour into a martini glass. But wait. Garnish with a shave of lime peel, softly twisted around the rim, and a toothpick of marinated mushrooms for the perfect finish.
A must-make for any martini lover.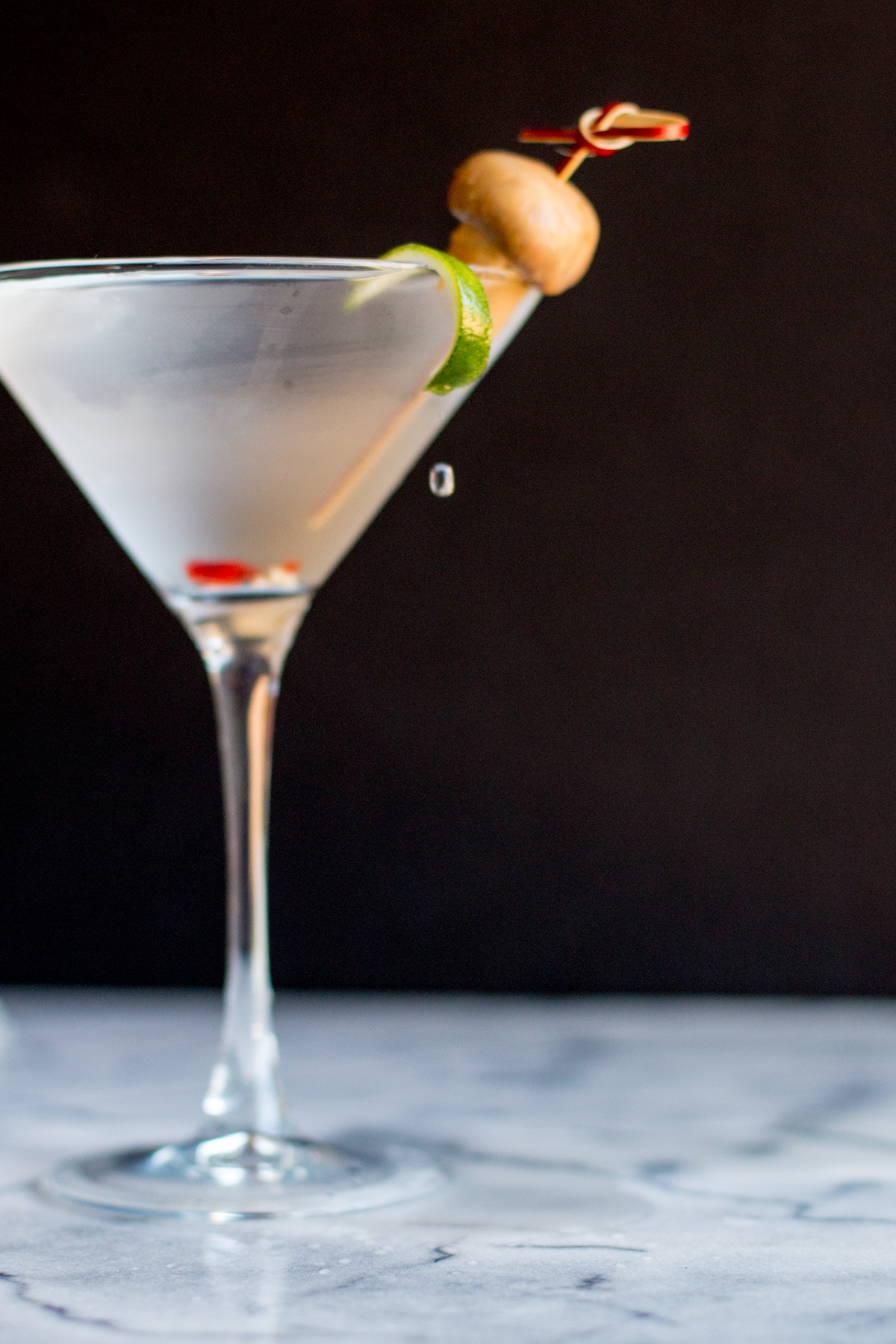 Ingredients
Ice
2 1/2 oz London dry gin, infused with dried mushrooms for at least 24 hours
1/2 oz dry vermouth
Marinated mushroom, for garnish
Fresh lime, twisted
Make Your Own Dried Mushrooms
The secret ingredient in all these mushrooms cocktails is, of course, the mushrooms! But you can't just plop a fresh mushroom in your drink and reap the flavor benefits. These creative cocktails infuse dehydrated mushrooms into the liquor for at least 24 hours before serving.
Dehydrate your own fresh mushrooms right at home with these drying tips on our blog!
Be sure to dry your mushrooms at their most fresh to never risk compromising the taste of your drink. Get the freshest mushrooms around from our fungi farmers at Monterey.