This St. Patrick's Day, celebrate like a true Irishman. While you might be tempted to slurp up some beef stew or cut off a large slice of soda bread, we can't get enough of these delicious pies!
These mushroom-filled, shepherd's pie-inspired meals are one hearty way to indulge this holiday. Choose between lamb, beef or chicken, throw on your lederhosen and get cookin'!
1. Lamb Shepherd's Pie with Mushrooms, Stout & Potatoes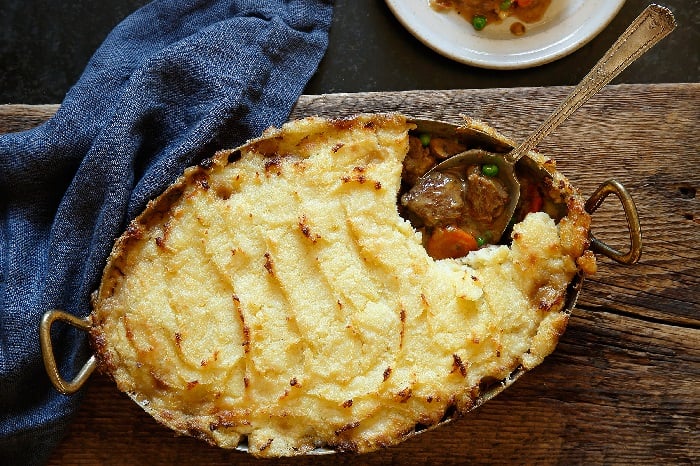 The Irish sure love their shepherd's pie! Treat the family to lamb this holiday, served soft and warm with thick broth inside of fluff pie crust. This pie holds true to the Irish tradition, with a cup of Guinness, giving the potatoes and vegetable blend extra flavor. Stuffed with 8 ounces of mushrooms, it's quite filling.
The Mushroom Council and American Lamb Board worked together to create this recipe.
Ingredients
2 pounds American lamb stew meat, or shoulder or leg cut into 1-inch cubes
Salt and freshly ground pepper
2 tbsp olive oil
6 tbsp unsalted butter
1 large yellow onion, diced
3 carrots, peeled and sliced into 1/4-inch-thick rounds
3 stalks celery, sliced 1/4-inch thick
8 oz Baby Bella or White mushrooms, halved
2 garlic cloves, minced
6 tbsp all-purpose flour
2 cups lamb stock, such as Saffron Road, or low-sodium beef broth
1 cup Irish stout, such as Guinness
2 tsp minced fresh rosemary
2 1/2 pounds Yukon Gold potatoes, peeled and cut into large chunks
1 cup sour cream
3 tbsp prepared horseradish
1 cup frozen peas
Dig in! Check out the complete instructions here.
2. One Pot Chicken & Mushroom Pot Pie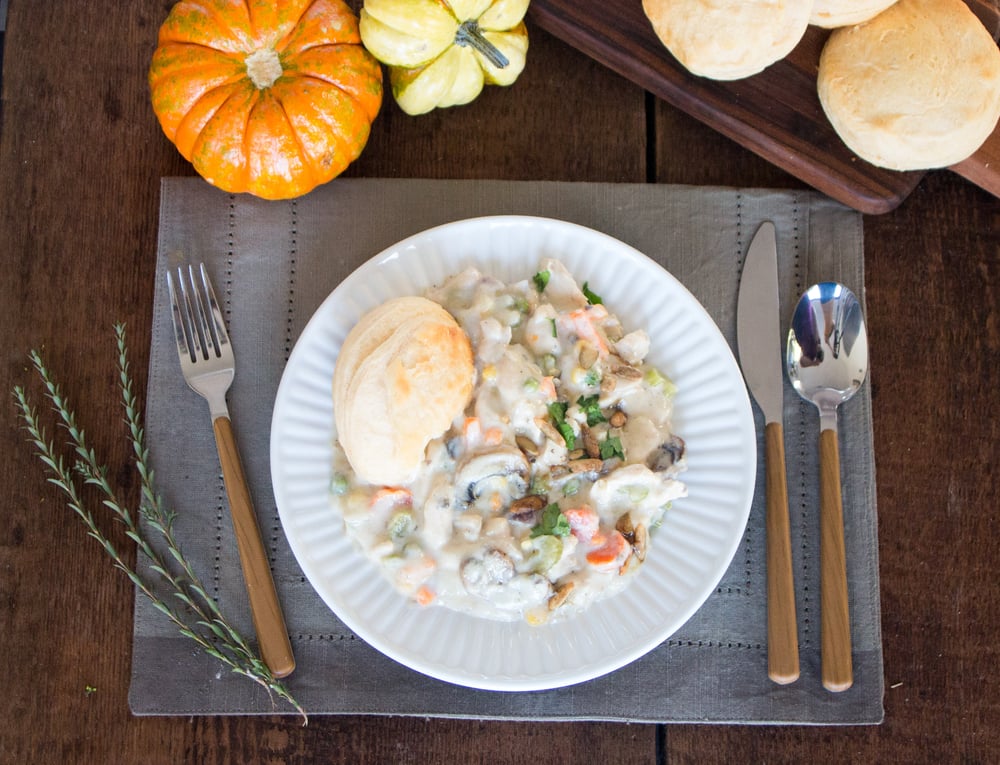 Who wants to worry about clean-up on this merry holiday? Surely not you! This one pot recipe means less dishes, and is super easy to make. Simply combine the cans of creamy mushroom and chicken soup with a little milk. Add some classic seasonings— like garlic, thyme, salt and pepper— and whisk before popping in the oven. Instead of being served in a crust, like a traditional pot pie, this recipes shaves time by pairing a piping hot biscuit on the side. Less hassle, more celebrating!
Ingredients
1 pound boneless, skinless chicken breasts
1 small onion, diced
3½ celery stalks, diced
2 (10.5-oz) cans Campbell's® Healthy Request condensed cream of chicken soup
2 (10.5-oz) cans of Campbells™ Cream of Mushroom soup
1.5 cup milk
1 tsp minced garlic
1 tsp dried thyme
1 tsp salt
½ teaspoon black pepper
1 (16-oz) bag frozen mixed vegetables, thawed
2 tbsps chopped fresh parsley
1 cup fresh mushrooms
1 (12-oz) can Pillsbury Grands!® Jr. Golden Layers Flaky Biscuits

There's no such thing as too much pie this St. Patrick's Day! Head over to our site to make it for yourself.
3. Let's Blend® Chicken Pot Pie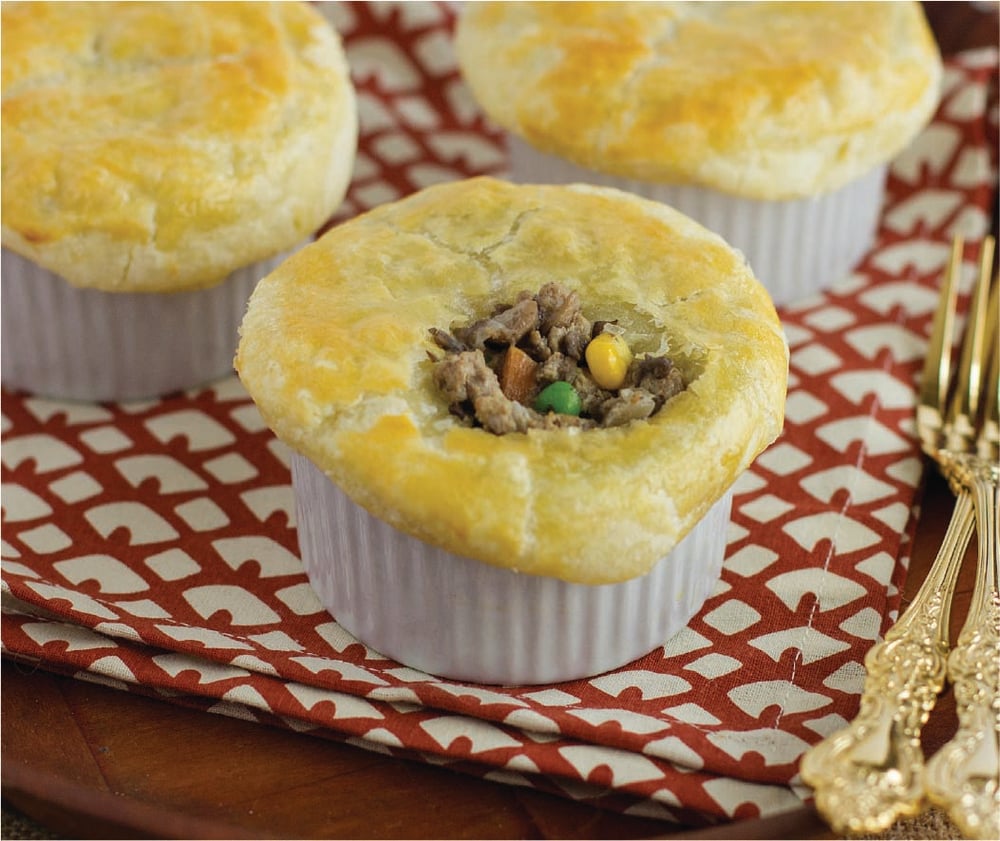 A cousin to the shepherd's pie, the pot pie is a wonderful, warm St. Patrick's Day-inspired treat. Whereas a shepherd's pie typically includes beef or lamb and potatoes, this recipe contains lean ground chicken mixed with your favorite hearty vegetables, including peas, carrots, corn, and— of course— mushrooms.

This particular recipe is made easy with Let's Blend®, pre-sliced and seasoned mushrooms that require less prep. Click here to see if your local retailer carries our Classic blend, or simply replace this ingredient with your favorite blend of finely diced mushrooms and a mix of garlic powder, salt, and paprika.
Ingredients
8 oz Let's Blend® Classic Finely Diced Mushrooms, or Fresh Mushrooms
8 oz lean ground chicken
2 tbsp butter
1 tbsp flour
1 cup chicken broth
1/2 cup cream or milk
1 1/2 cups frozen peas, carrot, corn blend
1/2 tsp sage
1/2 tsp thyme or basil
Frozen puff pastry
Breathe in the aroma of freshly baked pie by following the cooking instructions on our blog.
Want More Recipes?
Looking for more mouthwatering mushroom-inspired recipes to try? You're in luck! Download our free More Flavor, Less Calories Cookbook for 15 amazing meals that will have you drooling. Happy St. Patrick's Day!