Meat can be extremely flavorful and filling, but many Americans eat it daily.
If you're looking to cut your meat intake, these meatless meals are an excellent dinner substitute:
1. Three Mushroom & Garlic Grilled Pizza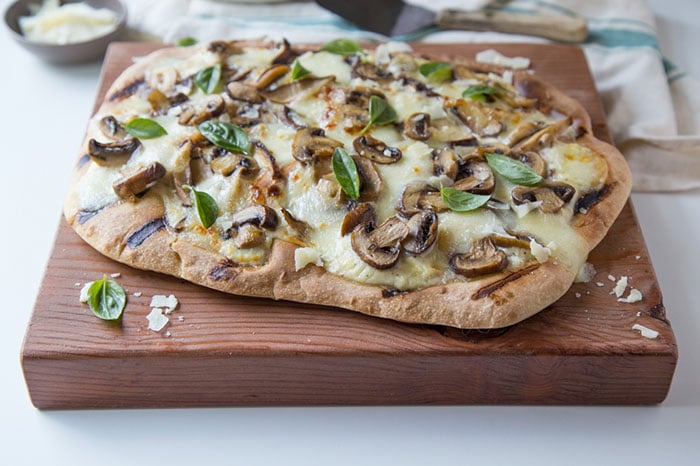 Popular pizzas like pepperoni and sausage often steal the show, but this meatless meal challenges the notion that vegetarian pies lack flavor. Baby Bella, Shiitake and White Button mushrooms imitate the savory taste that meat lovers crave, and Parmesan, basil and white wine complement its garlicky undertone. You'll be sure to say, "Pass me another slice."
Ingredients
1 tbsp unsalted butter
4 garlic cloves, minced
5 basil leaves, minced
2 tbsp all-purpose flour
¾ cup half and half
2 tbsp grated Parmesan cheese
½ tsp fine sea salt
¼ tsp ground black pepper
2 tbsp extra virgin olive oil
3 oz Baby Bella mushrooms, sliced
3 oz Shiitake mushrooms, stemmed and sliced
3 oz White Button mushrooms, sliced
1 oz dry white wine or chicken stock
¼ tsp fine sea salt
Dough for a 14-inch pizza
4 oz whole milk mozzarella cheese, chopped
Shaved Parmesan, for garnish
Basil leaves, for garnish
Olive oil
Grab your skillet and preheat the oven. The full recipe awaits.
2. Shiitake Mushroom & Smoked Tofu Stir Fry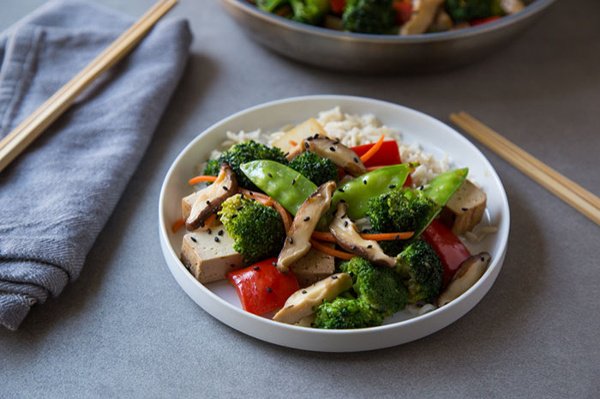 Enjoy the soy and citrus tone of traditional stir fry, without the chicken or beef, by noshing on some smoked tofu. Many vegan or meatless dishes use tofu to mimic the texture and flavor of meat, as tofu can be cubed and seasoned to take on nearly any taste. Shiitake mushrooms and bold vegetables like bell pepper and broccoli add extra crunch. Served over brown rice, Chinese night's never been better.
A special thanks to The Mushroom Council for this scrumptious dish.
Ingredients
1 tbsp low-sodium soy sauce (for gluten-free version, use Tamari)
½ tsp orange zest
Juice from a medium orange (about ¼ cup)
½ tsp honey
2 tbsp olive oil, or other cooking oil
1 small onion, chopped
1 ½ cups broccoli florets
6 oz Shiitake mushrooms, stems removed and sliced
2 garlic cloves, minced
1 large red bell pepper, chopped
½ cup shredded carrots
1 cup pea pods
7 to 8 oz smoked tofu, cubed
1 tbsp black sesame seeds
1 cup brown rice, cooked according to package directions
Fine sea salt or soy sauce to taste
Dust off your wok and chop up your favorite veggies. This tofu stir fry recipe only takes 30 minutes from prep to your plate.
3. Mushroom Philly Cheesesteak Sandwiches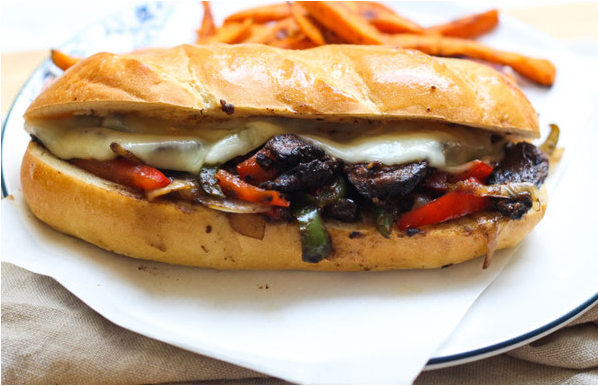 A meatless cheesesteak? You betcha. This look-alike subs in steak for sliced Portabellas— and if we hadn't told you, you might not be of the wiser. That's because the steak seasoning, powders, sauce, and herbs give the mushrooms a bold flavor profile. Tuck in some sliced onion and pepper (let's not forget cheese) and toast those hoagie buns. It's chow time.
Thank you to Homemade Nutrition for sharing this Philadelphia favorite.
Ingredients
1 8oz Portabella caps, sliced
1 tbsp steak seasoning
1 tsp onion powder
1/2 tsp garlic powder
1 tsp dried parsley
2 tbsp balsamic vinegar
1 tbsp Worcestershire sauce
1 tbsp + 1 tsp light olive oil or canola oil
1 large onion, sliced
1 green bell pepper, sliced
1 red bell pepper, sliced
3/4 cup sharp cheddar cheese
4 hoagie rolls or white sub sandwich rolls
6 slices provolone cheese, sliced in half
Make this meatless meal with the full instructions, found on our blog.
4. Mushroom Marinara Ravioli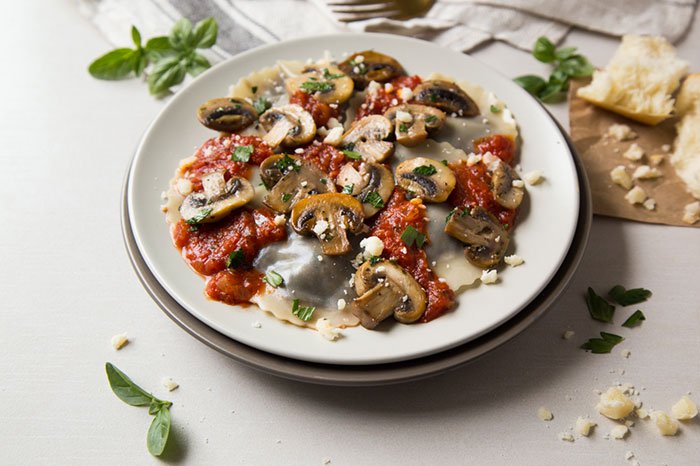 There's nothing like making ravioli from scratch, but sometimes it can be a real pain. Luckily, this 7-step recipe makes it easy with wonton wrappers instead of dough, ending with the same pasta taste you love. All you need is a food processor and a blender to make the secret sauce and mushroom-stuffing. Top it off with freshly grated Parmesan and basil leaves, and you've got yourself one fine dish.
Ingredients
Sauce:
4 tbsp extra virgin olive oil
¼ cup diced yellow onion
2 garlic cloves, minced
1 (28-oz) can crushed tomatoes
1 tbsp sugar
2 tsp dried basil
1 tsp dried oregano
1 ¼ tsp fine sea salt
¼ tsp crushed red pepper (optional)
8 oz White Mushrooms, sliced
½ tsp chopped fresh parsley
Pinch ground black pepper

Ravioli:
8 oz White Mushrooms, chopped
¼ cup freshly grated parmesan
1/3 cup packed basil leaves
4 garlic cloves, chopped
8 to 10 fresh oregano leaves
2 tbsp panko bread crumbs
¼ tsp fine sea salt
1/8 tsp ground black pepper
40 wonton wrappers
Grated Parmesan and chopped herbs for garnish
See the full instructions for preparing the sauce and ravioli here. Though there's a lot of ingredients, there are far fewer steps!
5. Chef Toni's Mushroom Chili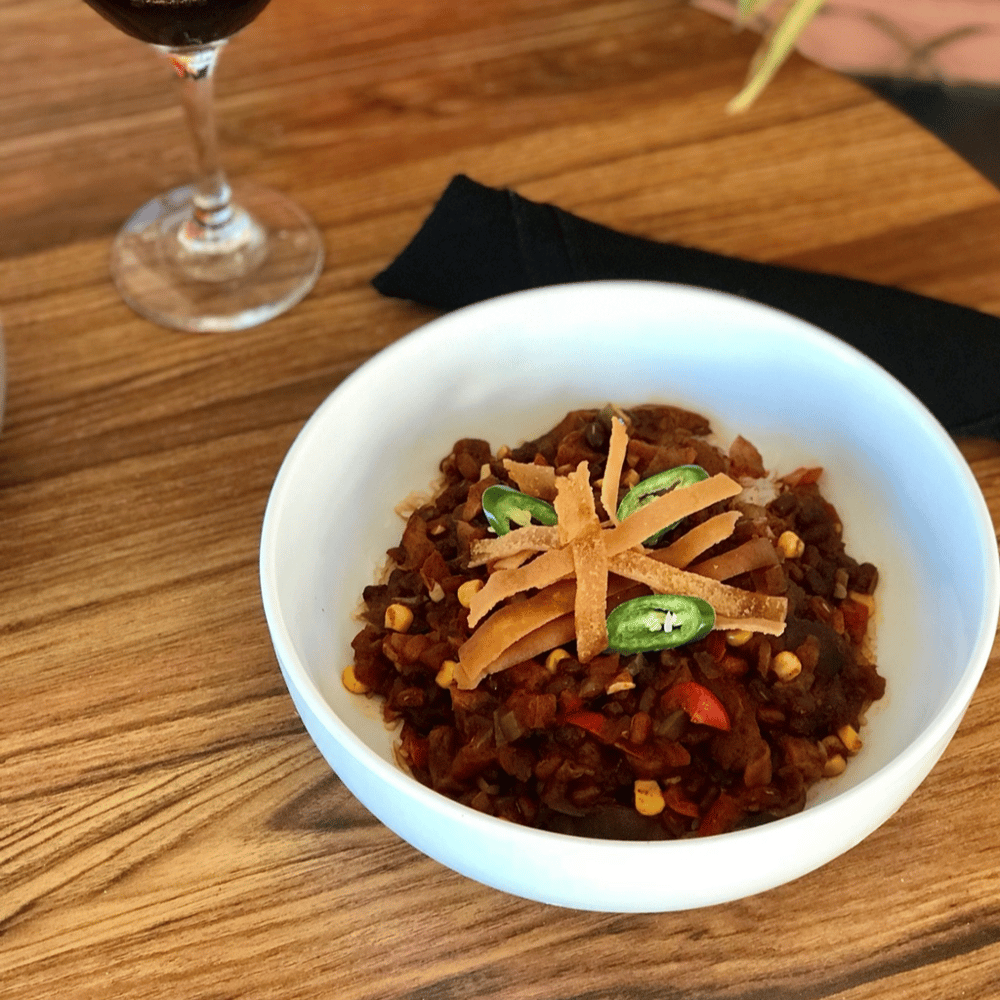 Who said you need beef to make chili? This recipe uses beans, loads of vegetables, corn and your choice of mushrooms instead. It also uses creative seasonings not often found in chili recipes, such as cinnamon and paprika, to give it an original fusion with its zesty onion and pepper mix. Save some of the red wine for your meal and store leftovers for later
Thank you to Chef Toni for this unique, meatless take on traditional chili bowls.
Ingredients
2 lbs Mushrooms (white or baby bellas), rough chopped
2 red peppers, diced
1 green pepper, diced
1 hot pepper of choice, diced
2 large onion, diced
7-8 garlic cloves, minced
1/2 cup of corn
1/2 cup of beans
2 diced tomatoes with liquid reserved
2 tbsp chili powder
1 tsp cinnamon
1 tbsp paprika
1 tbsp Aleppo pepper (you can use chili flakes)
1/2 cup red wine
1/4 cup water
1 can tomato paste
Salt and pepper to taste
Simply saute and nosh. This 2-step recipe is super quick and delicious.
Not Ready to Go Full-On Meatless?
If you still love meat, that's okay! Subbing out meat even once a week can be difficult for those used to eating it daily.
Instead, consider the power of "the blend."
One study found that a ground meat recipe prepared with 50% mushrooms and 50% meat can boost flavor (thanks to mushrooms' umami), reduce fat, calorie, and sodium intake and add nutrients such as vitamin D, B-vitamins, potassium and antioxidants.
Download our ebook, Everything You Need to Know About Blending Mushrooms, to learn more.