How often do you make homemade kebabs? Probably not often enough!
These skewers are super simple to throw together and are charred to perfection on the grill, in a matter of minutes.
Welcome summer with a smile by bookmarking these mushroom-inspired kebab recipes!
1. Fajita Kebabs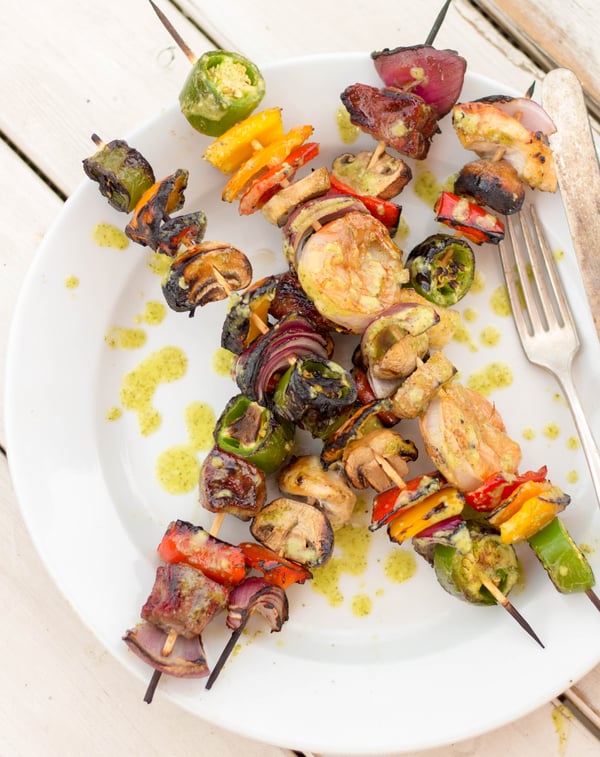 Take all of your favorite fajita ingredients and line 'em on a kebab stick! Start by dicing up some zesky red onion and jalapeños for a sharp kick. Add some boldly colored red, yellow and orange peppers, and let's not forget some savory mushrooms. Baby Bellas make for great bite-size chunks— and when paired with your choice of meat, give your kebab a burst of texture and rich flavor. What makes these delights so indulgent is the baste: a bright cilantro lime dressing. Smother it generously to "fajita" the right way.
Ingredients
Brown mushrooms
Red bell pepper
Yellow bell pepper
Orange bell pepper
Jalapeño, optional
Red onion
Meat of choice: steak, chicken or shrimp
Cilantro Lime Dressing
Olive oil
Cilantro
Juice of 1 lime
2 cloves garlic
Make these easy kebabs with instructions from our blog!
2. Salmony Lemon Mushroom Kebabs
If you're a fish-lover, these salmon kebabs have your name written all over them. These grill-ready sticks make for a rather healthy meal, as they feature nutritious asparagus, hearty mushrooms and bright red grape tomatoes— all with a lovely lemon undertone. Did you know that both salmon and mushrooms offer antioxidant effects, which can help to reduce inflammation? Brushed in extra virgin olive oil and salt and pepper, this is one mouthwatering summer treat.
Ingredients
Brown mushrooms
Salmon
Asparagus
Lemon
Grape tomato
Seasoning
Olive oil
Salt and pepper, to taste
Pin or print this kebab recipe from the Monterey Mushrooms' site.
3. Steakhouse Portabella Kebabs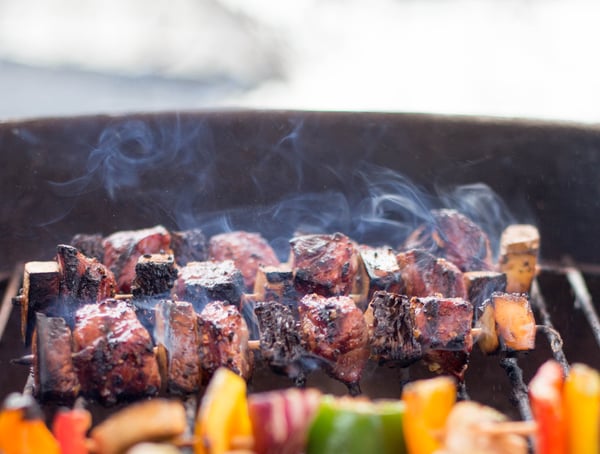 Instead of just searing a steak on the grill, sauteeing some mushrooms and throwing them on your plate, why not pair them together in a kebab? Simply chop a juicy sirloin and some spongy Portabellas into plump cubes and alternate them along your kebab stick. As the mushrooms and meat kiss on the grill, the flavors will infuse. Sprinkle your charred trophies with your favorite steak sauce and seasoning to complement that smokey finish. This gluten-free creation is both lean and filling.
Ingredients
Portabella mushrooms, cubed
Skirt steak or sirloin
Marinade & Seasoning: steak sauce or seasoning, of your choice
Get those grill marks just right with these quick cooking directions.
4. Grilled Chicken Caesar Salad Kebabs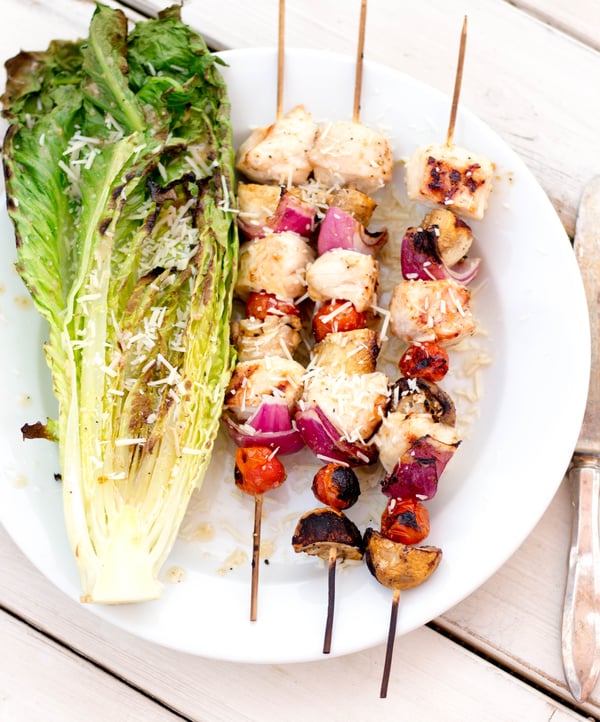 Instead of eating a traditional chicken caesar salad at a restaurant, make your own at home. These kebabs take all your favorite salads toppings— tender chicken, tangy red onion, juicy tomatoes and soft White mushrooms— and soaks them in some tasty Caesar marinade before searing 'em on the grill. After gently charring the kebabs, throw a head of romaine on those hot grates to toast your lettuce. Top with croutons and shredded Parm for some crunch and creaminess.
Ingredients
Medium White mushrooms
Chicken breast
Red onion
Grape tomato
Romaine hearts
Croutons, optional
Baste
Caesar dressing or marinade (not creamy)
Parmesan cheese, shredded
These quick salad kebabs only need five minutes on the grill. Enjoy this hassle-free meal, with easy assembly directions here.
5. Hawaiian Mushroom Kebab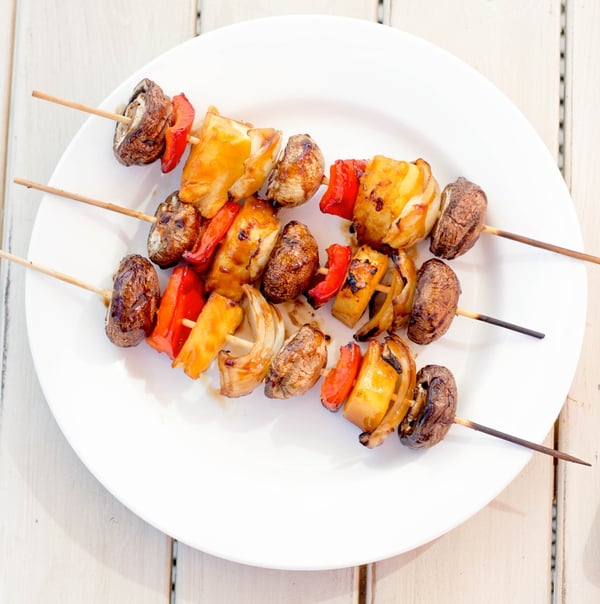 Teriyaki is quite an interesting flavor: a combination of both sweet and sour, with a touch of salt and an equally scrumptious hint of honey. These Hawaiian kebabs owe their incredible taste to their teriyaki baste, but even the best sauce needs to be paired with the right ingredients. Say aloha to some bright pineapple chunks, which are warmed and charred to bring out all the lush, tropical juices. Paired with red pepper, sweet onion and mushrooms, you get a myriad of textures on each skewer— for a taste of the island life right at home.
Ingredients
Mushrooms
Red bell pepper
Sweet yellow onion
Pineapple
Baste: teriyaki sauce
Watch these video instructions or read the grilling instruction here.
Go Crazy Kebabin'!
Ready to keep grilling? Here are our favorite mushroom-friendly recipes to enjoy on the grill this summer.
If you loved these toasty kebabs, we have an entire cookbook packed with more charred favorites.
Download our ebook, 10 Ways to Kebab, for free today.