Earth Day is rapidly approaching on April 22nd. In honor of this annual event, we encourage you to think about the environment for not just one day, but for all of April.
This month, we want to encourage you to add environmentally-friendly mushrooms to your on-going grocery list.
Why? Because mushrooms are super eco-friendly!
Did you know that millions of pounds of mushrooms can be grown annually on just a few acres of land, according to the Mushroom Council? Whereas other food production can use thousands of acres of land— valuable space for trees and plant life— 7.1 pounds of mushrooms can be produced on one square foot of land. How is it possible? The mushroom beds can be stacked vertically in growing facilities, so lots of mushrooms thrive in a small space!
Other food production also requires massive amounts of water, sometimes hundreds of gallons to make one serving size. Comparatively, a pound of mushrooms requires only 1.8 gallons of water to produce, according to SureHarvest.
Convinced of the earth-friendliness of the mighty mushroom? Go green— literally!— with these Earth Day recipes, featuring robust mushrooms.
1. Italian Marinated Mushrooms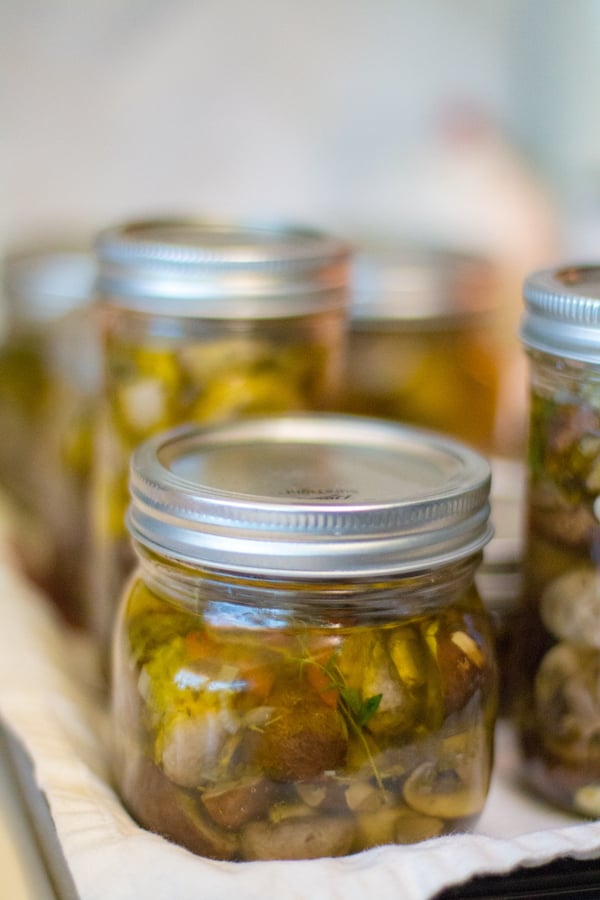 This home canning recipe is a terrific way to save food scraps from ending up in a landfill. Instead of tossing out your extra fresh mushrooms, marinate them in a flavorful garlic and teriyaki bath and recycle the plastic packaging. The glass mason jars can be easily sealed, lasting up to a year in a cool dry place or for a few weeks in your fridge after opening. Plus, they taste so darn delicious.
Ingredients
6 lbs whole mushrooms (1"-1-1/4" cap diameter)
1/2 cup lemon juice
1 tsp citric acid
2 cups extra virgin olive oil
2-1/2 cups white vinegar (5%)
1 tbsp dried thyme leaves
1 tbsp dried basil leaves
1 tbsp canning/pickling salt
1/2 cup finely chopped onions
1/4 cup finely diced bell peppers
4 cloves garlic, cut in quarters
25 black peppercorns
Get instructions for marinating and jarring fresh mushrooms on our blog.
Go Green! In addition to jarring, mushroom scraps or leftovers can be recycled back into the environment through composting. Start your own compost to help your garden flourish.
2. Kale & Basil Pesto Zoodles with Mushrooms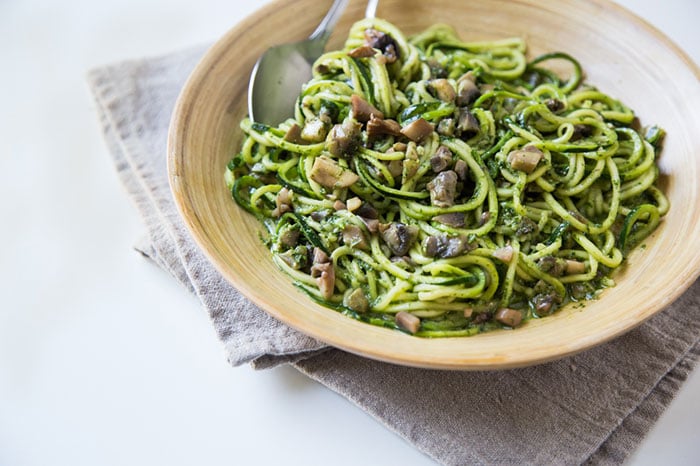 Instead of traditional noodles, try these green zucchini "zoodles" in honor of Earth Day. Mixed with a kale and basil blend, this dish is both verdant and healthy. Plus, the garlic, Parm and White mushrooms give it a special flavor that'll have you winding your fork for more.
A special thanks to the Mushroom Council for this creative pesto platter.
Ingredients
2 cups chopped kale leaves
¼ cup lightly packed basil leaves
8 tbsp extra virgin olive oil
2 garlic cloves chopped
4 tbsp freshly grated Parmesan cheese
2 tbsp pine nuts
½ tsp fine sea salt
8 oz White mushrooms, chopped
3 medium zucchini (about 1 ½ pounds) cut into zoodles
Fine sea salt to taste
Find the cooking instructions on our Monterey Mushroom's blog.
Go Green! Remember to recycle the packaging your mushrooms come in, or if choosing loose mushrooms in the grocery store, to bring your own reusable mesh bag instead of wasting plastic.
3. Portabella Pizza Caps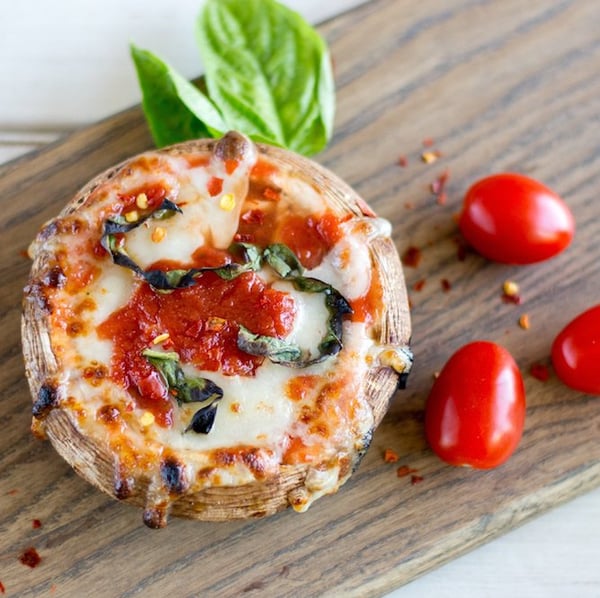 Instead of ordering in a pizza, and having the delivery guy pollute the environment and waste a box, make your own "pizza" at home with fresh mushrooms. Simply stick your favorite ingredients into these lightly brushed Portabella caps and bake. Not only are you skipping the extra carbs from bread, but you get to enjoy the rich umami and added Italian flavor.
Ingredients
4 large Portabella mushroom caps
2 tsp extra virgin olive oil
1 cup pizza sauce
1 tbsp Italian seasoning
1 cup shredded Mozzarella cheese
Extra toppings of your choice: onions, spinach, olives, bell peppers, pineapple, extra cheese, etc.
Excited to make these pizza caps? Get the cooking instructions here.
Go Green! Many recipes are seasoned with herbs. Grow your own basil, oregano or other favorite herbs for a touch of fresh flavor, right in your kitchen window!
4. Portabella Marsala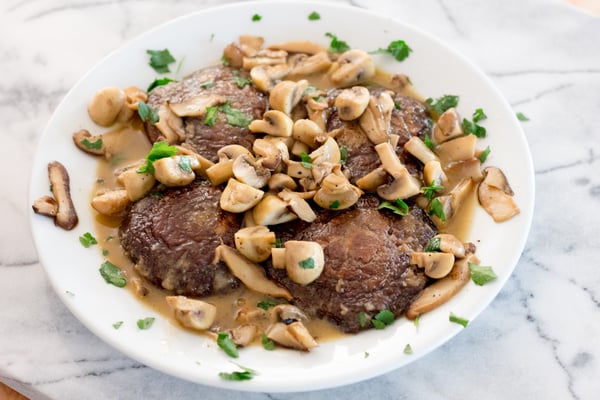 This Portabella Marsala is a purely vegetarian dish that mimics the taste and texture of meat, with the help of fresh mushrooms. Skipping one meat dish can help you go greener this Earth Day— with the same smoky Marsala notes you love.
Ingredients
4 large Portabella mushroom caps
All-purpose flour, for dredging
Kosher salt
Freshly ground black pepper
1/4 cup extra-virgin olive oil
4 oz Shiitake mushrooms, thinly sliced
8 oz White Button mushrooms, quartered
1/2 cup sweet Marsala wine
1/2 cup vegetable stock
2 tbsp unsalted butter
1/4 cup chopped flat-leaf parsley
Grab the full recipe on the Monterey Mushroom's blog!
Go Green! A study conducted by Harvard University found that by replacing beef with mushrooms in a single five-pound meatloaf recipe, the university dining hall reduced its CO2 footprint by 44 pounds. With just one batch! Think how much you're reducing your CO2 footprint by skipping meat this meal.
Mushrooms Are More Than Just Eco-Friendly
Now that you've learned some facts about how environmentally-friendly mushrooms are (and got some tasty recipes), slather some fungi on your plate this Earth Day.
Mushrooms are just as sustainable for your body as they are for the environment. Blending them with your favorite meats or meals can help you to slash calories, add nutritional value and more.
Learn more by downloading Everything You Need to Know About Blended Mushrooms. It outlines all the reasons mushrooms should be an important part of anyone's diet, and even features some more recipes!