Many Americans consider the nutritional value of their food important. Surveys show people want healthier food options, and that they care about how this food affects their wellbeing.
But when it comes to the standard "healthy foods," like fruits and vegetables, many assume they must be good— not considering how some offer more nutritional benefits than others. Even the same product— one Portabella mushroom versus another Portabella mushroom— can vary in nutritional value if one is organic, exposed to UV light, etc.
Here at Monterey Mushrooms, we want to empower consumers to choose the best-of-the-best mushrooms in the produce department. Shop smarter by reading your mushroom nutrition labels with these helpful tips:
1. Understand why some mushrooms include nutritional facts while others don't.
Next time you walk through the produce aisles, pick up any fruit or vegetable. Does the product have a nutrition label? Many fresh items don't, and that's because— the food suppliers aren't required to include one unless they are making a nutrition or health claim.
The U.S. Food and Drug Administration doesn't require all food types to include a Nutrition Facts Panel (NFP). The FDA's labeling rules vary by product, but for mushrooms, most varieties will not include a nutrition label. This can be frustrating for shoppers, as it makes it difficult to differentiate one type of mushroom from another by nutritional value.
If you want to be a conscientious shopper, research these nutrition tips for common mushroom varieties from The Mushroom Council before grocery shopping.
At the time of publishing this article, the new requirement requires food manufacturers to include potassium and vitamin D on NFPs, whether those nutrients are present or not.
2. Note the difference between the FDA's old Nutrition Facts Panel and its new one.
The U.S. Food and Drug Administration recently restructured its NFP. As of January 2020, labeling regulations now require vitamin D to be listed in the Nutrition Facts Panel for all products, not just those that are marketed as high in vitamin D.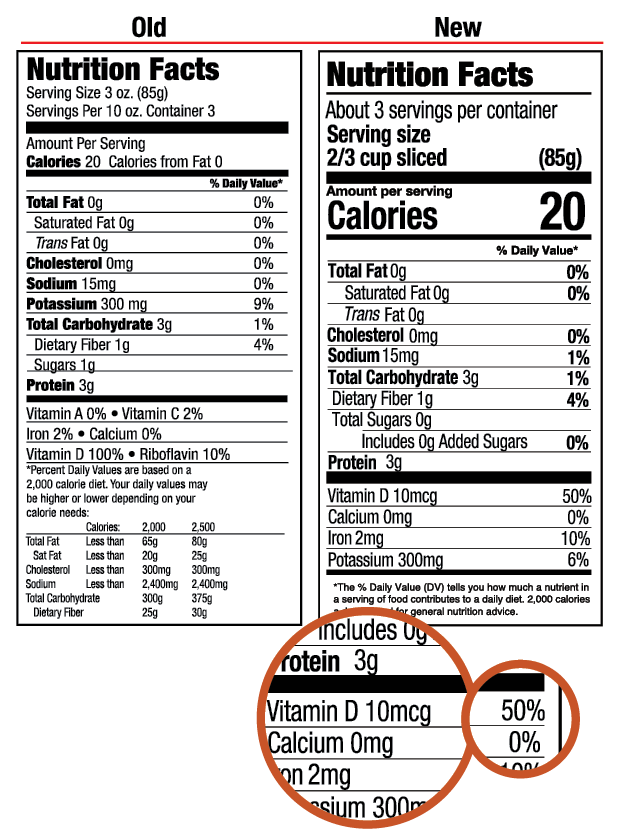 As you can see above, "High Vitamin D" mushroom labels will prominently display calories and other important nutrient listings, and will call out the % DV per serving along with the actual amount of vitamin D in micrograms directly below the second thick black line.
3. Know how much vitamin D you should be getting.
For most Americans, the recommended daily value of vitamin D is 800 IUs. This can be confusing, as NFP labels for mushrooms list vitamin D in terms of micrograms.
When reading the label of mushrooms in the grocery store, look for mushrooms showing 10 mcg or more of vitamin D, which provide at least 50% of the daily recommended value.
Here is a comparison, detailing how common varieties of mushrooms stack up against one another in terms of vitamin D:
4. Investigate beyond the label.
While we've focused on finding where vitamin D is listed on the Nutrition Facts Panel (NFP), mushrooms offer a variety of additional benefits, such as selenium, B vitamins, potassium, fiber and more.
Mushrooms are also:

Curious to learn more about the nutritional benefits of your favorite mushroom variety? Use The U.S. Department of Agriculture's FoodData Central to search, typing in "Oyster mushroom, "Brown mushroom," or your preference.
For instance, this result for raw White mushrooms details nutritional data for this popular fungus, filtered by portion size or measurement.
Find High Vitamin D Mushrooms
When grocery shopping, always look for High Vitamin D mushrooms. They're easy to spot, as they are required to have a Nutrition Facts Panel. This way, you can be sure this fresh produce offers the maximum benefits you are looking for.
Use the Monterey High Vitamin D mushroom finder to find a retailer near you who carries fresh High Vitamin D mushrooms. Additionally, look out for foods fortified with mushrooms in the dairy section and beyond.
Download our free eBook, Everything You Need to Know About Vitamin D & Mushrooms to learn more about this special nutrient and all benefits of eating mighty mushrooms.