Brunch is a favorite for many. After all, what's there not to like about sleeping in and enjoying a warm meal over mimosas or bloody Marys?
Sink your teeth into one of these delightful brunch recipes, featuring umami-rich mushrooms:
1. Let's Blend® Breakfast Bowl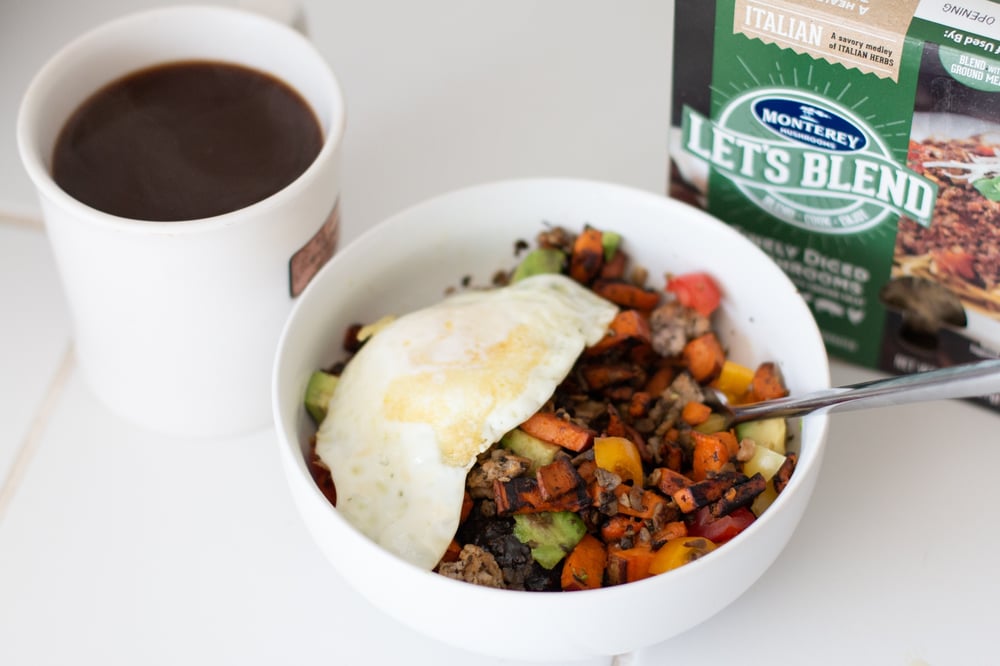 There's nothing like a hearty breakfast bowl to hold you over until dinnertime. This power bowl contains nutritious bell pepper, cherry tomatoes, and onion to kick off your first meal right— with vegetables. And let's not forget the mushrooms, conveniently pre-chopped and seasoned in a Let's Blend® package. Paired with the protein found in its sausage and eggs (and the starch of delicious sweet potato) you'll have the energy you need to slay the day.
Does your local grocer carry Let's Blend? For those who can't grab our ready-to-go mushroom blend, use your own freshly chopped mushrooms instead. Season with rosemary, oregano, basil, marjoram, and thyme.
Ingredients
1 package Let's Blend Italian flavor (or see our recommendations above for seasoning your own fresh mushrooms)
1/2 lb ground pork sausage
1 medium sweet potato, diced
1 tbsp olive oil
1/2 cup green bell pepper, diced
1/2 cup onion, diced
1/2 cup cherry tomatoes, halved
1 avocado, diced
2 eggs
Grab your skillet and get ready to sizzle up a warm power bowl. Find the full instructions here.
2. Sautéed Mushroom & Sundried Tomato Avocado Toast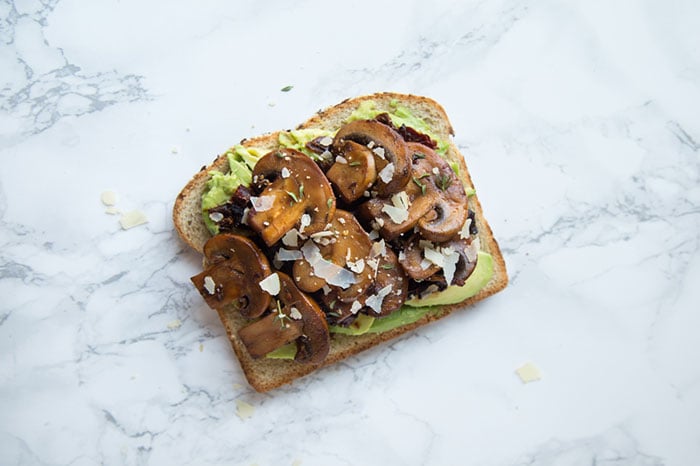 Add a touch of class to your brunch with some simple yet scrumptious avocado toast. This glorified bread has a creamy smear avocado, topped with flavorful sundried tomatoes, seasoned White Button mushrooms and shaved Parm. Fresh thyme, sea salt and a dollop of extra virgin olive oil steal the show.
Thank you to the Mushroom Council for this creative take on traditional avocado toast.
Ingredients
1 tbsp olive oil
¼ cup chopped sundried tomatoes
8 oz sliced White Button mushrooms
2 oz chicken stock or water
½ tsp fresh thyme leaves
¼ tsp fine sea salt, optional
2 avocados
4 slices toasted bread
Shaved Parmesan for garnish
Extra virgin olive oil for garnish
This tasty brunch recipe makes enough for four. Get the directions here.
3. Vegetable Frittata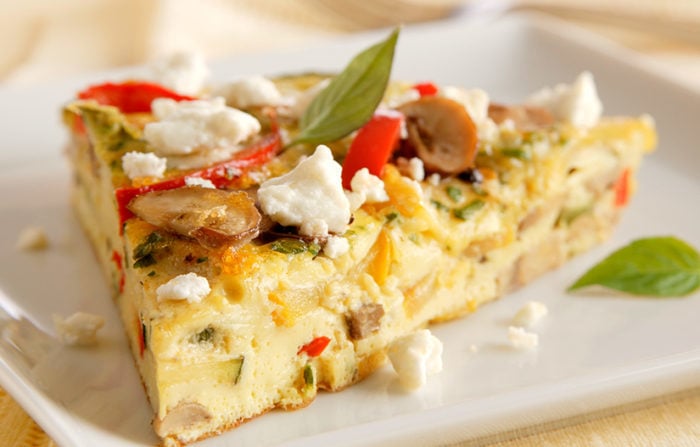 Grab a dozen eggs and stretch your whisking hand! This frittata is packed with chopped squash, zucchini, peppers and, of course, mushrooms. Seasoned with basil, parsley and goat cheese, you won't be able to help but reach for a second slice. The good news is, this recipe makes two 12-inch pans— enough to share.
Thank you to the Mushroom Council and the American Egg Board for this brunch-friendly classic.
Ingredients
5 oz eggs (12 large)
1/2 oz basil leaves (12), chopped
2 tbsp Italian parsley, chopped
1/2 tsp kosher salt
1/2 tsp freshly ground pepper
2 tbsp olive oil
2 tbsp garlic, minced
4 cups yellow squash slices (1/4 inch thick)
4 cups zucchini slices (1/4 inch thick)
3 cups red bell peppers, thinly sliced
3 cups Baby Bella mushrooms, sliced
1 cup green onions, sliced
6 oz goat cheese, crumbled
This crumbly, puffy frittata is waiting to be broiled. Find instructions here.
4. Let's Blend® Turkey Sausage & Mushroom Casserole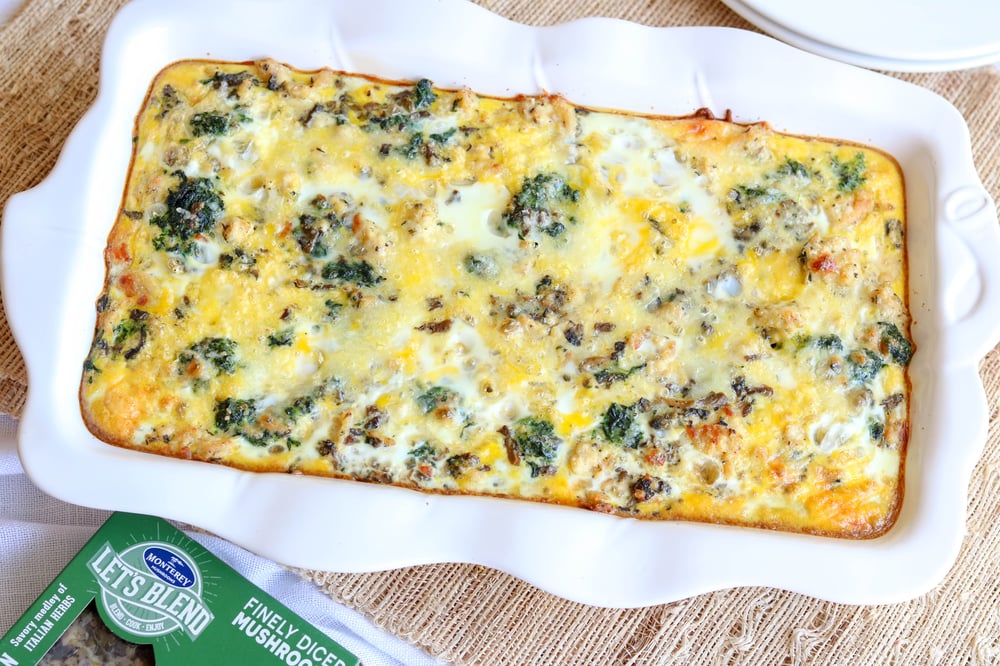 Eggs…. check! Meat... check! Veggies… check! This brunch casserole has all the breakfast staples, including cheese. Grab your 9 x 13" pan and whisk eggs and a few simple ingredients. Using an Italian Let's Blend® package means you don't even have to cut or season any mushrooms! This brunch recipe makes an entire casserole dish, perfect for leftovers.
You can thank Shannon at KISS in the Kitchen for this tasty concoction.
Find our Let's Blend® pre-diced and seasoned mushrooms at a local grocer near you, or substitute with fresh mushrooms of your choosing, seasoned with rosemary, oregano, basil, marjoram, and thyme.
Ingredients
1 lb ground turkey breast1 package Let's Blend Italian flavor (or see our recommendations above for seasoning your own fresh mushrooms)1 tbsp avocado oil10 oz frozen chopped spinach, thawed and drained1/2 tsp dried red pepper flakes12 eggs1 cup mozzarella, shredded
Get the cooking instructions right on the Monterey Mushroom's blog.
5. Homemade Mushroom Ham Cheese Pockets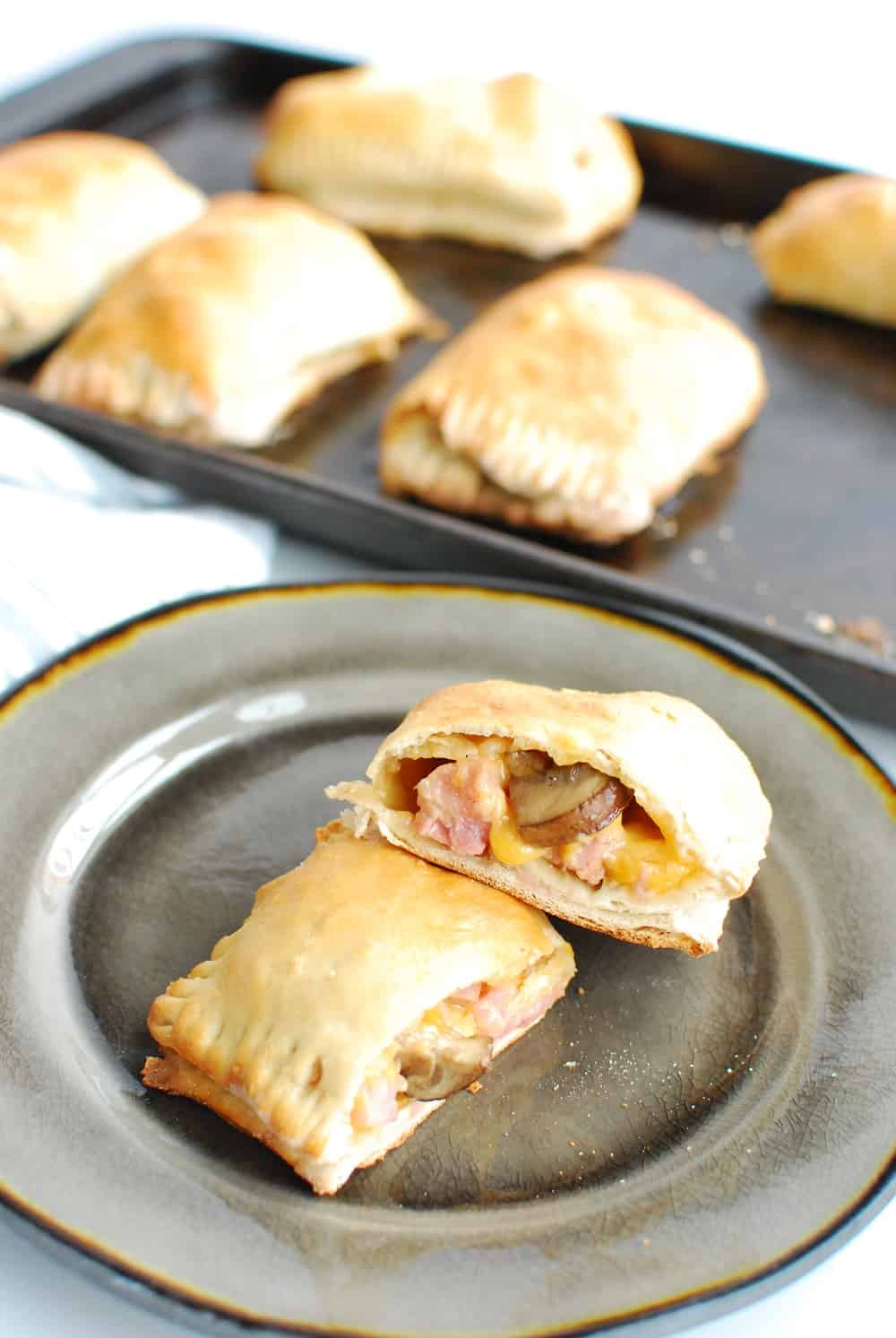 Skip the microwave hot pockets and make your own homemade delights. These warm dough treats are filled with savory ham, drippy cheddar cheese and fresh, sautéed mushrooms. Best of all, they're not that hard to make. Simply roll out your dough and add your filling, then bake for 12-15 minutes. What a unique brunch addition!
Thank you to Chrissy from Snacking in Sneakers for this scrumptious mushroom recipe.
Ingredients
Dough:
2 1/4 tsp active dry yeast
1 tsp sugar
1 cup warm water
2 tbsps olive oil
1 tsp salt
2 1/3 cup flour
Filling:
1/2 tbsp butter
1 1/4 cup mushrooms, chopped
1 1/4 cup ham, chopped
1 1/4 cup cheddar cheese, shredded
Egg wash:
1 egg
1 tbsp milk
Freeze some of these hot pockets to enjoy later. Get the cooking instructions here!
Lovin' the Mushroom Recipes?
All these brunch recipes feature flavorful mushrooms. If you're impressed with the diversity, there's more where these came from.
Download our free More Flavor, Less Guilt Cookbook. It's packed with lip-smacking mushroom recipes, low in calories.