They say there is a "day" for everything, and they're not really wrong! National Eat What You Want Day is May 11th, and in honor of this fun holiday, we're sharing some of our favorite indulgent recipes.
But here's the catch: they all have a "healthier" twist, thanks to the help of some flavorful mushrooms.
Indulge without splurging with these creative mushroom recipes!
1. Portabella Fries
Mushroom… fries? Now that's original! Large Portabellas can actually mimic the shape of baked or fried potato wedges very well. All they need is a little breading— thank goodness for Panko!— and you've got yourself a crispy "fry," without the starch or full-feeling of potatoes. These light, savory treats can easily fool your mind into thinking you're noshing away on salty fries, without the calories or guilt. Serve these munchable snacks for a movie night or with a tasty burger!
Ingredients
8 oz Portabella mushroom caps
1/2 cup flour
1 egg, lightly beaten
3/4 cup Panko bread crumbs
1/4 cup Parmesan cheese, grated
1/2 tsp fresh thyme leaves, chopped
Salt and pepper to taste
These Portabella fries aren't hard to make. In fact, once breaded, they only need to bake for 8-12 minutes or fry for 3-4 minutes. Get the directions here. Or, watch our YouTube video below.
2. Oyster Mushroom Calamari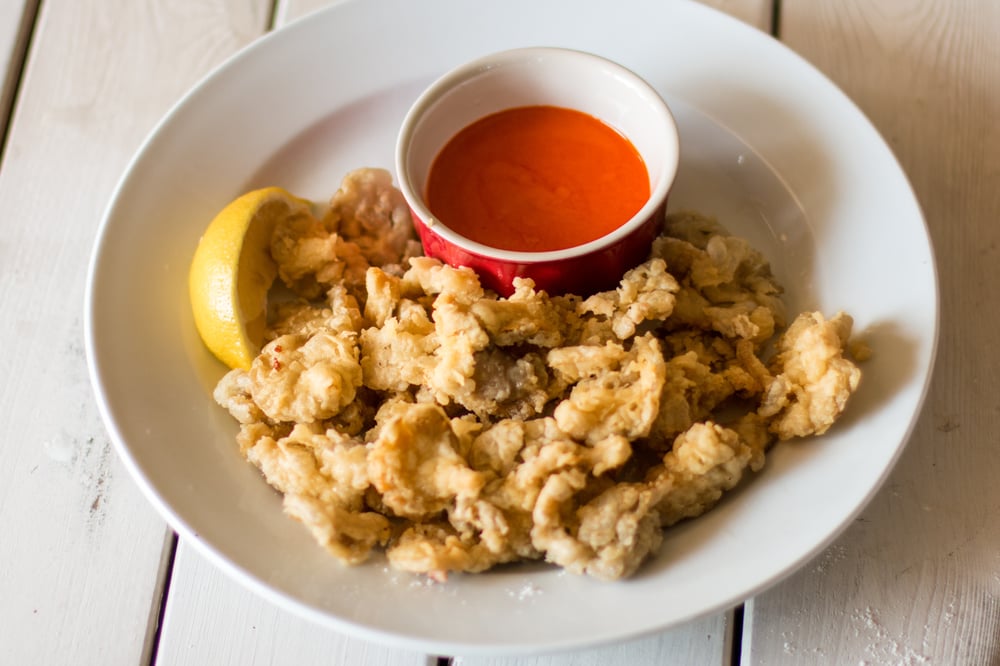 In the mood for calamari? Instead of splurging on expensive seafood, buy some Oyster mushrooms instead! This kind of mushroom offers antioxidant-like effects and can be a great way to enjoy the texture of calamari, with fewer calories. All you need for the breading is some creamy buttermilk and flour as well as paprika and garlic for some amazing flavor. Pick up some tartar sauce and enjoy the satisfying umami, right at home.
Ingredients
4 oz Oyster mushrooms
1 cup flour
1 tbsp smoked paprika
1 tsp garlic powder
1 cup buttermilk
Salt and pepper, to taste
Lemon wedges
Tartar sauce, optional
Enjoy these meatless crisps with easy instructions, found here. Watch the video directions below.
3. Mushroom Pizza Rolls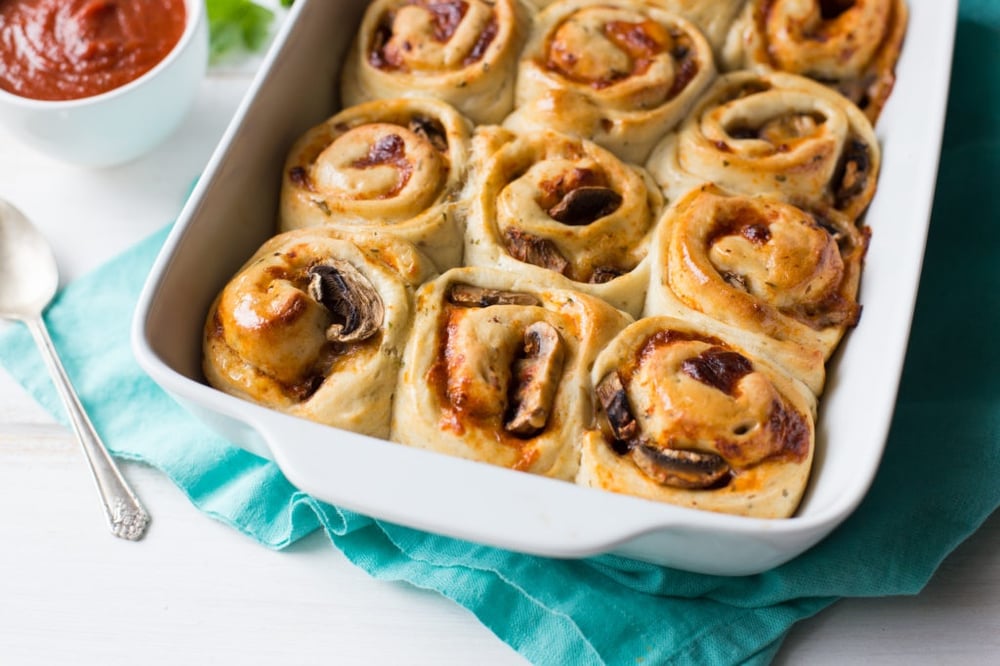 Sure, on National Eat What You Want Day, you could just order a pizza. But what's the fun in that? Instead, make your own pizza rolls! They're stuffed with mushrooms and parsley, and of course, some creamy mozzarella. Invite your friends and chat while rolling dough. After the rolls are prepared, they only need 25 minutes to bake. Brushed with olive oil, these toasty, soft rolls are a great way to indulge with homemade goodness.
Thank you to the Mushroom Council for this fantastic recipe.
Ingredients
¾ cup water, warmed to 110-to-115 degrees F
2 tsp dry active yeast
2 tsp honey
2 ½ cups all-purpose flour
2 tbsp finely diced white button mushrooms
1 tsp chopped parsley
1 tsp fine sea salt
½ tsp garlic powder
5 to 6 tbsp water
Olive oil, to coat bowl
1/3 cup pizza sauce
1 cup shredded mozzarella cheese
1 cup thinly sliced White Button mushrooms
Olive oil, to brush rolls, optional
Pizza sauce for serving
Grab a mixer and a non-stick baking dish, and get rollin'. Get the full recipe on our blog.
4. Let's Blend® Sheet Pan Blended Nachos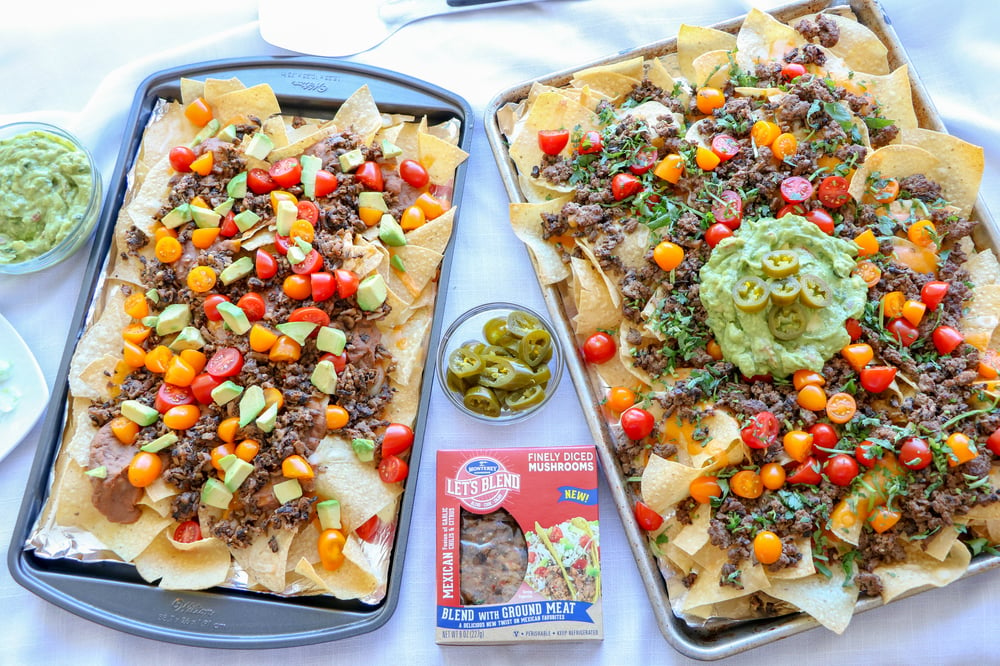 Nachos are definitely a meal worth splurging on, but they don't have to be as fattening as you might imagine. These pan nachos use blended mushrooms to cut down the amount of ground beef needed. Why use blended mushrooms? They help to reduce your caloric and fat intake, contain a variety of vitamins and more. We've made it even easier by using Let's Blend®, or our package of sliced and flavored mushrooms, to cut down your time in the kitchen. Find a store that carries Let's Blend near you!
Mimic the Mexican seasoning of Let's Blend by looking at the ingredients here. Some garlic and onion powder, a little orange peel and paprika can do wonders.
Thank you to KISS in the Kitchen for this fabulous recipe.
Ingredients
1 pound lean ground beef (93/7)
1 package Mexican flavor Let's Blend® (or 8 oz of your own seasoned, diced mushrooms)
1 16oz bag tortilla chips
1 pint cherry tomatoes, sliced in half
2 cups thickly shredded cheese
1 cup guacamole
1/4 cup chopped cilantro
Jalapeños, fresh or pickled, if desired
Make these scrumptious nachos today!
More Mushrooms, Please!
If you were impressed with how tasty these recipes sound, you'll be blown away by an entire cookbook packed with healthier mushroom concoctions.
Download our More Flavor, Less Guilt ebook to enjoy 15 tempting yet lower calorie mushroom recipes.