It's right around the corner: Cinco de Mayo. This holiday inspires many Americans to host Mexican-style fiestas— and what better way to celebrate than with some tasty Spanish food.
From savory fajitas to creamy enchiladas, we've got some Cinco de Mayo-inspired cuisine that's nothing short of delicioso!
1. Portabella Fajitas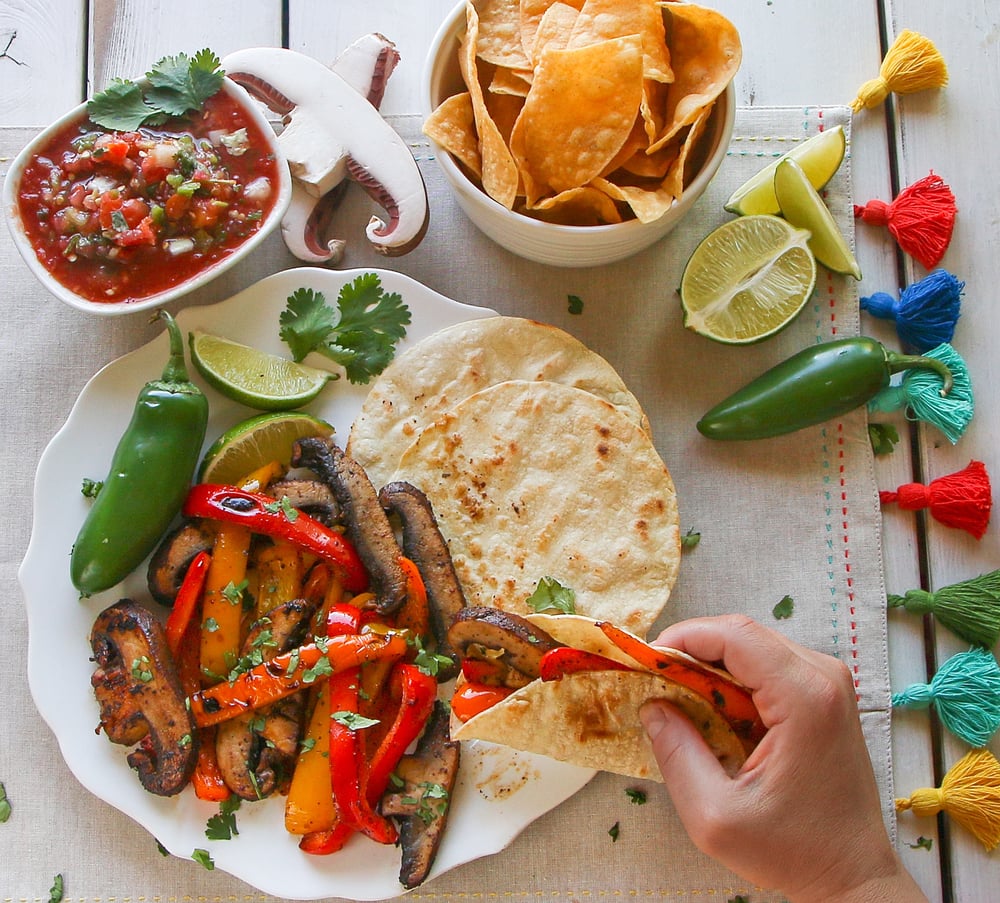 These meatless fajitas celebrate Mexican tradition without the extra calories, fat or sodium that meat platters often bear. Savory, sliced mushrooms sizzle in butter or oil with your favorite fajita or taco seasoning, brightly colored bell peppers and sharp onion. Because the list of ingredients is short, these fresh, tortilla-stuffed delights only take 20 minutes to make. Top them with all the salsa, guac and cheesy goodness you desire— or keep it simple and light. You choose this Cinco de Mayo.
Ingredients
12 oz of sliced Portabella mushrooms
1 tbsp fajita or taco seasoning
2 tbsp oil or butter
2 bell peppers (any color), cored and sliced
1 large onion, halved and sliced
8 medium tortillas, warmed
Salsa, shredded cheese, sour cream and/or guacamole, for serving
This quick recipe is great to make for parties. Simply pan toss the veggies and stick the toppings in bowls. Guests can assemble exactly as they like it. Get the full recipe here.
2. Let's Blend® Taco Stuffed Beef & Mushroom Peppers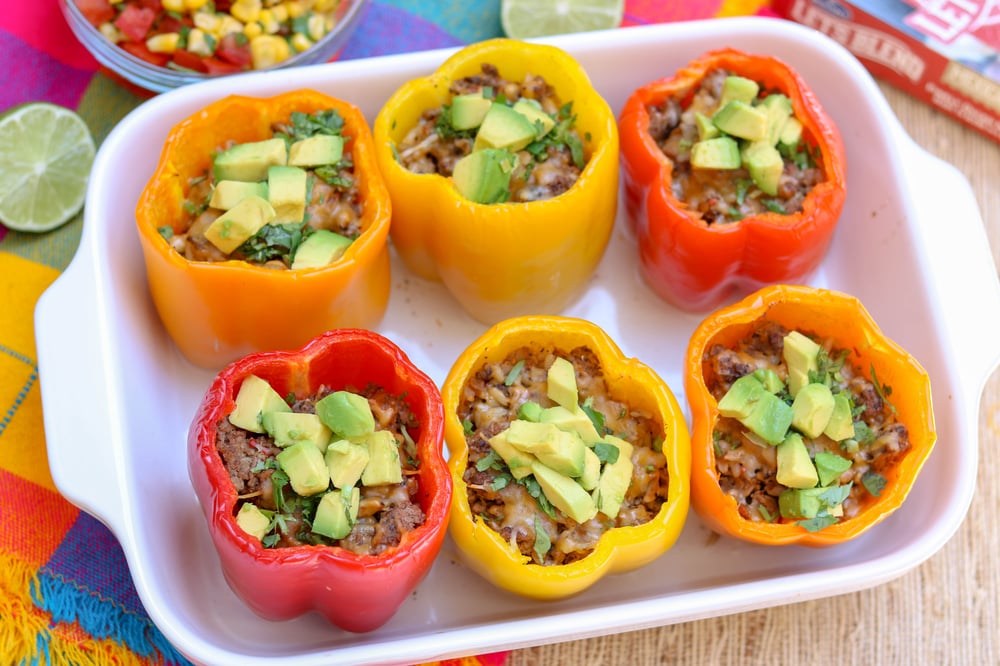 Honor Cinco de Mayo with bold, vibrant peppers— a Mexican staple. Pick out your favorite colored bells and stuff them with rice, lean ground beef and deliciously flavored mushrooms*. Topped with shredded cheese, avocado slices, and cilantro— you're sure to ask for more, por favor!
*Let's Blend® saves you time washing, chopping and seasoning your own mushrooms. If your local grocer doesn't carry this packaged Mexican blend (click here to see!), simply season some fresh mushrooms yourself for a burst of flavor.
Thanks to KISS in the Kitchen her inspiring recipe.
Ingredients
6 brightly colored bell peppers, washed, deseeded and caps removed
1 pound lean ground beef (93/7)
1 package Mexican flavored Let's Blend®, or fresh mushrooms, diced and seasoned with an equal blend of garlic powder, salt, orange peel, and paprika
1 cup steamed white or brown rice (use a microwaveable pack for ease!)
3/4 cup shredded Mexican cheese
Avocado and cilantro for garnish
Read to bake up some warm, tender stuffed peppers? Check out our blog for directions.
3. Mushroom & Spinach Enchilada Bake with Creamy Red Sauce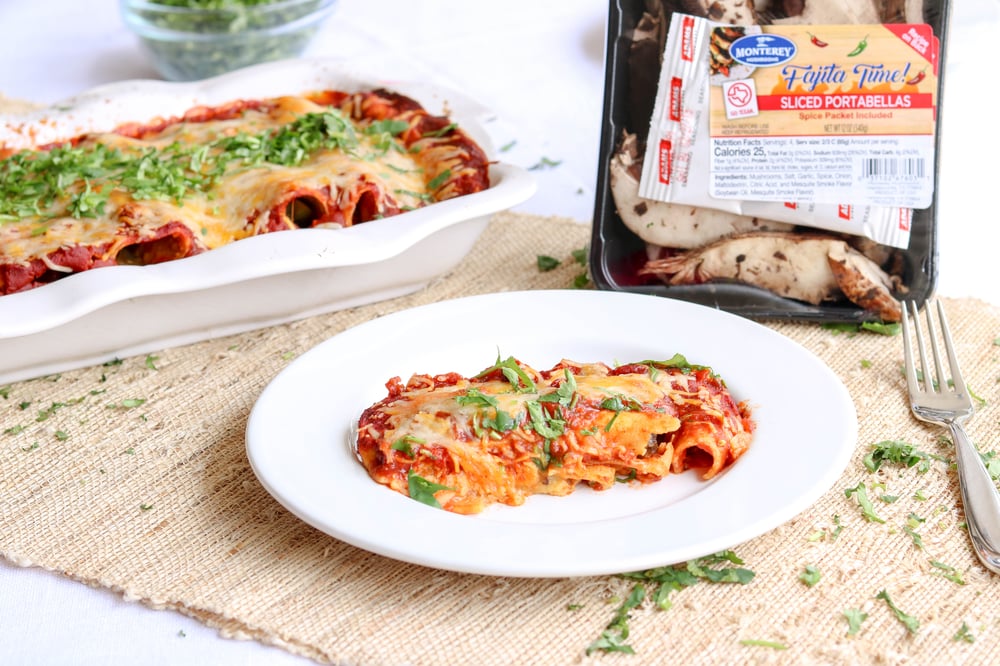 Most of us enjoy a plateful of steamy enchiladas, but you've likely never had an enchilada bake before. Cooked deep in a baking dish, these enchiladas are cradled and topped with melted mozzarella and pepper Jack cheese. Make sure you have a sturdy spatula to cut a generous hunk! After you scoop a forkful of savory mushrooms, spinach, onion in a soft tortilla, you might need to take a siesta to happily digest.
Ingredients
1 can (10 oz) mild enchilada sauce
1 cup sour cream or Mexicana crema
1 tbsp olive oil
1 medium onion, chopped (1/2 cup)
3 cloves garlic, finely chopped
4 large Portabella caps (16 oz), sliced
1 box (9 oz) fresh or frozen chopped spinach (if frozen, thaw and squeeze to drain)
2 tbsp taco seasoning mix
¼ cup fresh cilantro sprigs, chopped
½ tsp ground cumin
1 ¼ cups (5 oz) shredded pepper Jack or salsa Jack cheese
2 cups (8 oz) shredded mozzarella cheese
8-10 flour tortillas
½ cup crumbled cotija cheese, or mozzarella
This meatless meal will fill up even the most devoted carnivore. Find the complete recipe on the Monterey Mushroom blog.
4. Mexican Mushroom Meatball Soup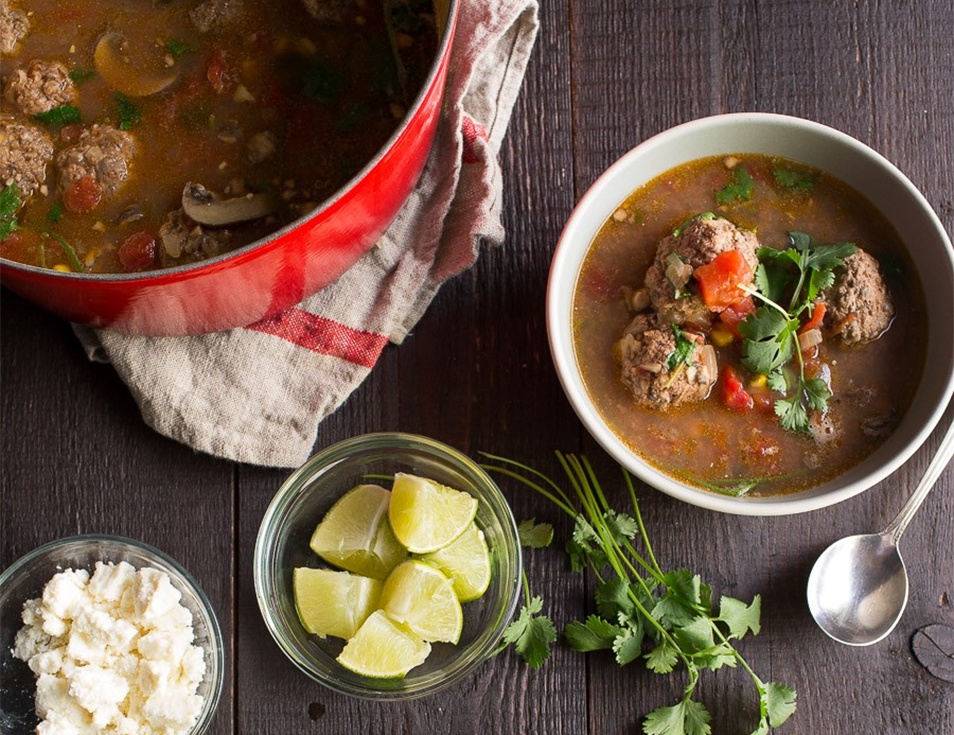 Mexicans cuisine often includes its zest, but with this mushroom meatball soup, you can add as little or as much spice as you'd like. Luckily, the robust brown mushrooms, sharp garlic, and onion give this soup tons of flavor, as is. The savory beef and pork meatballs and kidney beans can satisfy even the heartiest of diners. Paired with a generous supply of cilantro and freshly squeezed lime, this Cinco de Mayo recipe has a bold finishing touch.
Thanks to the Mushroom Council for this slurp-worthy Cinco de Mayo recipe.
Ingredients
1/2 pound ground beef
1/2 pound ground pork
1/2 pound brown mushrooms, finely chopped
1/3 cup panko
1 egg
2 tbsp of your favorite powdered taco seasoning
1 tbsp olive oil
1/2 cup yellow onion, finely chopped
3 garlic cloves, smashed
1/2 jalapeño, no seeds and finely chopped
1/2 pound of sliced brown mushrooms
1 can (14.5 oz) diced tomatoes
8 cups beef stock
1 cup frozen corn, thawed out
1 can (14.5 oz) can kidney beans
1/2 bunch of cilantro
1 large avocado, diced
1/2 cup cotija cheese, crumbled
Cilantro, garnish
1 lime, cut into wedges
Kosher salt
This recipe only takes 25 minutes to make. Find the full instructions here.
Interested in More Delicious Mushroom Recipes
If you think these Cinco de Mayo-inspired recipes sound tasty, you're sure to like our other mushroom meals.
Download our free More Flavor, Less Guilt Cookbook. It features a few Mexican favorites as well as other scrumptious mushrooms platters.