We just pledged our New Year's goals, and for many, one of our ambitions is to eat healthier. Unfortunately, after the early January hype wears off, some of us slip back into our bad habits.
Many people fail to stick to a healthy meal plan because they don't get creative, eating plain salads one too many times and throwing in the towel for a more flavorful, usually fatty and less healthy, alternative.
This year, stick to your improved eating resolution with better meal planning— starting with this tasty, yet low-cal taco recipe.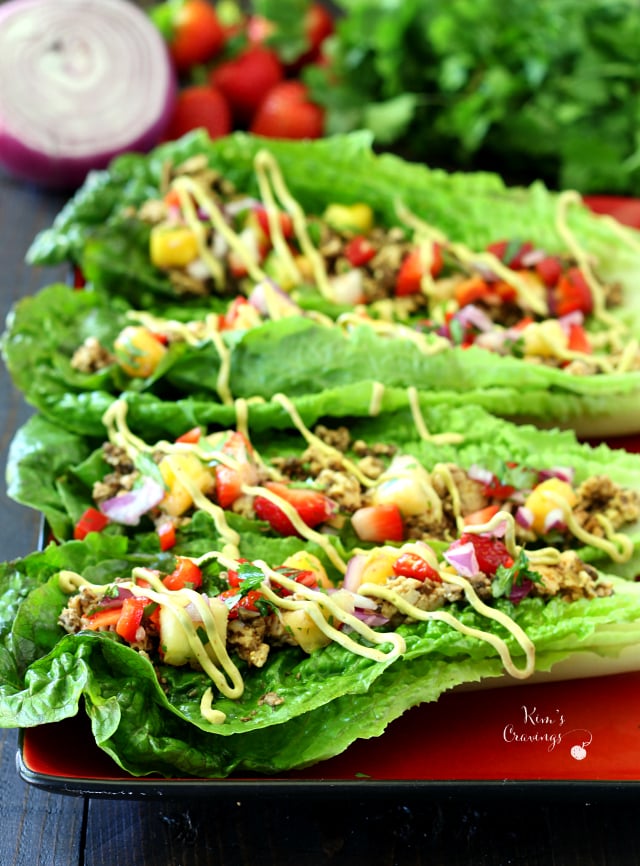 Taco Lettuce Wrap
This taco lettuce wrap recipe is anything but boring! Instead of traditional high-carb and low-nutritional hard shell or soft flour wraps, these creative tacos use romaine lettuce to hold the warm ingredients.
With a bright pineapple strawberry salsa, smooth avocado cream and savory mushroom meat mix, these "shell-less" tacos are a sure-fire way to stick to your New Year's resolution, with a happy tummy.
Ingredients
16 romaine lettuce leaves
Taco Meat
1 tbsp extra virgin olive oil
10 oz fresh cremini mushrooms, finely chopped to resemble ground meat
1 pound extra lean ground turkey
3 tbsp homemade taco seasoning, you will have the perfect amount for avocado crema and all! (or store bought)
1/2 cup chicken broth (or water)
Pineapple Strawberry Salsa
1/2 cup finely chopped pineapple
1/2 cup finely diced strawberries
1/2 cup finely chopped red bell pepper
1/2 cup finely chopped red onion
1/4 cup chopped fresh cilantro
1 tbsp apple cider vinegar
1 tsp honey
Avocado Crema*
1 large avocado
2 tsp lemon juice
1/2 cup plain nonfat Greek yogurt
2 tbsp extra virgin olive oil
2 tbsp water
1 tbsp taco seasoning + sea salt to taste
*This recipe for avocado crema will make enough for your tacos and some to spare, great for serving with raw veggies, slathering on omelets and more. If you would prefer just enough for the recipe, consider cutting the ingredients in half.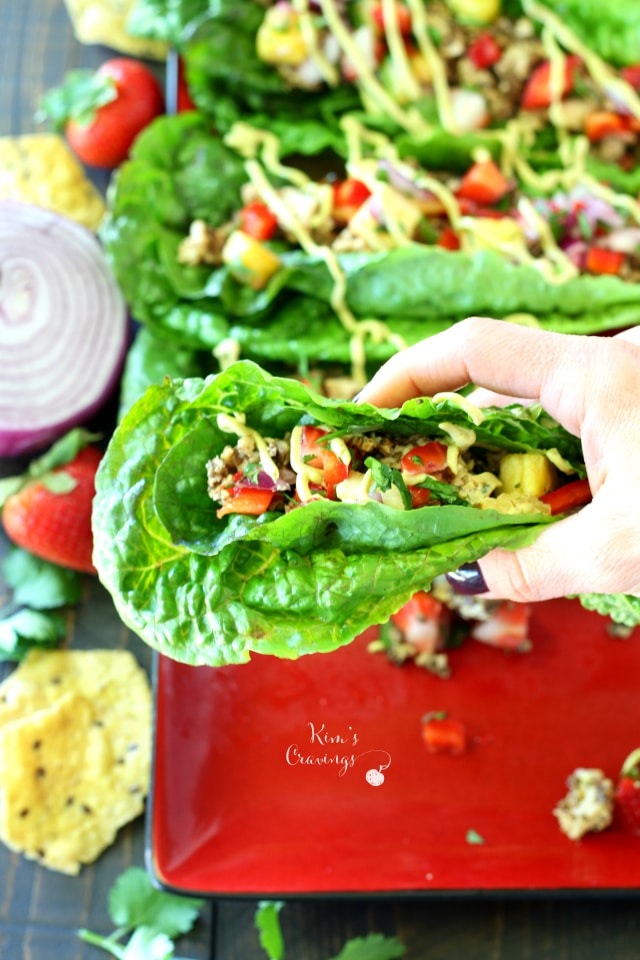 Nutrition
Serving size: 1 taco lettuce wrap with all of the fixings, including the meat/mushroom blend, pineapple strawberry salsa and avocado crema
Calories: 269
Fat: 15.3 g
Saturated fat: 2.8 g
Carbohydrates: 21.4 g
Sugar: 8.4g
Sodium: 385.8 mg
Fiber: 4.8 g
Protein: 15.8 g
Cholesterol: 43.3 mg
Ready to chow down with less guilt? Get the full instructions to make these lettuce wraps below!
Other Healthier Mushrooms Recipes
A serious resolution dieter sticks to a predefined meal plan, which helps to maintain healthier eating habits.
Why not plan your entrees a few days ahead of time with these other delicious recipes— all featuring nutritional benefits from mushrooms?
The Power of the Mighty Mushroom
Did you know that mushrooms are the only plant source of vitamin D if grown by light? That's not all, these mighty shrooms are also excellent sources of B vitamins, fiber and more.
Download Everything You Need to Know About Blending Mushrooms to learn about the science behind the dietary benefits of the mushrooms.