Independence Day is rapidly approaching, and the pressure to pick a side dish to bring to your picnic is building! Don't sweat it trying to find a 4th of July recipe; we've got you covered.
Except our recipes all have one very special ingredient… can you guess what?
Check out these five mushroom-inspired recipes to find an easy platter to bring your 4th of July outing:
1. Mushroom & Chive Potato Salad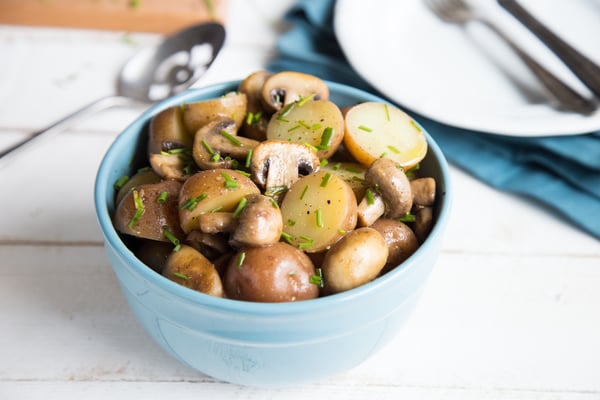 Potato salad is a hit at any gathering, but have you had one with mushrooms before? Many make the mistake of thinking White mushrooms aren't flavorful, but with the way this salad is seasoned, that couldn't be further from the truth! This lower-calorie potato medley subs out fattening mayonnaise for extra virgin olive oil instead, adding mustard and apple cider vinegar for extra flavor. Choose your favorite tater— whether that's russet, red-skinned or even purple!— and cook them to a soft perfection. Top them with fresh chives, salt and pepper and watch those plates fill up.
Thank you to the Mushroom Council for sharing this 4th-friendly recipe.
Ingredients
1 ½ pounds small red potatoes, halved
1 tbsp olive oil
8 oz White mushrooms, halved
Pinch of fine sea salt
Pinch of ground black pepper
Dressing
2 tsp apple cider vinegar
1 tsp brown mustard
¼ cup extra virgin olive oil
2 tbsp chopped chives
½ tsp fine sea salt, or to taste,
¼ tsp ground black pepper, or to taste
Check out how long to boil the potatoes and how to assemble this salad on our blog.
2. Mighty Mushroom Blended Burger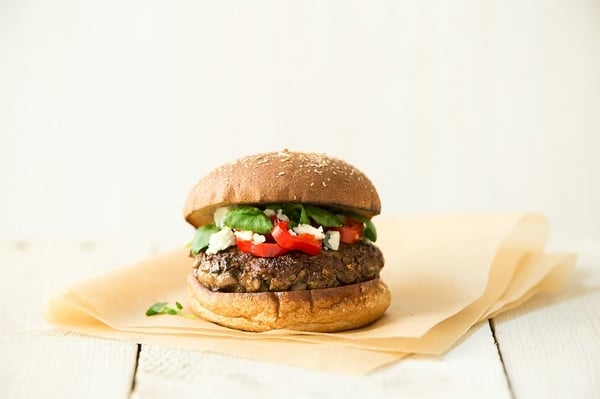 Would it be a 4th of July picnic without grilling up some burgers? These easy-to-make blended burgers are a quick mash-up of beef, finely diced mushrooms and a little salt and oil— and are easy to prepare the night before. For many, this recipe is a little "wild," since the mushrooms are mixed inside of the patty instead of placed on top. Learn more about the nutritional benefits of "the blend" here and impress your guests with all the reasons why mixing mushrooms in with your meat is a healthy choice.
Ingredients
1/2 pound mushrooms, any variety
2 tbsp olive oil, divided
1 pound ground beef
1/2 tsp salt
4 buns
Recommended toppings: pickled peppers, crumbled blue cheese and watercress greens
Get the quick instructions right here! Or, watch this video from the Mushroom Council on the art of making blended burgers.
3. Buffalo Bites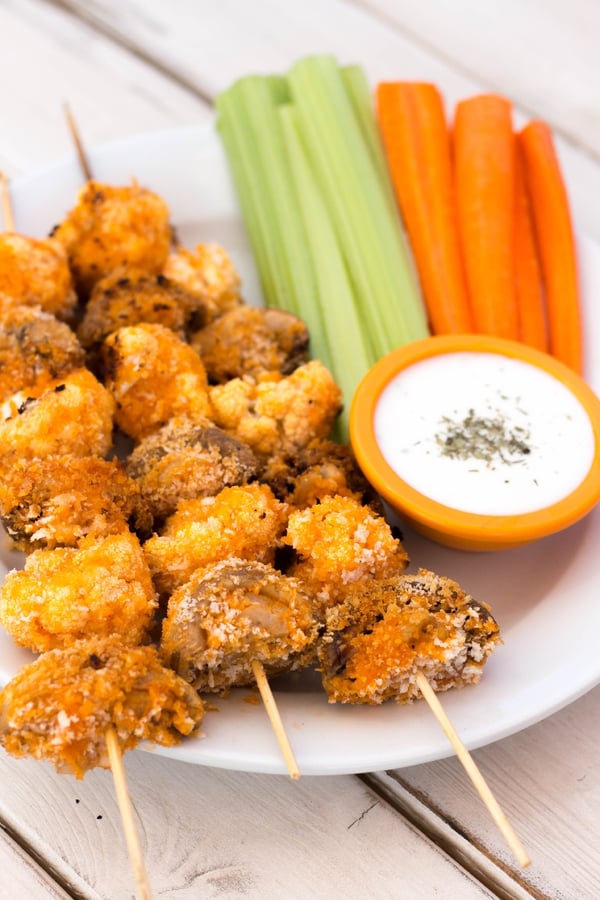 We pulled this featured recipe from our Mushroom-Friendly Recipes to Enjoy on the Grill because it was just too good to resist talking about again! Chicken buffalo bites are a hit at any outdoor soiree, but they're even better for your vegetarians. After all, grilled cauliflower makes for a surprisingly scrumptious imitation of crowd-pleasing, zesty buffalo nuggets. Our bites even feature White mushrooms, to give you a mix of crunch and spongy smoothness. Make them as spicy or as mild as you like— or make two batches for those with alternate preferences.
Ingredients
Medium White mushrooms
Cauliflower
Butter
Hot sauce (we recommend Frank's)
White vinegar
Garlic powder
Blue cheese dressing
Recommended sides: Celery or carrots
Bring the heat with this meatless summer grill platter. Find the instructions on our blog or watch our YouTube video on how to make it.
4. Rainbow Summer Salad with White Mushrooms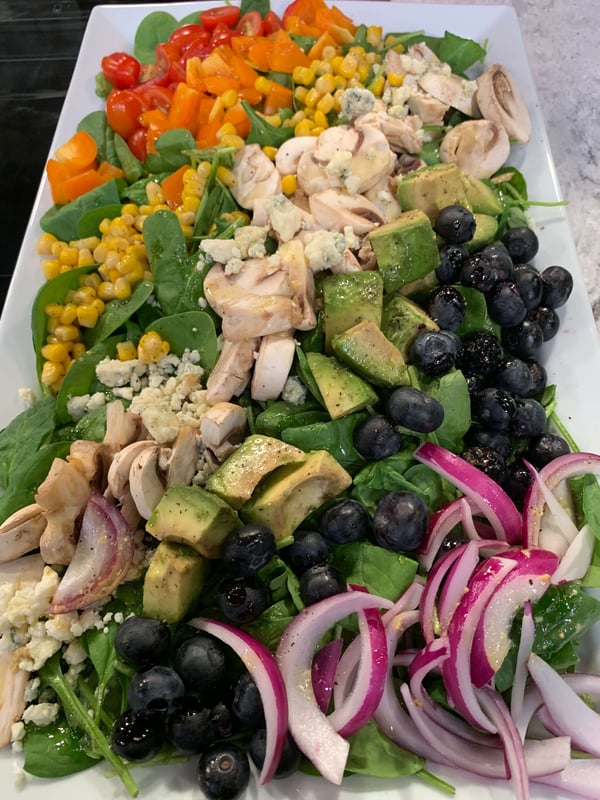 Add some color to the usual 4th of July red, white and blue-themed dishes with a pop of yellow, orange, green and purple too! This bright and bold "salad" features antioxidant-rich spinach and blueberries, plump tomatoes, crunchy peppers, corn, and onion. Soften the intense rainbow of hues with some white blue cheese crumbles and mushrooms. The light honey-lemon dressing has a touch of Dijon, for a citrusy yet creamy burst.
A special thank you to The Produce Moms for their original recipe.
Ingredients
9 oz baby spinach
8 oz White mushrooms, sliced
6 oz grape tomatoes, halved
6 oz orange bell pepper, chopped
6 oz corn kernels
6 oz blue cheese crumbles
1 avocado sliced
6 oz red onion, sliced
6 oz blueberries
Dressing
1/2 cup olive oil
2 tbsp rice vinegar
1 lemon, juiced
4 tbsp honey
4 tbsp dijon mustard
1/2 tsp sea salt
Salt and pepper to taste
Get the directions for whisking the dressing together and arranging your colorful ingredients on the Monterey Mushroom blog.
5. Portabella Fajitas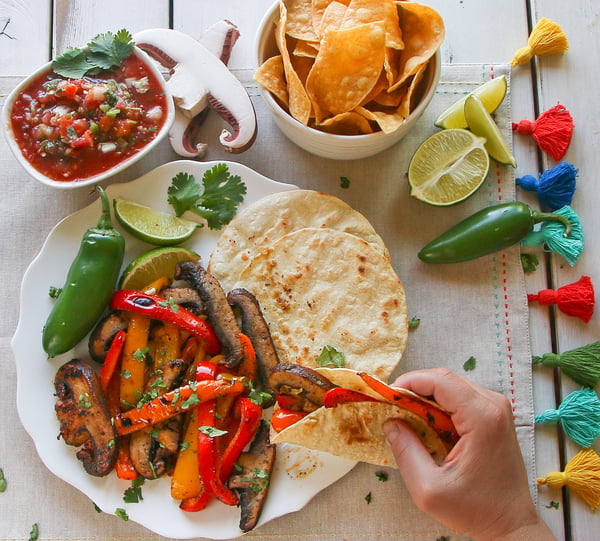 If someone's bringing chips and salsa to your 4th of July celebration, you absolutely need to pair them with another Mexican staple: fajitas! Like the buffalo bites mentioned in this post, our Portabella fajitas are also vegetarian-friendly, replacing meat with excellently seasoned mushrooms. These fajitas only require a few ingredients, making it easier than ever to set up a build-it-yourself station for the wraps. This way, guests can top them with all the salsa, guac and cheesy goodness they desire.
Ingredients
12 oz of sliced Portabella mushrooms
1 tbsp fajita or taco seasoning
2 tbsp oil or butter
2 bell peppers (any color), cored and sliced
1 large onion, halved and sliced
8 medium tortillas, warmed
Salsa, shredded cheese, sour cream and/or guacamole, for serving
Get the full recipe here to know what to add to your shopping list ahead of time!