Grab your wicker basket and start packing for a meal worth remembering. In celebration of those sunny summer days, we've compiled a list of some of our favorite picnic recipes.
But we are Monterey Mushrooms, afterall, and we just love to promote our favorite food. That's why each of these scrumptious recipes contains one very special ingredient…. Mushrooms!
Unfold your checkered blanket and get ready for some yummy summertime staples!
1. Caramelized Onions & Mushroom Hummus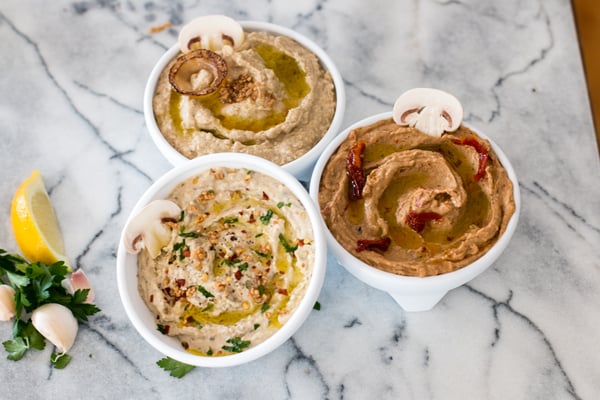 You've seen traditional hummus, maybe even a "bold" garlic flavor, but what about a caramelized onion and mushroom blend? Spice up those blended chickpeas with these browned and beautiful slices, sizzled to perfection. Paired with fresh minced garlic, gently squeezed lemon juice and a pinch of salt, you'll be dipping your finger in for more before you even prepare your dippers! Serve with raw vegetables for a combination of cream and crunch or with soft pitas. Topped with a pop of paprika or fresh herbs, it's sure to be hit on any picnic table.
Ingredients
2 tbsp + 2 tbsps olive oil
1 medium onion, thinly sliced & quartered
1/4 tsp + 1/2 tsp salt
4 oz mushrooms, sliced
1 tbsp fresh garlic, minced (about 4 cloves)
3 tbsps lemon juice, fresh squeezed
7 tbsps water
1 can (15 oz) garbanzo beans (AKA chickpeas), drained
Optional garnishes: a sprinkle of paprika, a swirl of olive oil, pine nuts (especially for the basil hummus), chopped parsley, chili pepper flakes
Make this unique hummus in three easy steps. Check out the instructions on our blog.
2. Marinated Baby Bella Mushroom & Chickpea Salad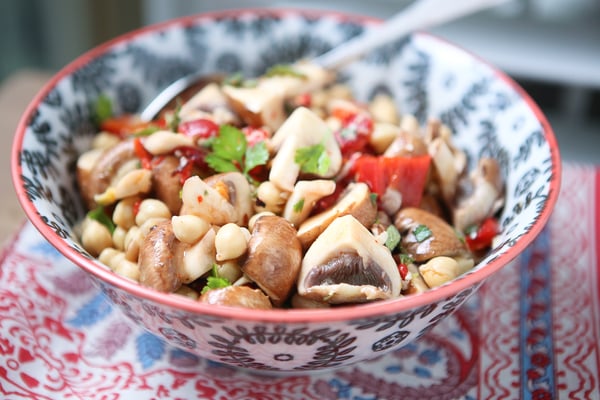 It's a garbanzo bean kind of summer! Chickpeas are a hot-weather favorite because they can be chilled to serve as a refreshing side. We're giving these creamy heroes a slight bite with some roasted red peppers, sharp garlic and a pinch of red pepper flakes. Mix in some oil-dressed Baby Bella mushrooms, before simmering it all in your favorite red wine or sherry vinegar to absorb extra flavor. Dress the complete salad with freshly plucked parsley or oregano and some classic salt and pepper— and voilà! Cool and zesty unite in each mouthful.
Thank you to Aggie's Kitchen and the Mushroom Council for this tasty recipe.
Ingredients
8 oz Baby Bella mushrooms, cleaned & cut into quarters
2 roasted red peppers, cut into small pieces
One can (15 oz) chickpeas, drained & rinsed
1/3 cup red wine or sherry vinegar
4 tsps olive oil
2 garlic cloves, pressed or minced
Small pinch red pepper flakes, to taste
2 tbsps fresh Italian parsley and/or fresh oregano, chopped
Salt & pepper to taste
This quick picnic recipes only takes a few minutes to make. Here's how to assemble!
3. Blended Taco Salad In a Jar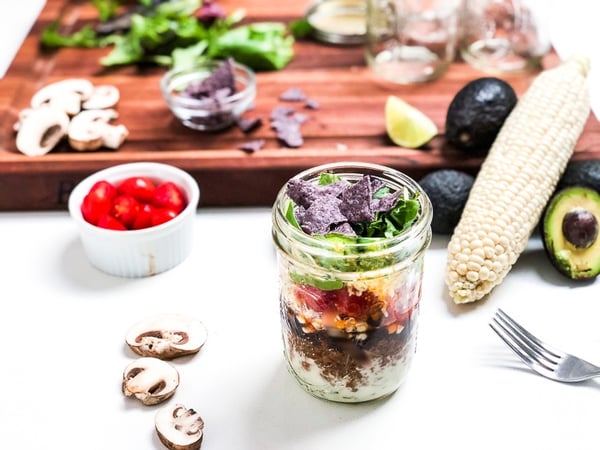 Taco salad makes for a fantastic picnic dish, but boy can it be a hassle. You have to keep the wet ingredients separate from the dry and hope the lettuce doesn't get soggy— not to mention, struggle with plastic wrap and spill-over. Avoid the mess by packaging your taco salad in mini mason jars. Guests can grab a jar and go, enjoying savory ground beef, grated cheddar, black beans and all the other classic ingredients, conveniently. Simply shake, pour on your plate and dig in!
Ingredients
1 tsp coconut oil or oil of choice, safe for high heat
1 lb ground beef
1 taco seasoning packet
1 small onion diced
8 oz chopped Brown mushrooms or Let's Blend® Mexican flavor
2 tbsps tomato paste
½ cup water
Romaine lettuce, chopped (or use bagged salad)
Cherry tomatoes, halved
1 can black beans
1 cup cheddar cheese, grated
1 bottle Catalina or ranch salad dressing, or make you own
Tortilla chips, for topping
Check out the video for making your own jarred taco salad on our blog!
4. Shiitake Mushroom Ramen To-Go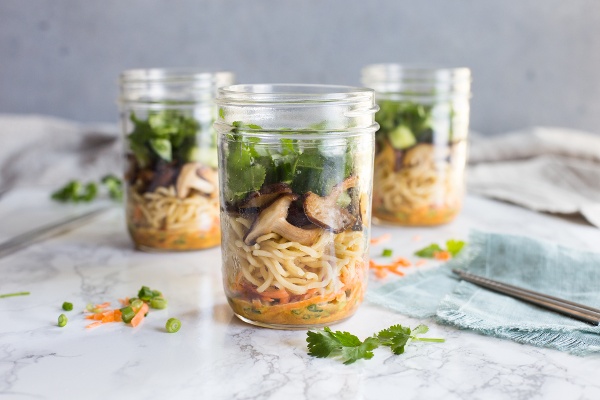 In addition to your jarred taco salad, you can also jar some savory ramen. Although not a traditional picnic food, these decadent noodles can be prepped ahead of time, right from the comfort of your kitchen. Simply sear some Shiitake mushrooms, stir in savory bouillon and add some shredded carrots, green onions and cucumber. Seasoned with tangy Sriracha, soy sauce and fresh cilantro, these warm jars are a tasty to-go option to bring straight to your gathering.
Thank you to the Mushroom Council for tipping us off to this fantastic recipe.
Ingredients
2 tbsps extra virgin olive oil
6 oz Shiitake mushrooms, sliced
4 tbsps chicken bouillon paste or broth base
1 tbsp low-sodium soy sauce
1 tsp Asian-style hot sauce (such as Sriracha)
2 cups shredded carrots
5 green onions, white and green portion sliced
8 oz Asian noodles, cooked according to package directions
1 cup diced cucumber
½ cup chopped, fresh cilantro
Four (16 oz) wide-mouth jars, with lids
¾ cup boiling water for each jar, when ready to serve
Discover how to make this steamy ramen and how to jar each serving up right here.
5. Rosemary Caprese Kebabs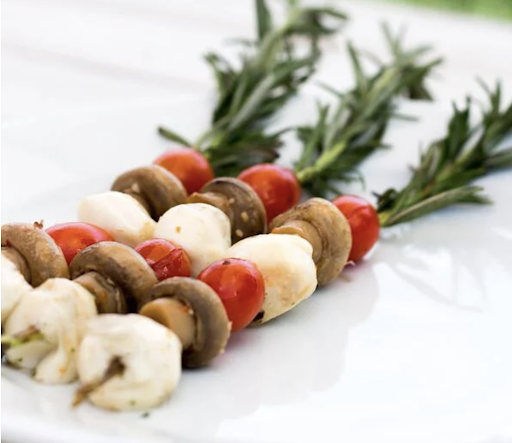 Will there be a grill at your picnic? If so, these kebabs are a must! With only four simple ingredients— marinated mushrooms, tomatoes, mozzarella and rosemary— all you have to do is arrange them on a stick and sear 'em up. Pack some aluminum foil to wrap and transfer the kebabs to your red and white checked tablecloth, with ease. This gluten-free recipe is a terrific idea for your health-conscious or dietary-restricted guests and is savory as can be!
Ingredients
Marinated mushrooms
Grape tomatoes
Marinated mozzarella
Sprigs of rosemary
Print or pin this recipe here! Interested in more mushroom-inspired kebabs? Check out our blog on the perfect summer kebabs!