Winter is the best time to curl up with a warm bowl of your favorite soup. And although chicken noodle is certainly a classic, it's not the only option.
Expand your taste buds with these creative mushroom soups, packed with nutritional value and robust flavor.
1. Creamy, Easy Mushroom Soup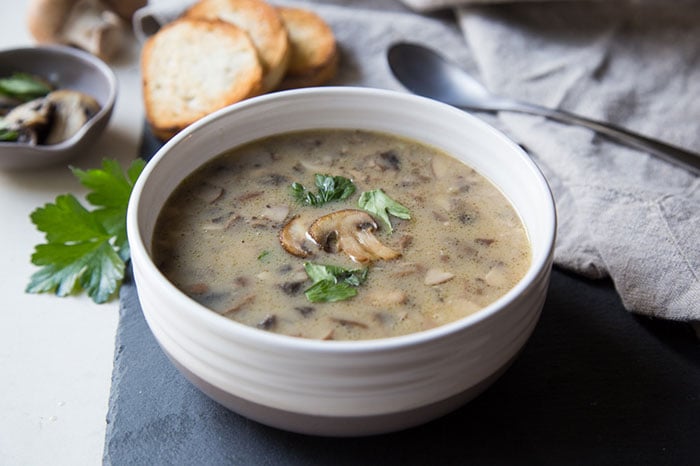 This simple soup recipe only takes ten short minutes to prepare but is dressed with creative seasonings for layers of flavor with every soup full. The original recipe uses only broth, but a cup of your favorite milk gives this soup an irresistible creamy texture. Swimming with chopped cremini and white button mushrooms, our Creamy, Easy Mushroom Soup makes for a wonderfully robust lunch.
Ingredients
3 tbsp unsalted butter
2 garlic cloves, minced
1 shallot, finely chopped
4 oz cremini mushrooms, chopped
4 oz white button mushrooms, chopped
2 tbsp all-purpose flour
3 cups chicken stock
¼ tsp fine sea salt, or to taste
¼ tsp ground black pepper, or to taste
Sliced sautéed mushrooms for garnish, optional
Chopped parsley for garnish, optional
1 cup milk, cream or other dairy, optional

Get the full directions by viewing the complete recipe here.
2. Mexican Mushroom Meatball Soup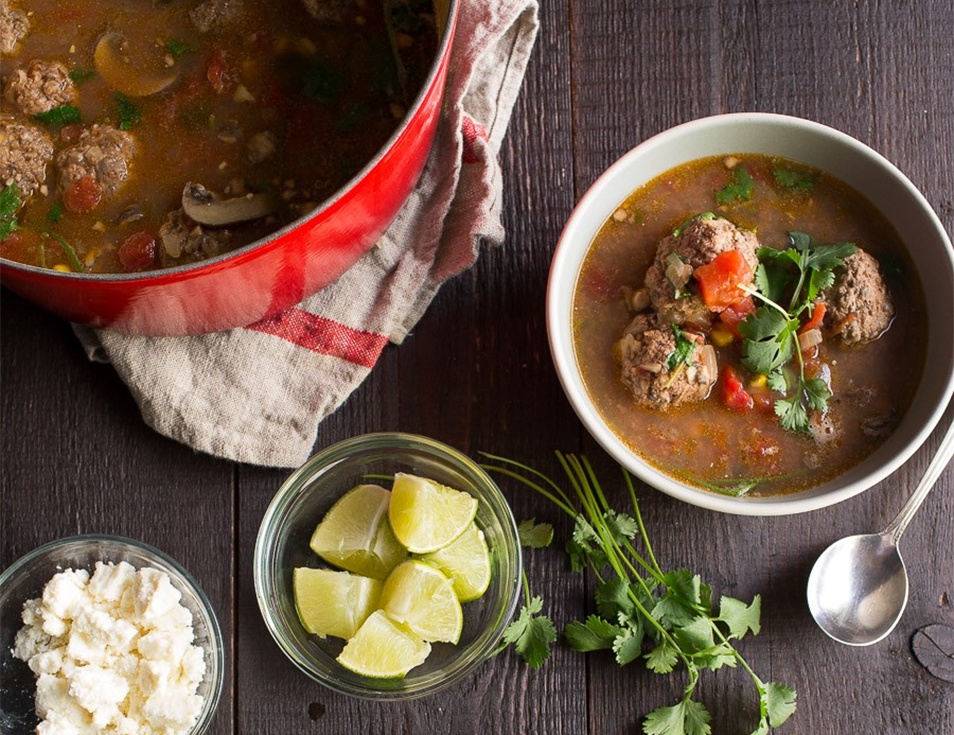 Mix ground beef, pork and chopped mushrooms and you get one savory soup. Hearty meatballs soak up the sharp taste of garlic, jalapeños, tomatoes, and onion. Luckily, they're complemented with the subtle, neutralizing flavors of corn, beans, cheese, avocado— and more mushrooms. Topped with cilantro and a splash of lime, this Mexican soup is both filling and comforting.
A very special thank you to The Mushroom Council for this recipe.
Ingredients
1/2 pound ground beef
1/2 pound ground pork
1/2 pound of cremini mushrooms, finely chopped
1/3 cup panko
1 egg
2 tbsp of your favorite powdered taco seasoning
1 tbsp olive oil
1/2 cup yellow onion, finely chopped
3 garlic cloves, smashed
1/2 jalapeño, no seeds and finely chopped
1/2 pound of sliced cremini mushrooms
1 14.5 oz can diced tomatoes
8 cups beef stock
1 cup frozen corn, thawed out
1 14.5 oz can kidney beans
1/2 bunch of cilantro
1 large avocado, diced
1/2 cup cotija cheese, crumbled
Cilantro, garnish
1 lime, cut into wedges
Kosher salt

Ready to roll up some meatballs? Here's the full recipe.
3. Thai-Style Coconut Chicken Soup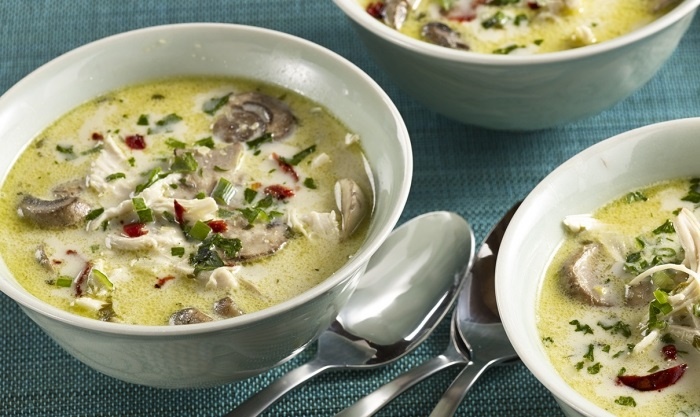 Bright lemongrass, smooth coconut milk, and dried chili pepper. Need we say more? This Thai chicken soup is a unique medley of sweet and sharp, uniting the rich flavors of cilantro, lime and juicy rotisserie chicken in a warm broth. Complemented with sliced mushrooms and shallots, this recipe is gourmet at its finest.
Thank you to The Mushroom Council for this Thai-inspired soup.
Ingredients
1 tbsp vegetable oil
3 tbsp Gourmet Garden Lemongrass Stir-In Paste
3 large shallots, chopped
1/2 cup lightly dried cilantro, divided
4 cups chicken stock
2 14 ounce cans full-fat coconut milk, well shaken
8 oz sliced mushrooms
1 whole breast of rotisserie chicken, shredded
3 tbsp lime juice
2 tbsp lightly dried chili pepper, divided
2 green onions, thinly sliced
1 lime, cut into wedges
Desperate to slurp this up? Check out the directions on our blog.
4. Butternut Squash and Mushroom Soup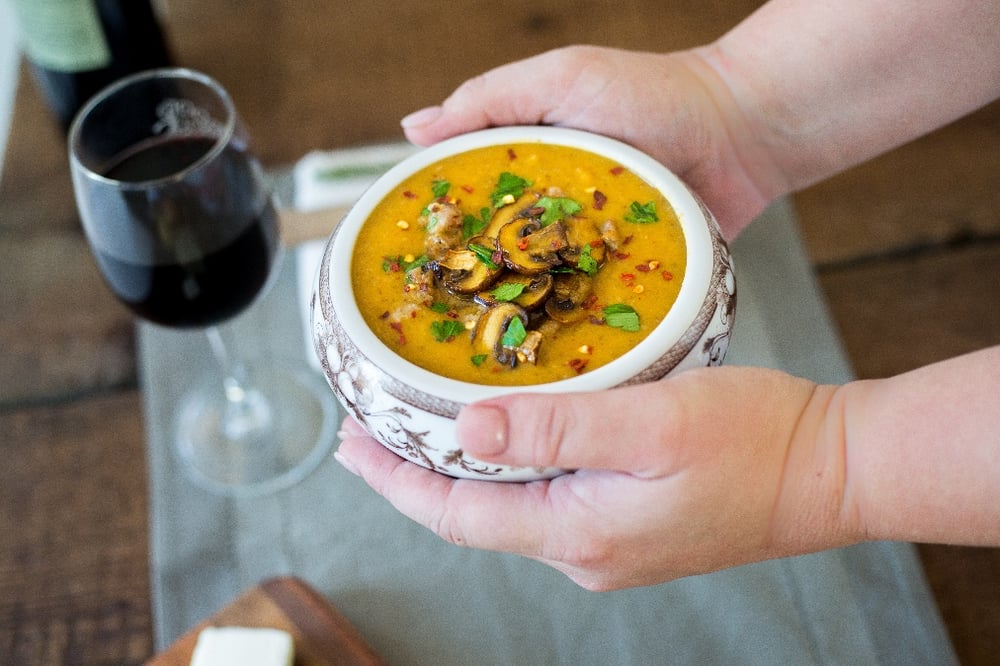 Of all the kinds of soups out there, there's nothing like a smooth butternut squash bisque. Similar to the taste of sweet potatoes, these orange cubes are pureed to perfection with chicken broth to create a thick, velvety base. Throw in some plump Italian sausage, robust white mushrooms and fresh seasonings like rosemary, garlic, and parsley— and you've got yourself one steamy, creamy bowl.
Ingredients
1 cup yellow onion 1/4-inch dice
1 tbsp olive oil
4 cups butternut squash 1-inch cubes
2 sprigs rosemary
1/2 tsp kosher salt
Black pepper freshly ground, as needed for seasoning
3 cups unsalted chicken stock or broth
8 oz white mushrooms 1/4-inch slices
4 cloves garlic peeled and minced
1/2 pound fresh Italian sausage removed from casing, about 2 sausages
1 tbsp chives sliced for garnish, optional
1 tbsp fresh parsley chopped for garnish, optional
Ready for some buttery dollops of squash soup? Find out how to make it on the Monterey Mushroom blog.
5. Roasted Mushroom Parsnip Soup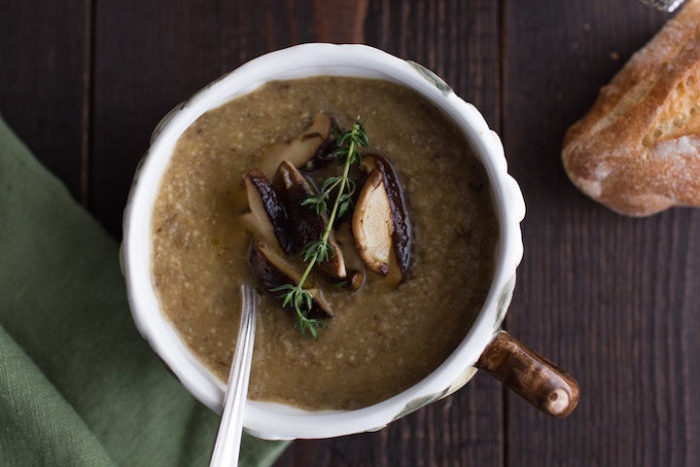 Have you ever tried parsnip before? As a winter vegetable root, this white plant is closely related to carrots and parsley. But it doesn't really taste like either: a parsnip is sweet and nutty, sometimes described as earthy, in flavor. The root veggie and cremini mushrooms steal the show in this roasted soup, complemented by smashed garlic, fresh thyme, and sliced leeks.
Impress your dinner guests with this uncommon first course, from chefs at The Mushroom Council.
Ingredients
1 pound cremini mushrooms, cleaned and cut into quarters
1 pound parsnips, peeled and cut into 1″ pieces
3 tbsp + 2 tsp olive oil
1/3 cup leek, whites only, thinly sliced
1 clove garlic, smashed
1 tsp dried thyme
5 cups vegetable stock
1/4 pound shiitake mushrooms, cleaned and thinly sliced
2 tbsp olive oil
1 clove garlic, finely minced
Sprigs of thyme
Kosher salt, to taste
Black pepper, to taste
Prepare this warming soup, today, with these easy instructions.
6. Asian Mushroom Matzo Ball Soup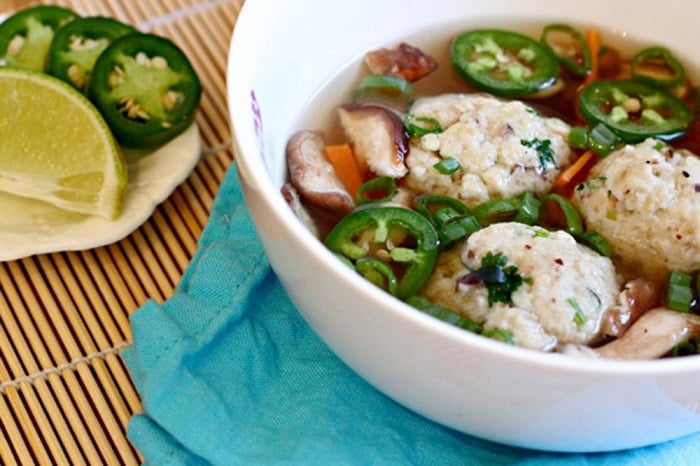 Who said you have to order Asian out? Matzo dumplings aren't hard to make: just mix together some matzo meal and seasonings and refrigerate while you make your broth. Spice it up with ginger, carrots and shiitake mushrooms and garnish with zesty jalapeños and green onions.
Shout out to What Jew Want to Eat for this delightful recipe.
Ingredients
10 cups stock
3 eggs
1 cup matzo meal
¼ cup green onions, plus more for garnish
¼ cup shiitake mushrooms, minced
¼ cup cilantro, minced, plus more for garnish
¼ tsp black pepper, plus more to taste
¼ tsp salt, plus more to taste
3 tbsp olive oil
1 tsp fresh ginger, minced
2 tsp balsamic vinegar
½ cup carrots, julienne
½ cup shiitake mushrooms, sliced
2 jalapeños, sliced
6 lime wedges
Ready to indulge? Get the full instructions here.
More Mushroom-Inspired Recipes
One thing that makes all these soups so darn tasty is their secret ingredient: mushrooms.
If you love these friendly fungi, download our free More Flavor, Less Calories Cookbook. It's packed with mushroom recipes beyond just soups. From warm pot pies to blended meatloaf, grab your apron and get ready to cook.