As we all strive to be our healthiest selves, it can be difficult to find fun, enjoyable recipes for the whole family — especially when there are so many delicious, high-carb or high-fat foods tempting you around every corner.
But it doesn't have to be this way! Your meals can be unique, enjoyable, and provide nutrition. We've compiled some of our healthier recipes — from delicious salads to mushroom-based tacos — for you and your family to enjoy!
Feel inspired to eat better this year with these low-cal, flavorful recipes:
1. King Trumpet "Bacon"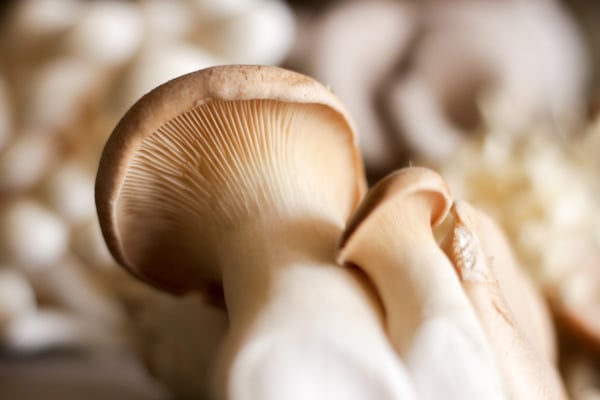 While most meat-eaters love bacon, it's a fatty meat that many people try to keep out of their diet most of the time. But, did you know there is a healthier option that's just as delicious?
King Trumpet "Bacon" has a meat-like texture, making them perfect for this meatless options a great alternative for vegetarians and meat-eaters alike!
Ingredients:
8oz.

Monterey Mushrooms® King Trumpets

, sliced lengthwise, about 1/8 inch thick
4 tsp. liquid aminos
3 tsp. vegetable oil
1 tsp. Worcestershire sauce
1 tsp. smoked paprika
1 tsp. smoked sea salt, ground
1 tsp. liquid smoke
This savory fungi imitates the texture and taste of your favorite meat when cleverly seasoned and is a great way to add flavor to soup, salad and more!
2. Blended Beef and Mushroom Sliders with Apple "Buns"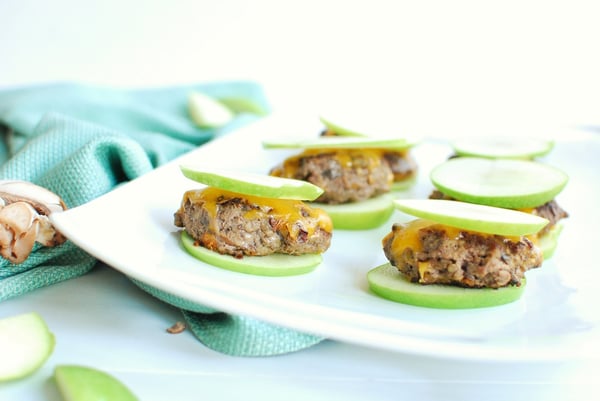 Whether you're grilling these up for dinner or as an appetizer for the big game, these burger bites are made up of nutritious Baby Bellas, apples and lean ground beef.
If you want to cut calories, you can skip the cheese — but the thinly sliced cheddar isn't too much of a cheat and adds a nice flavor.
Check out An Introduction to Blending Ground Beef and Chopped Mushrooms before you get started, so you make sure you can perfectly incorporate minced mushrooms into your ground meat.
Ingredients:
8 ounces Monterey®

Baby Bella mushrooms

5 slices of cheddar cheese, cut into quarter squares
3 apples
1 tbsp olive oil
1 lb 85/15 ground beef
1/4 tsp salt
1/4 tsp onion powder
1/4 tsp pepper
Thanks to Chrissy from Snacking in Sneakers for this healthy dish!
3. Rainbow Salad with White Mushrooms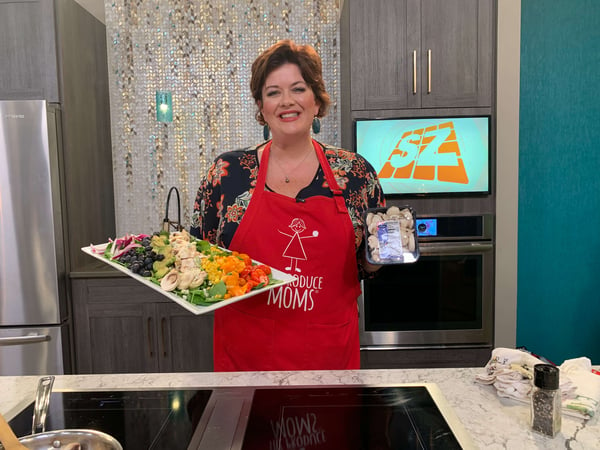 The Produce Moms really out-did themselves with this colorful dish!
Perfect for spring and summer lunches, this salad is full of delicious ingredients! From antioxidants in blueberries to fiber in avocado, you'll receive a ton of nutrients from fruits and veggies of every color of the rainbow.
Topped with a lemon honey vinegar dressing, this salad is bright, flavorful and most importantly: full of nutritious ingredients.
Ingredients:
9 oz baby spinach
8 oz Monterey Mushrooms®

Sliced White Mushrooms

6 oz grape tomatoes halved
6 oz orange bell pepper chopped
6 oz corn kernels
6 oz blue cheese crumbles
1 avocado sliced
6 oz red onion sliced
6 oz blueberries
Get the full recipe (including the salad dressing!) here.
4. Asian Chicken Portabella Wrap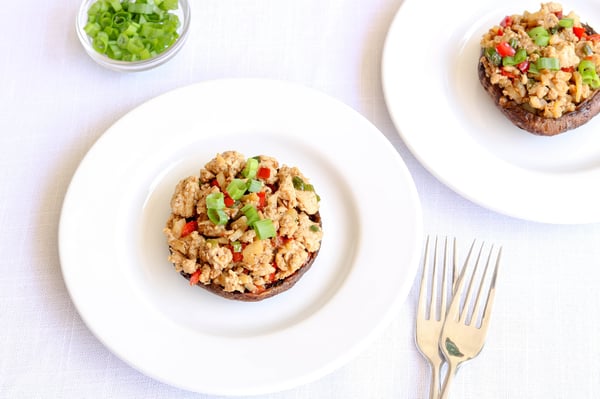 Looking for a wrap without the carbs? Skip the tortilla — cradle your fixings in the deep cap of a Portabella mushroom. This Asian Chicken Portabella Wrap relies on flavorful chicken, water chestnuts, red pepper and ginger for its delicious taste.
Ingredients:
8 oz can of water chestnuts, diced
6 Monterey Mushroom Portabella mushroom caps
4 Tbsp coconut aminos
3 Tbsp sesame oil (2 Tbsp reserved for sauce)
2 1/2 Tbsp rice wine vinegar
2 Tbsp maple syrup
1 1/2 tsp Chinese five spice
1 lb ground chicken
1 red pepper, chopped
1 bunch chives, chopped, reserve handful for topping
1 Tbsp chopped ginger or ginger paste
1 Tbsp minced garlic
1/4 tsp salt
1/4 tsp pepper
Thanks to Shannon from KISS in the Kitchen for sharing.
5. Marinated Mushroom 7-Layer Salad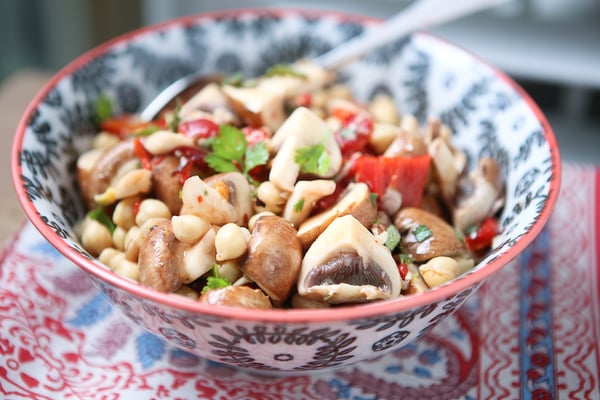 Many people lose steam with healthier eating when salads — an easy-to-make, nutritious meal — become mundane in their routine, but this salad is anything but boring!
Enjoy an incredible blend of textures and flavor. From peas and peppers to mushrooms and radishes, you're getting both vitamins and that full feeling — and it's sure to have something that everyone at the table will love!
Ingredients:
8 to 10 mini sweet orange and yellow bell peppers, sliced
8 ounces sliced white button mushrooms
6 green onions, white and green portion sliced
4 cups chopped romaine lettuce
2 medium tomatoes, cored and chopped
2 tablespoons rice vinegar
1 ½ cups green peas (thawed, if frozen)
1 tablespoon chopped chives
1 clove garlic, grated
1 bunch radishes, quartered (about 12 radishes)
1 teaspoon chopped chives
1 teaspoon chopped cilantro
1 teaspoon chopped parsley
1 teaspoon garlic powder
1 teaspoon onion powder
1 teaspoon fine sea salt
¾ cup mayonnaise
½ teaspoon fine sea salt
¼ teaspoon ground black pepper
¼ cup sour cream
¼ cup extra virgin olive oil
Thanks to The Mushroom Council for this delicious spring and summer salad!
6. Taco Lettuce Wrap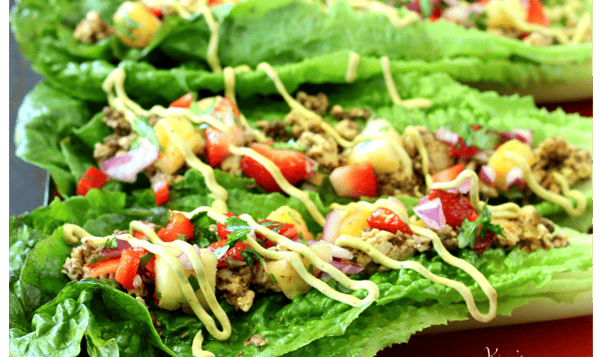 Looking for a low-carb Taco Tuesday recipe? We've got you covered with delicious Taco Lettuce Wraps!
With bright pineapple strawberry salsa, smooth avocado cream and savory mushroom turkey mix, these low-cal tacos are a sure-fire way to stick to your diet.
Taco shell and "meat" ingredients:
16 romaine lettuce leaves
10 oz fresh cremini mushrooms, finely chopped to resemble ground meat
3 tbsp homemade (or store-bought) taco seasoning
1 tbsp extra virgin olive oil
1 pound extra lean ground turkey
1/2 cup chicken broth (or water)
Get the full recipe from Blenditarian, courtesy of Kim's Cravings, below!
7. Kale & Basil Pesto Zoodles with Mushrooms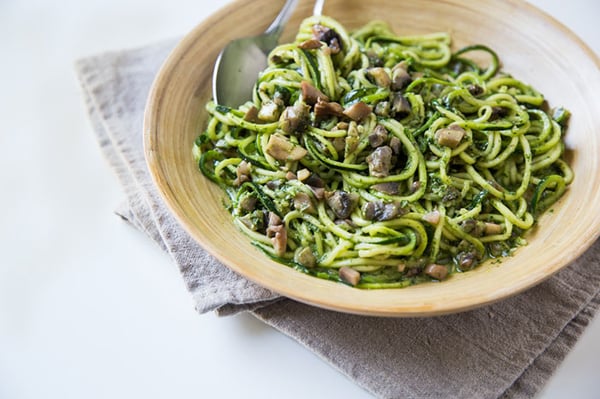 Instead of carb-heavy pasta, spiral some zucchini and enjoy these The Mushroom Council zoodles in this kale and basil pesto recipe.
Kale, pine nuts and basil stand out strong, as do the white mushrooms. This spaghetti look-alike is so good, your family won't even realize they're eating vegetables!
Ingredients:
8 ounces white button mushrooms, chopped
8 tablespoons extra virgin olive oil
2 cups chopped kale leaves
2 garlic cloves chopped
2 tablespoons pine nuts
4 tablespoons freshly grated Parmesan cheese
3 medium zucchini (about 1 ½ pounds) cut into zoodles
½ teaspoon fine sea salt
¼ cup lightly packed basil leaves
Fine sea salt to taste
Dig into this delicious pasta dupe for a perfect weeknight dinner!
More Delicious (and Nutritious!) Mushroom Recipes
We understand — you can never have too many delicious recipes on hand.
Treat your palate to some incredible dishes that are on the healthier side by downloading our free More Flavor, Less Guilt Cookbook where we share 15 mouthwatering recipes you can enjoy guilt-free.
Download the cookbook and enjoy these recipes today!