The big game is right around the corner — and what would a Super Bowl Sunday be without great food? Put the traditional snacks to the side, and give these delicious, mushroom-friendly recipes a try!
Here are seven game day appetizer recipes to impress your whole party:
1. Delicious Portabella Fries
A lighter, savory twist on a classic — these incredible Portabella Fries are mouthwatering! Perfect for adding to your pile of appetizers on game day. This delicious vegetarian recipe is sure to delight all of your friends!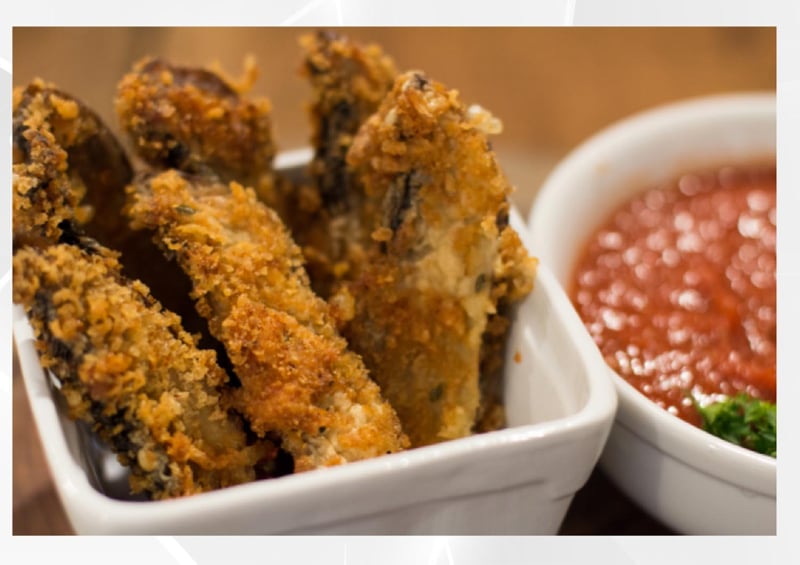 Ingredients
8 ounces Monterey Mushrooms® Portabella Caps
1/2 cup flour
1 egg, lightly beaten
3/4 cup Panko bread crumbs
1/4 cup Parmesan cheese, grated
1/2 tsp Fresh thyme leaves, chopped
Salt and pepper to taste
2. Loaded Air Fryer Potato Skins
These are potato skins with a twist! Adding delicious mushrooms to this crowd-favorite snack adds a nutritional value — especially if you use High Vitamin D mushrooms that provide an extra boost! Plus, you get to break out everyone's favorite kitchen appliance: the air fryer.
If you'd like, top it off with sour cream or yogurt and some green onions for a delicious addition!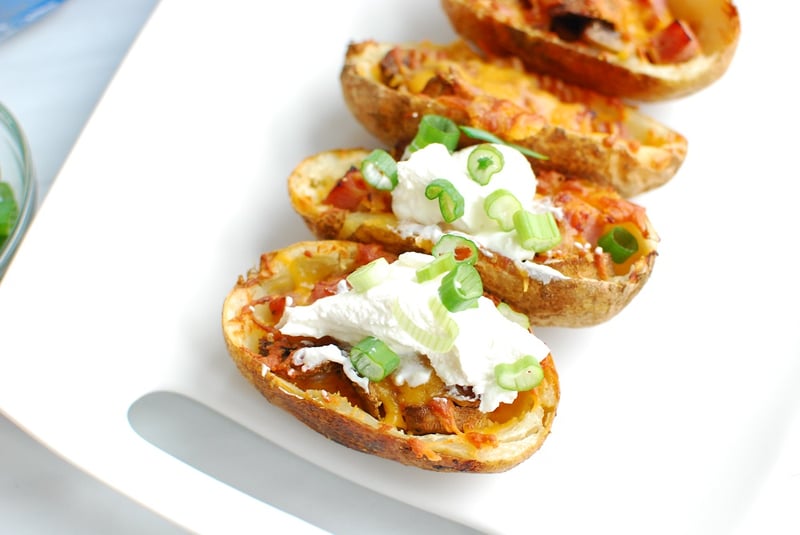 Ingredients
1 1/2 cups Monterey Mushrooms high Vitamin D sliced mushrooms
1 tablespoon olive oil
1/4 tsp garlic powder
1/8 tsp salt
1/8 tsp pepper
3 leftover baked potatoes
1/2 cup chopped ham
1 cup finely shredded cheddar cheese
Optional (for topping):
Plain Greek yogurt or sour cream
Green onions
Optional (for topping):
Plain Greek yogurt or sour cream
Green onions
Give this crowd-favorite appetizer a try for this year's big game!
3. Vegetarian Grilled Buffalo "Chicken" Mushroom Kebabs
Perfect for vegetarians and meat-eaters alike, these grilled mushroom kebabs will be everyone's favorite spicy snack! This delicious kebab features a mix of both crunch and spongy smoothness from a combination of mushrooms and cauliflower. Serve with a side of blue cheese, paired with slices of celery and carrots for the full experience!
This recipe makes 8 kebabs.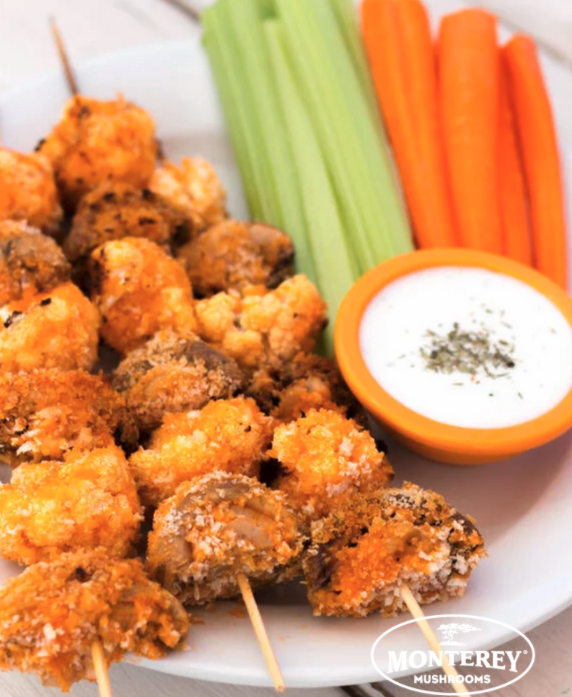 Ingredients
16 oz Monterey® White mushrooms
1 head of cauliflower
4 tbsp butter, melted and cooled
5 tbsp hot sauce (we recommend Frank's Red Hot)
1 tsp white vinegar
1 tsp garlic powder
2 cups panko breadcrumbs
Be sure to check out these grilling tips to understand the best cooking temperature and positioning on the grill!
Get the full instructions and create this delicious dish today!
4. Mushroom Pizza Rolls
Don't turn to freezer-bought pizza rolls this Super Bowl. These homemade mushroom-stuffed pizza rolls will fill the entire party with the sweet smell of warm bread, garlic, and tomato sauce. Stuffed with white button mushrooms, these bites will set you apart — but you might have to make them every year, now.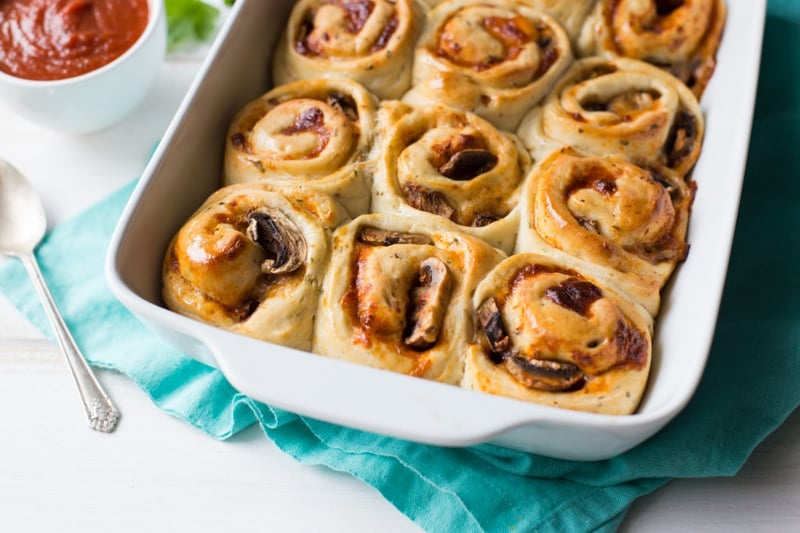 Ingredients
¾ cup water, warmed to 110-to-115 degrees F
2 tsps dry active yeast
2 tsps honey
2 ½ cups all-purpose flour
2 tbsps finely diced white button mushrooms
1 tsp chopped parsley
1 tsp fine sea salt
½ tsp garlic powder
5 to 6 tbsps water
Olive oil to coat bowl
1/3 cup pizza sauce
1 cup shredded mozzarella cheese
1 cup thinly sliced white button mushrooms
Optional:
For serving:
Find out how to assemble these tasty pizza rolls with these directions.
5. Blended Beef and Mushroom Sliders with Apple "Buns"
Sliders are a game day favorite — so bring something new to the table with this incredible version. Blended beef and mushroom sliders with apple "buns" are a delicious way to add something unique to this year's appetizer line up.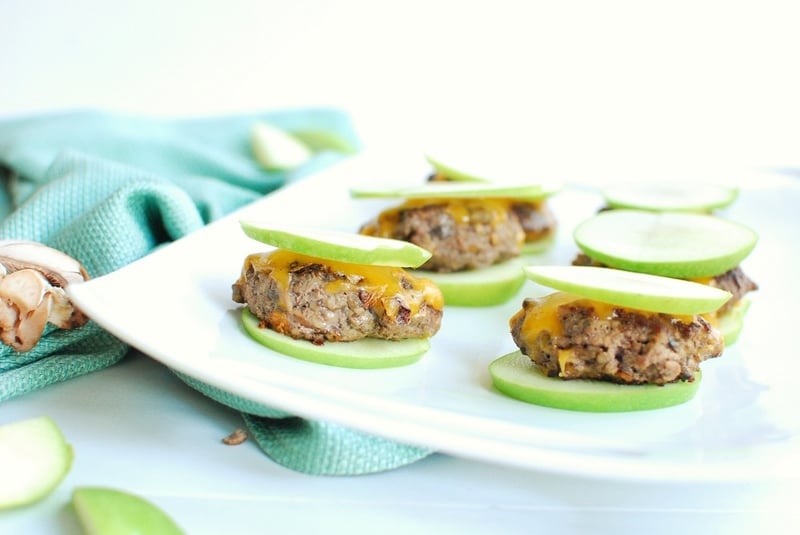 Ingredients
8 ounces Monterey® Baby Bella mushrooms
1 tbsp olive oil
1 lb 85/15 ground beef
1/4 tsp salt
1/4 tsp onion powder
1/4 tsp pepper
5 slices of cheddar cheese, cut into quarter squares
3 apples
Did you know?
Our Monterey® White and Baby Bella mushrooms are also available nationwide in High Vitamin D varieties, in both 8 oz and 16 oz packages. Check out where you can buy your vitamin-rich mushrooms here.
Head over to Monterey Mushroom's site for detailed instructions.
6. Hot Italian Stuffed Mushrooms
Not many Super Bowl favorites include sausage, so here's your chance to bring an Italian touch to the evening. Blend your links with diced peppers, onion, and some fresh seasoning before popping them into bite-sizable baby bellas. This quick dish is a great addition to any game day!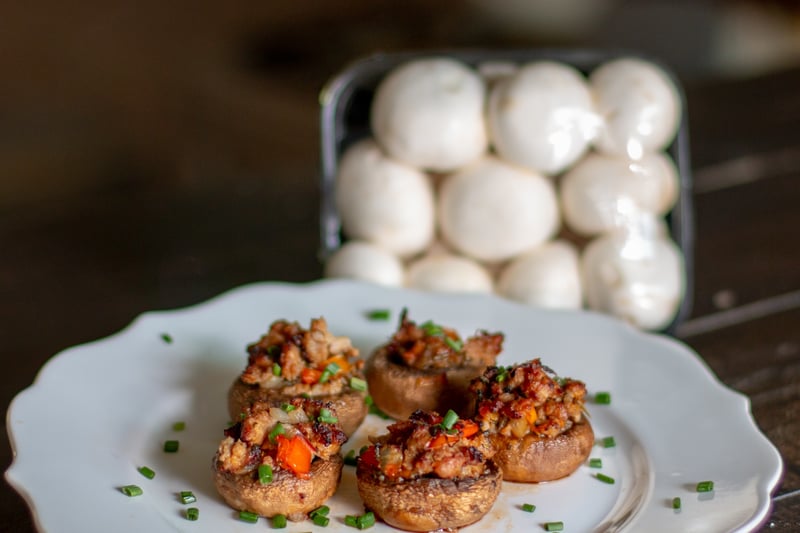 Ingredients
1 pound large baby bellas or white stuffers, de-stemmed
1 pound hot Italian sausage
1 cup diced peppers
1 cup diced yellow onion
2 tbsps finely chopped, fresh sage leaves
1 tbsps minced, fresh rosemary
1 tsp fresh thyme
Salt and pepper to taste
Optional:
1/4 cup diced green onion
Whip these bites together with these short instructions.
7. Balsamic Vinegar-Glazed Grilled Mushroom Kebabs
This 5-ingredient recipe makes Super Bowl prep a breeze! Assemble these skewers with only a few ingredients, kebabs, and your favorite baking tray for marinating. After an hour of soaking and a quick grill, they're ready to go.
Looking for an even easier way to make them? If you'd rather skip the marinating process, you can purchase jars of our Italian Marinated Mushrooms. They won't have a balsamic glaze, but the Italian seasoning sure is delicious!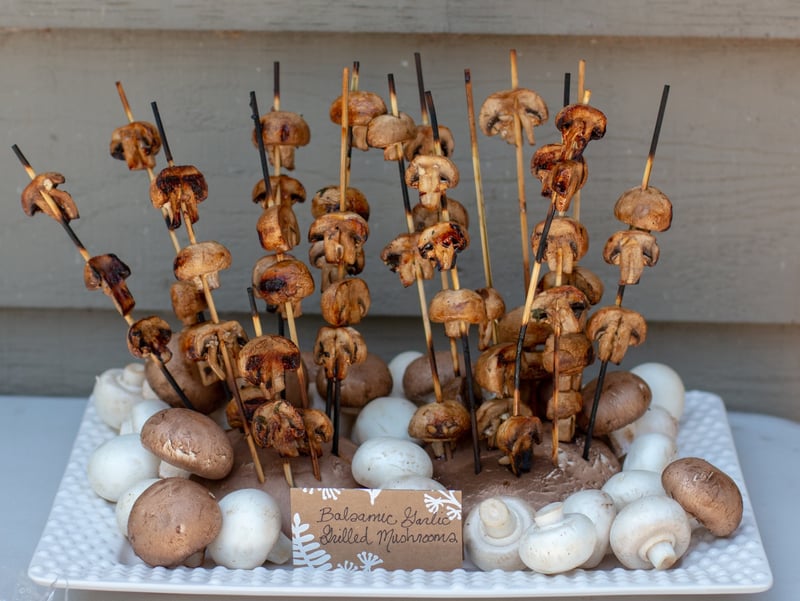 Ingredients
1 pound large baby bellas or white stuffers, de-stemmed
1 cup balsamic vinegar
1/4 cup minced garlic
Salt and pepper, to taste
Save time preparing for your party with these short directions.
Want More Recipes?
We understand — you can never have too many delicious recipes on hand.
Treat your palate to some incredible dishes that are on the healthier side by downloading our free More Flavor, Less Guilt Cookbook where we share 15 mouthwatering recipes you can enjoy guilt-free on game day — and every other day.
Download the cookbook and enjoy these recipes today!