Did you know that mushrooms are one of the top five "vegetables" people make on the grill? Yet for such a popular BBQ choice, you'd be surprised by how many people still aren't sure how to grill mushrooms the right way.
In honor of National Grilling Month, this July post is devoted to just that: teaching you how to properly grill your mushrooms. Warm those grates with confidence, with these six mushroom grilling tips from our team at Monterey Mushrooms: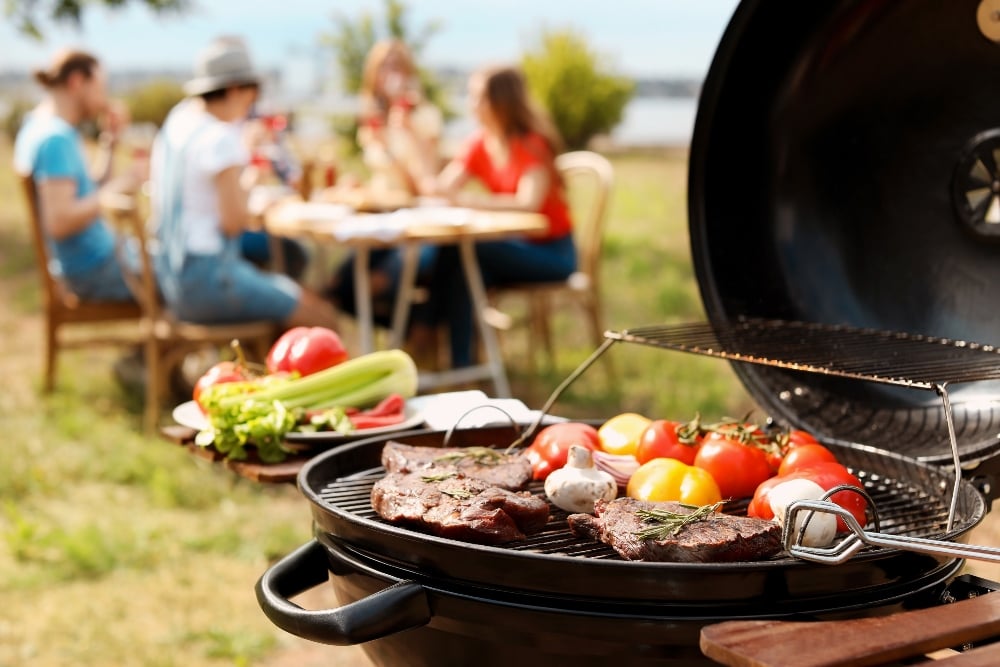 1. Don't soak your mushrooms pre-grill.
When it comes to cleaning your mushrooms, fungi require different handling than most fruits or vegetables. Mushrooms are porous and can absorb water, affecting the texture of the food.
Because of mushrooms' ability to retain water, rinse (never soak) to clean them. Lightly pat the wet mushrooms with a paper towel or a lint-free cloth to remove excess water. Skipping this step will result in a slimy film on the caps.
In many instances, your mushrooms may only need a gentle brushing to remove any excess dirt or debris. Use your freshly washed hands or a kitchen brush to lightly brush your whole mushrooms instead of turning on the faucet.
2. Chop mushrooms based on size.
Now that you have your mushrooms cleaned, you might have to do a little prep before firing up the grill.
We recommend chopping and cooking your mushrooms based on their size:
If the mushroom cap is 1.5" or smaller, leave whole
If larger than 1.5", cut in half
If larger than 2.5" cut into quarters
Leave Portabella caps whole, or slice 1" thick if preferred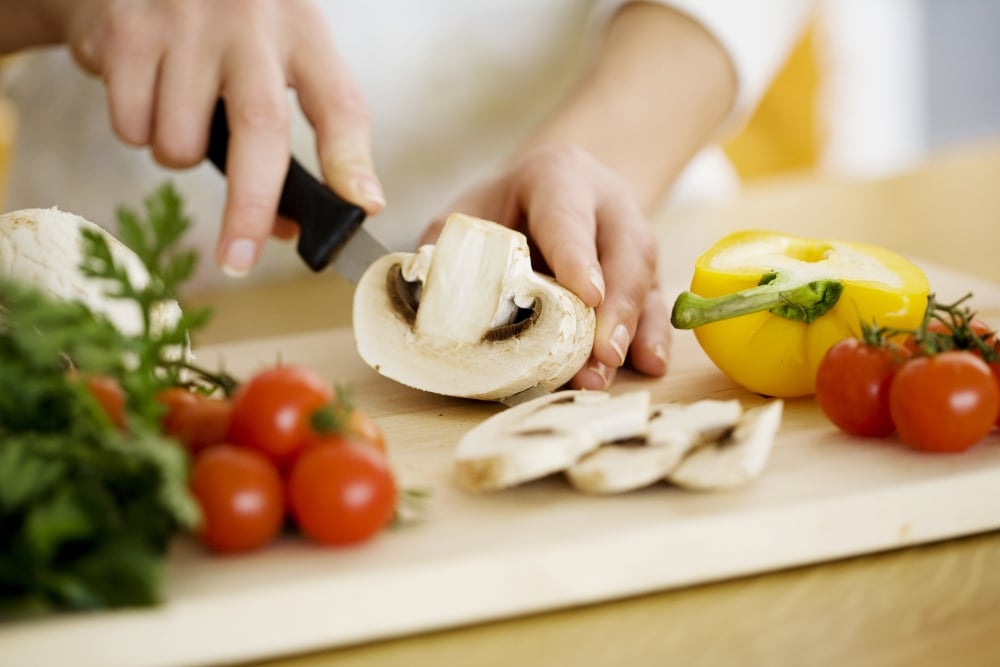 3. Properly place your mushrooms.
Certain mushrooms like large Portabella caps can often be placed right on the grates of your grill to cook. Smaller chopped mushrooms are best wrapped in tin foil or placed on skewers* or a grill pan to stop them from falling between the grates.*If using wooden skewers, be sure to soak the sticks in water for about 20 minutes before grilling. This will prevent them from catching fire while you're barbecuing.
4. Always brush and baste caps/slices with oil.
Keep your mushrooms from drying out or burning on the grill by coating them with oil*. With a basting brush, coat your larger mushrooms with olive oil before adding your favorite seasonings. For smaller chopped mushrooms, place them over a sheet of tin foil and drizzle your oil overtop.
*Keep that oil handy for when you fire up the grill, as your mushrooms might need another coat post-flip.
5. Or, substitute oil for a marinade.
The oil and seasoning method is a popular choice, but that's not the only way you can grill mushrooms. Some prefer to soak their mushrooms in a marinade prior to grilling, so their food absorbs the rich flavor.
If you've created a marinade, allow your mushrooms to soak for at least 20 minutes at room temperature. Your mushrooms should retain the moisture from the marinade and may not require oil when on the grill. Sometimes sauces can be used in substitute of oil as well!
6. Understand the difference between indirect/direct heat and how long to grill.
You're finally ready to place your mushrooms on the grill. As you're heating up the grates, be mindful of where you'll place your mushrooms on them.
Direct heat, or placing your mushrooms directly under the source of fire, can help reduce grill time. It's also the best way to get those classic grill marks and show off your char-mastery to dinner guests. Grill marks form fast on medium to high heat— usually within 2-3 minutes— so once they appear, move your mushrooms to indirect heat.
Indirect heat, or placing your mushrooms 4-6 inches from the heat source, is often the preferred method for finishing off your fungi. Keep your mushrooms here for 4-6 minutes on each side. You may need to brush or drizzle with oil in between flips to keep them moist. It's important to avoid flipping or fidgeting your mushrooms too much, to avoid losing precious juices that retain flavor. Foil packets of mushrooms may take anywhere from 20-25 minutes, flipping halfway through.
Then, voila! You have yourself some beautifully grilled mushrooms.
Keep Grilling!
Now that you know how to grill mushrooms like a professional, it's time to show off your skills.
Have you considered making blended burgers using fresh mushrooms? Check out our article on grilling blended patties here.
Once you make those burgers, you can enter our Show Us Your Burger Love sweepstakes! If you win, you could walk away with a portable gas grill, a new cooler and more. Read our contest rules and celebrate National Burger Month with the Monterey Mushroom team!