BBQ season is upon us, and it's time to fire up the grill. Instead of hot dogs, try these creative grilling recipes, all featuring our favorite food to roast— mushrooms!
Grilling mushrooms gives them that smokey flavor that meat-lovers crave, making this special fungi a great vegetarian or vegan alternative to traditional burgers. Or, enjoy these barbecued beauties as complements to your main entree. The choice is yours!
Here are seven grilled mushroom recipes to sear up this summer:
1. Three Mushroom & Garlic Pizza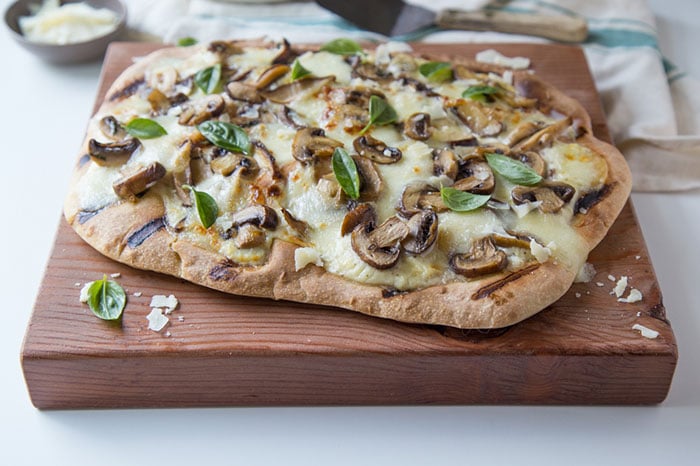 Ever made pizza on the grill? It's a must-try! This particular pizza is quite decadent, featuring a creamy garlic sauce that's too good to pass up. Grilled mushrooms make up for the absence of meat; three different types— Baby Bella, Shiitake, and White Button— roasted to perfection. Uncork a bottle of your favorite white wine to use in the sauce (and to enjoy with the meal!), and waft in the aroma of fragrant basil and shaved Parmesan one sunny summer afternoon.
Grab that olive oil and get ready for an ooey-gooey grilled pizza. Follow the prep and grilling instructions here.
2. Grilled Chicken Caesar Salad Kebabs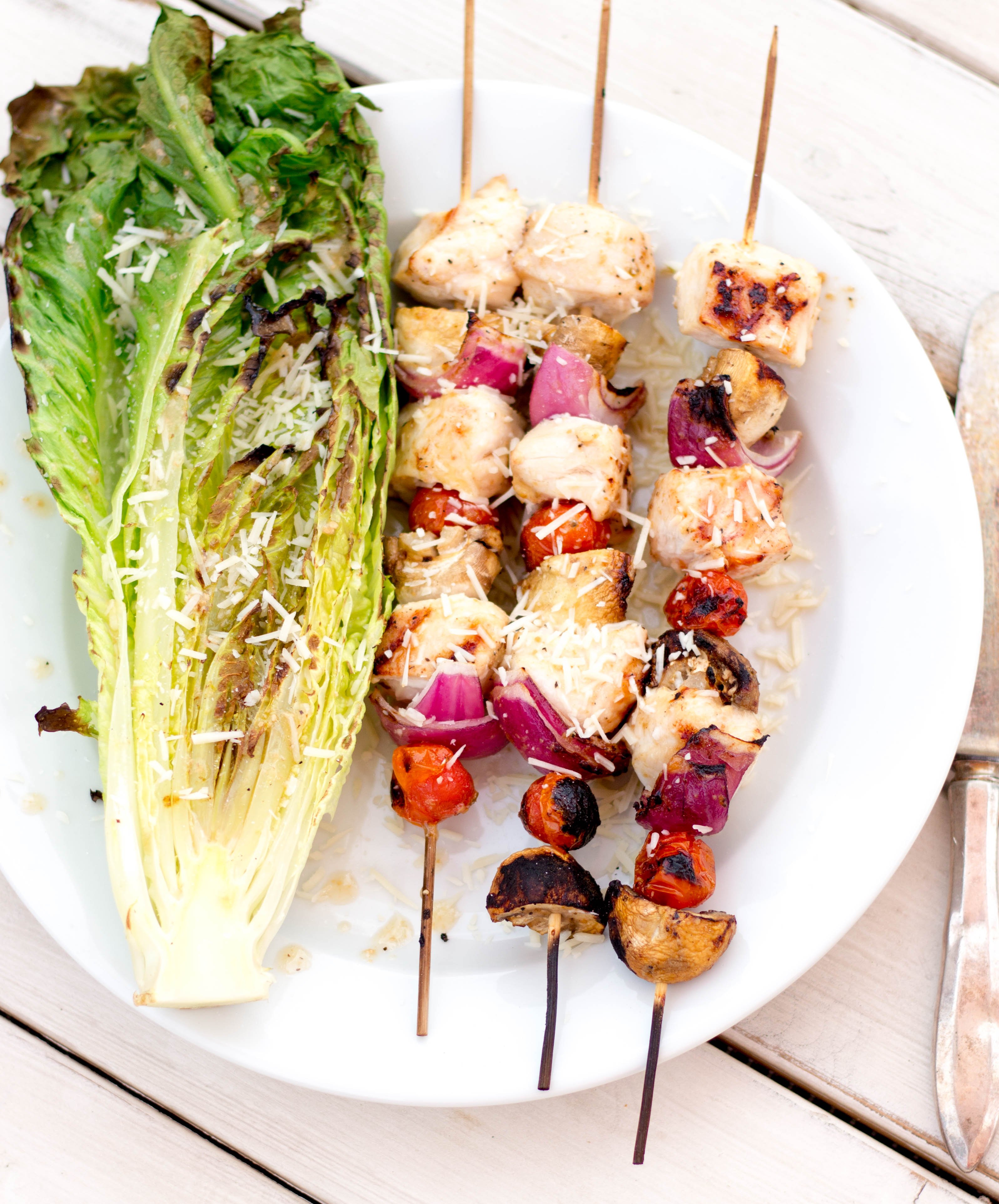 All you need for these yummy Caesar salad kebabs are some veggies, mushrooms and roasted chicken breast. A traditional Caesar dressing contains Parmesan cheese, lemon juice, olive oil, egg, Worcestershire sauce, garlic and black pepper— but that can be a lot to mix. We simplified the baste, so you can buy a pre-made dressing and just grab some extra cheese (or ambitiously make a homemade one; the choice is yours!). Kebabs make for an excellent side, and the warmed romaine hearts pair perfectly with these crisp and charred delights.
These quick salad kebabs only need five minutes on the grill. Enjoy this hassle-free meal, with easy assembly directions here.
3. Buffalo Bites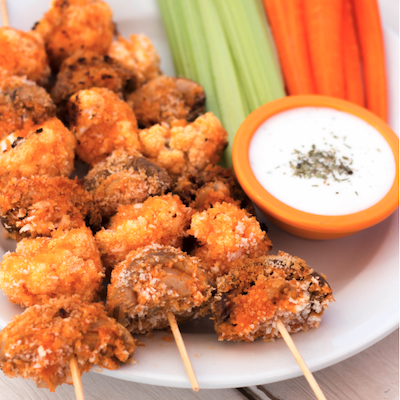 Chicken buffalo bites are a hit at any outdoor soiree, but what do you have for your vegetarians? Grilled cauliflower makes for a surprisingly scrumptious imitation of crowd-pleasing, zesty buffalo nuggets. Our bites even feature white mushrooms, to give you a mix of crunch and springy smoothness. Make them as spicy or as mild as you like— or make two batches for those with alternate preferences. Serve with a side of blue cheese paired with slices of celery and carrots for the full experience.
Bring the heat with this meatless summer grill platter. Find the instructions on our blog.
4. Mighty Mushroom Blended Burger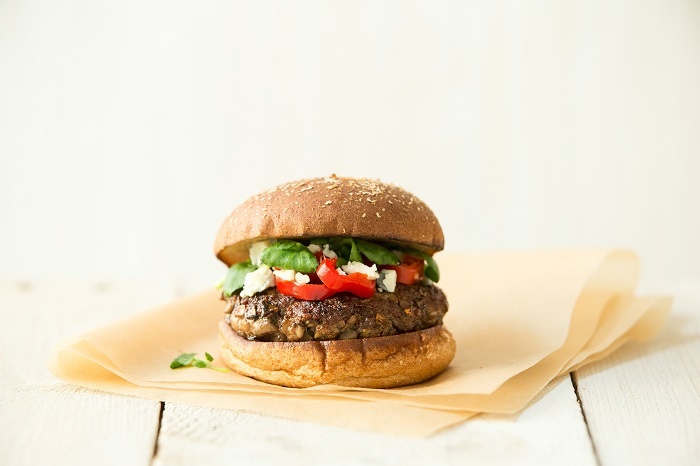 Keep it simple with this delicious, easy-to-make blended burger. All you need is your beef, your favorite mushrooms (finely diced) and a little salt and oil. Just cook up your mushrooms and mix with the meat. Then take those patties out to your grill, for seared, savory indulgence. Top the grilled burgers off with your favorite add-ons, like blue cheese, tomato, onion— the more the merrier!
New to mixing mushrooms with meat? Here are four reasons to embrace "the blend!"
Get the quick instructions right here! Or, watch this video from the Mushroom Council on the art of making blended burgers.
5. Portabella Steaks
Portabella mushrooms are known for their hearty volume and their filling satisfaction. This vegan substitute works in place of traditional steaks, or as a savory side. Grab some caps and slice them up, marinate in some tasty balsamic, soy and our sauces, and splash with fresh Italian seasoning. After a 15-minute grill, these blackened mushrooms are ready to be plated and devoured.
Get grilling with these three simple instructions. Not a fan of printing cooking instructions? That's okay. Watch a video demonstration on our YouTube channel.
6. Steakhouse Portabella Kebabs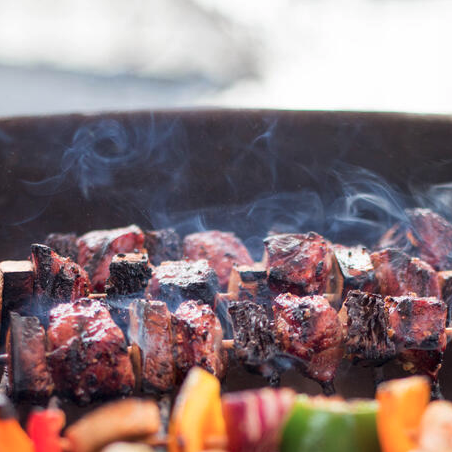 Some people believe there's nothing— absolutely nothing— compared to steak on the grill. And we don't argue with them! We know a juicy steak just seems to taste better hot off the grates than grilled any other way. Mushrooms and steak are a classic match, but we're doing something a little unconventional and kebabing them. By piercing your mushrooms on a skewer, you're making it easy to sear them right on the grill without any falling through the cracks, all while fusing together the tender juices of fresh-cut steak with each cap.

This grilled mushroom and steak recipe couldn't be any more simple. View the instructions for cook time and grill temperature.
7. Portabella Mushroom Cap "Mini" Pizzas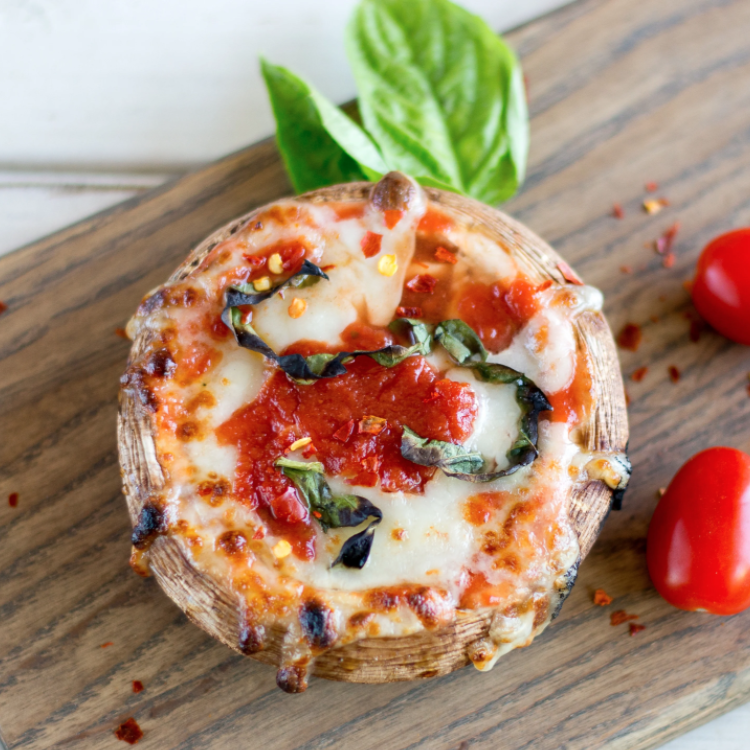 Portabella mushroom caps are just large enough to act as cradles for mini pizzas! Their round shape is an excellent substitute for high-carb pie crust, and can still be stuffed with all your pizza favorites: from creamy Mozzarella cheese to your choice of grilled vegetables or meats. In fact, these mini pizzas are a smart idea for those with dietary restrictions, who can "build-their-own-pizza" with whatever toppings they'd like. These make a great summer BBQ side too, served as a complement to the usual picnic foods.

Get the full grilling instructions here to char your Portabellas to perfection.
Continue the Summer Grilling
If these grilled mushroom meals have you brushing down your grates, then you'll love our ebook.
Enhance the flavor of your mushrooms by searing them, with advice from our Summer Grilling Guide. It's free to download and will help you to understand the basics of grilling mushrooms, and how to make your own blended burger.