Mmm… stuffed mushrooms! There's just something so comforting about rich umami and your favorite filling.
But how exactly do you stuff mushrooms? Do you just spoon your stuffing into the cap and bake?
Actually, yes, that's exactly what you do! But there are many mixture options for your filling— and tips and tricks for getting that perfect texture and flavor.
No one knows mushrooms better than the world's largest vertically integrated mushroom growers: our team at Monterey Mushrooms! Here are step-by-step instructions for stuffing mushrooms, straight from the fungi fanatics:
1. Decide if you're stuffing White mushrooms, Baby Bellas or Portabellas.
First thing's first— what kind of stuffed mushrooms are you thinking of using?
Do you want bitesize finger food? White or Baby Bella caps typically vary in size: some as small as half dollars while others closer to that a golf ball. All make excellent appetizers or sides. Or, were you imagining a full entrée? In that case, you'll want a large Portabella cap.
The size of your mushrooms and how many you plan to make will dictate how much stuffing you need to prepare, so choose your caps wisely!
2. Decide your stuffing ingredients.
There are vast possibilities for stuffing your mushrooms. Mushrooms' robust, savory taste pairs well with a number of ingredients, including:
Vegetables like peppers, spinach, onions, etc.
Cheese like cream cheese, goat cheese, Parmesan, cheddar, etc.
Meat like ground meat, sausage (Italian, chorizo, etc.), chicken, steak, etc.
Seafood like crab, shrimp, lobster, etc.
Add-ins like rice, quinoa, cream cheese, raisins, nuts, etc.
Seasonings like fresh herbs, spices, etc.
Whether you are a meat-lover, vegetarian, pescatarian, Keto, paleo or following another diet regimen, you can customize stuffed mushrooms specific to your diet.
3. Make your stuffing (in advance!).
After deciding which type of mushrooms you will be stuffing and the ingredients you will fill them with, you are ready to prepare the filling.
The good news is, your stuffing can be made in advance for ease of cooking later! This makes stuffed mushrooms convenient to serve at an event or party, or for those who enjoy meal prepping. In fact, we recommend making the stuffing in advance whenever possible to allow the flavors to meld. It gives your herbs time to infuse into your cream cheese or those peppers to mingle with your rice; in the end, the flavors have more time to unite.
Begin by cooking your vegetables, meat, etc. as you normally would. Saute or bake your ingredients together in a single skillet to make incorporating the mixture easier and allow the flavors to set. Remove from heat. If using rice or quinoa, make it in a separate pot and set it aside, without mixing in your vegetables, meat or seafood quite yet.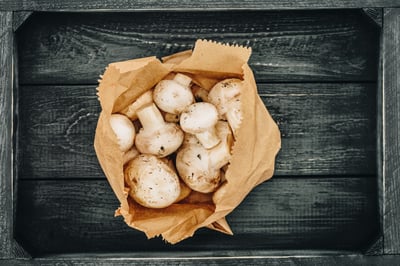 4. Properly clean your raw mushrooms.
While allowing your stuffing to cool, clean your mushrooms following our washing instructions. It's very important to not soak your mushrooms, as this can cause their porous frame to engorge and compromise the taste and texture of your fresh fungi.
Gently snap your mushroom stems to remove them from the mushroom caps. There is no need to remove the gills, however, if you prefer your mushrooms without them, you can softly scrape them out with a spoon.
5. Combine your filling and stuff the caps.
In a medium bowl, combine cooled vegetables, meat or seafood with your other stuffing ingredients like cream cheese, grains, etc.
With all your filling ingredients combined, you're ready to stuff the mushroom caps. Grab a spoon and fill your caps with your delicious mixture, careful not to overflow the mushrooms while still adding a generous helping! Your mushroom caps will shrink slightly during cooking, so you'll want them slightly heaping.
Note that White mushrooms may release more moisture than Browns during cooking and come out slightly smaller.
6. Prepare your oven and dip your mushrooms.
Preheat your oven to 400°F as you prepare to dip your mushrooms. That's right— we said dip!
The secret to your stuffed mushrooms is dipping them into Panko* or shredded Parmesan or Romano cheese (or a combination of the two) before placing them on the foil-covered baking sheet. Parchment paper can work for the lining as well. Bread crumbs would also work as a substitute for Panko.
Bake at 400°F for 20 to 25 minutes, until bubbly.
7. Pair with tasty garnishes!
Your stuffed mushrooms will come out of the oven hot and smelling delicious! Before you get ready to plate them, don't forget about the all-important garnishes. Think of some classy ways to decorate and flavor your stuffed mushrooms such as adding fresh herbs, diced vegetables, more cheese, etc. The possibilities are endless!
8. Refrigerate leftovers.
The best part about making stuffed mushrooms is that the leftovers are perfect to reheat the next day. Simply store them in the fridge and back on 350°F for 15 minutes to enjoy your mushroom morsels all over again.
While some mushrooms can be frozen, we don't recommend freezing stuffed mushrooms. Really, they're so delicious, why would you have too many leftovers?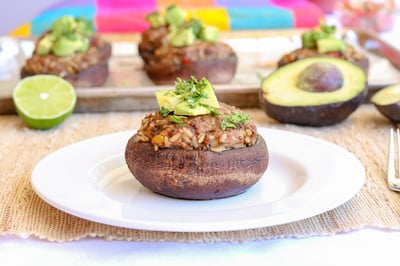 9. Find the best stuffed mushroom recipes.
Your stuffed mushrooms are only as good as the recipe you use to make them. Here are some of our favorites at Monterey:
More Must-Make Mushrooms
Stuffed mushrooms make for one delicious appetizer or main course, but they aren't the only way you can finagle fresh fungi onto your dinner plate.
In our More Flavor, Less Guilt virtual cookbook, we share a few more creative recipes including things like:
Chili Macaroni
Mexican Tacos
Italian Spaghetti
Shepherd's Pie
And so much more!
Download these flavorful recipes, today.