There are a lot of diets out there— but the hype about the "keto" diet remains strong.
The ketogenic diet, coined keto for short, is exploding across the U.S. for its weight-loss and energy-boosting powers from cutting carbs and calories.
But because of all the diet's restrictions, it can be tricky finding meal plans that follow its specific guidelines. Mushrooms, however, are a keto-dieter's friend. This low- carb, low-sugar food is a clever way to sneak in extra helpful nutrients without throwing off the balance of ketosis.
Here are some keto mushroom recipes that we think fit well into your low-carb menu:
1. Kale & Basil Pesto Zoodles with Mushrooms
Missing pasta? Enjoy the taste of spaghetti without consuming high-carb, high-calorie noodles. By shaving zucchini instead, keto dieters can mimic the texture of traditional pasta, with more nutritional benefits. Toss your "zoodles" with sharp garlic, fine sea salt and fresh basil— and this dish explodes with flavor. Kale, pine nuts (in a small, keto-friendly serving) and mushrooms make this dish both healthy and filling.
A special thanks to The Mushroom Council for this creative pesto platter.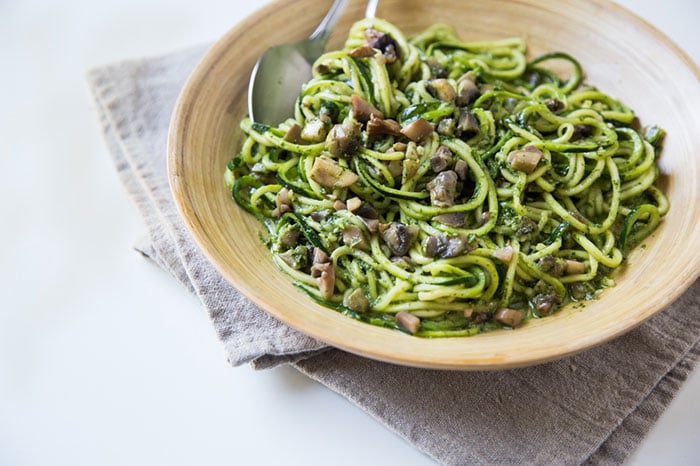 Ingredients
2 cups chopped kale leaves
¼ cup lightly packed basil leaves
8 tbsp extra virgin olive oil
2 garlic cloves chopped
4 tbsp freshly grated Parmesan cheese
2 tbsp pine nuts
½ tsp fine sea salt
8 oz white button mushrooms, chopped
3 medium zucchini (about 1 ½ pounds) cut into zoodles
Fine sea salt to taste
2. Chicken & Mushroom Soup
Soup is a smart, easy-to-make option for keto dieters! Instead of worrying if your next meal will follow the rules, you can make a cauldron of your favorite soup to divide into multiple servings throughout the week. Enjoy the aroma of poultry broth wafting through the air with a steamy batch of chicken soup. This keto-friendly recipe features diced carrots, onion, celery and savory Baby Bella mushrooms paired with soft chicken cubes. Place your serving in a mason jar for lunch on-the-go, multiple days of the week, or freeze some for later.
Ingredients
1 tbsp coconut oil
8 oz boneless chicken cubed (purchase a pre-cooked rotisserie chicken to save time or cook your own thighs or breasts)
Salt and pepper to taste
2 tbsp butter
3 or 4 cloves garlic
8 oz Baby Bella or Brown mushrooms, sliced
1 diced onion
3 carrots, peeled and diced
2 stalks celery, diced
½ tsp dried thyme
½ tsp dried rosemary
1/8 cup arrowroot or almond flour
4 cups chicken broth
Optional: ½ cup heavy cream
Fresh parsley and grated cheddar cheese for garnishing
3. Lemony Salmon Mushroom Kebabs
Both salmon and mushrooms are loaded with selenium and other antioxidant-like nutrients. Plus, both are virtually carb-free. Stick chunks of each on a skewer and grill for just five minutes. Then, simply spritz with lemon and salt and pepper to perfection. With such a short list of fresh ingredients, you're sure to nail your keto diet.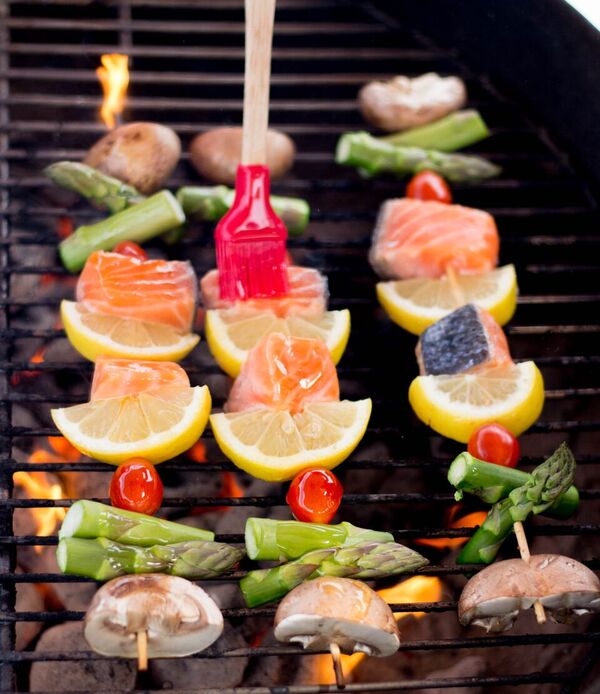 Ingredients
Your quantity will depend on how many kebabs you want to grill. From small family gatherings to big summer cookouts, make as many or as few skewers as you prefer!
Monterey® Baby Bella mushrooms*
Salmon
Asparagus
Lemon
Grape tomatoes
*Our Monterey® Sliced Baby Bella mushrooms are also available nationwide in High Vitamin D varieties, in both 8 oz and 16 oz packages. Check out where you can buy your vitamin-rich mushrooms here.
Seasoning
Olive oil
Salt and pepper
Lemon juice, for garnish
4. Mighty Mushroom Lettuce-Wrapped Blended Burger
You shouldn't have to give up the things you love when sticking to a strict diet. Stay keto-friendly by cutting the carbs with this lettuce-wrapped blended burger. Instead of a nutritiousness bun, this recipe subs in your choice of crunchy lettuce— so you can focus on the juicy flavor of the beef. But what really enhances each bite are the chopped mushrooms, seamlessly incorporated into the meat of the patty, giving it a unique umami mouthfeel. The Mighty Mushroom Lettuce Wrapped Blended Burger is a healthier, guilt-free keto-friendly recipe. Plus, did we mention it's also gluten-free? These tasty wraps will leave you hungry for more simple yet delicious recipes.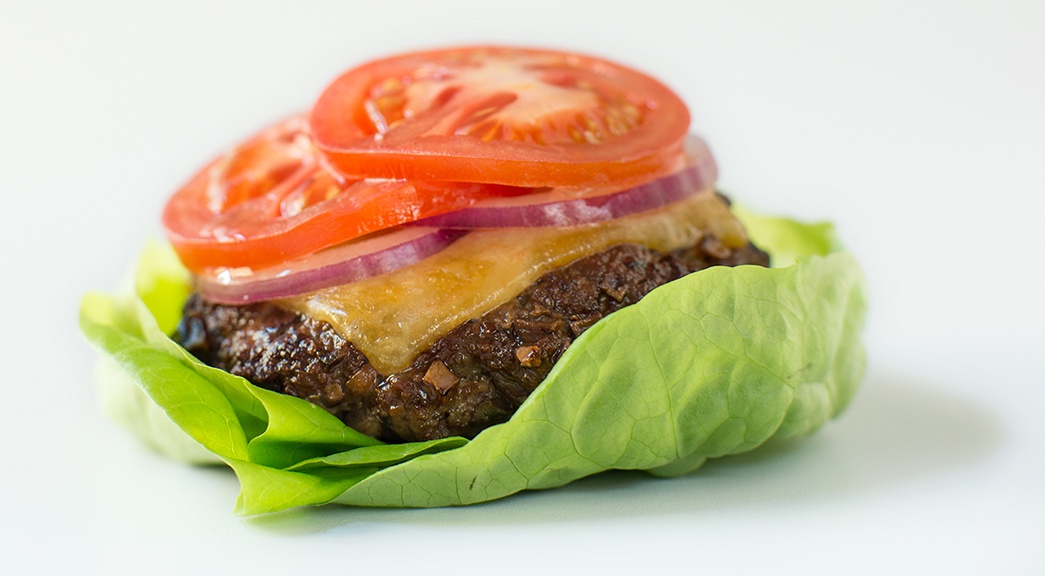 Ingredients
8 oz Brown or White mushrooms, finely chopped
2 tbsp olive oil, divided
1 lb ground beef
½ tsp salt
4 slices cheddar cheese
1 tomato, thinly sliced
½ red onion, thinly sliced
1 head iceberg, green leaf or butter lettuce, rinsed then dried
5. Asian Rainbow Stir Fry
Mmm warm stir fry. Load your wok or skillet with a myriad of colorful vegetables, from bright red and yellow bell pepper to vibrant green snow peas. This recipe also includes a variety of mushrooms— Shiitake, Oysters and Baby Bellas— for a punch of selenium, B vitamins and other valuable nutrients. The ginger and garlic provide a tantalizing sharpness while the Chinese five-spice combination and coconut aminos round out the rich umami flavor. The original recipe includes rice, but to stick to your keto diet, skip those unwanted carbs by minimizing the amount of maple syrup used and then simply eat your seared vegetables as-is. Trust us, they're just as good!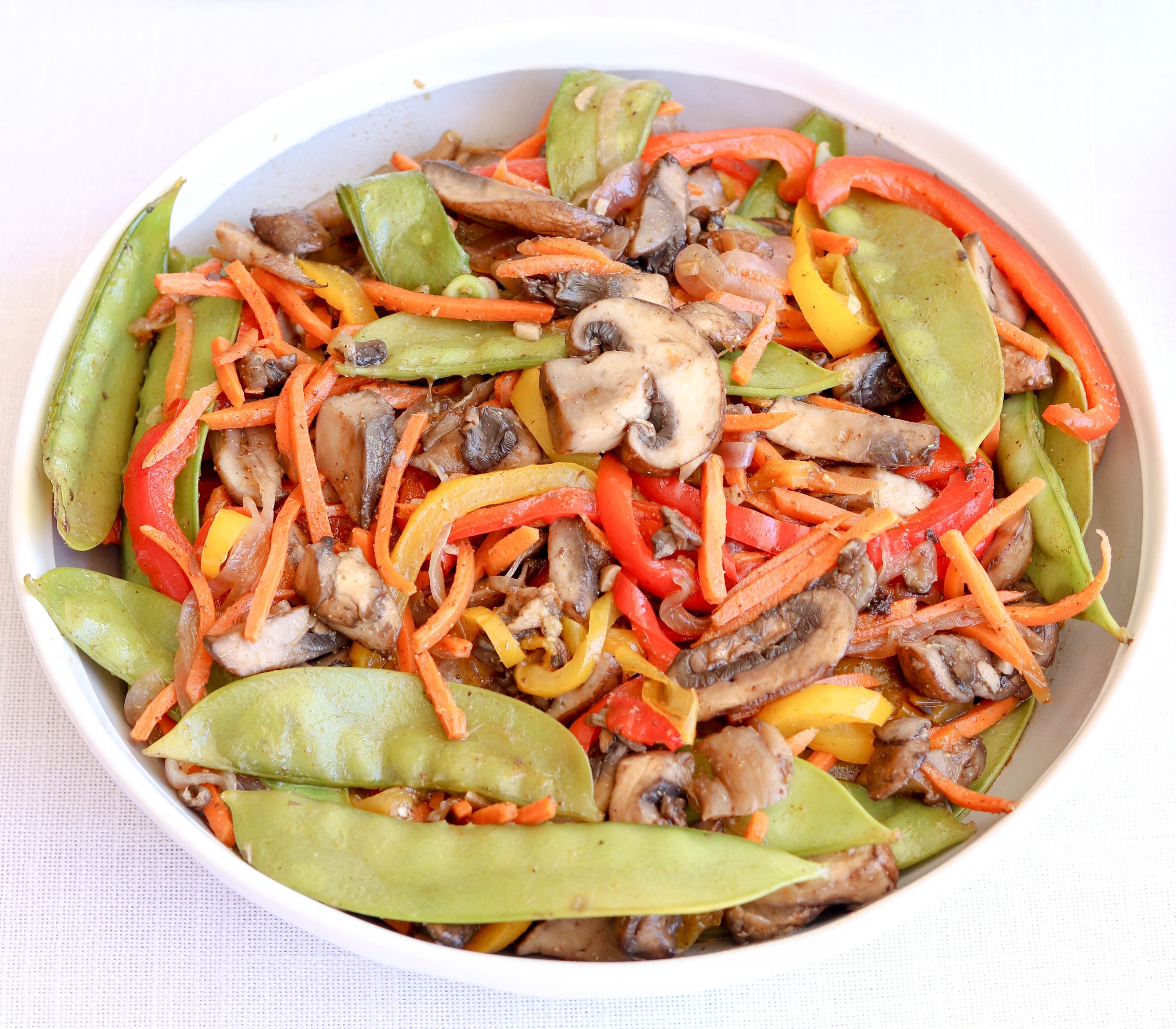 Ingredients
2 tbsp avocado oil
2 cloves garlic, minced
1/2 red onion, cut into thin strips
1 1/2 cups matchstick carrots
1 yellow bell pepper, cut into thin strips
1 red bell pepper, cut into thin strips
6 oz snow peas or sugar snap peas
12 oz Monterey Mushrooms® Umami Blend Mushrooms (sliced Shiitake, Oysters and Baby Bellas* - or your choice of sliced mushrooms)
2 tbsp sesame oil
4 tbsp coconut aminos (or soy sauce)
2 1/2 tbsp maple syrup (Modify this recipe for keto by using just 1 tbsp maple syrup)
1 1/2 tsp Chinese five-spice
1 tbsp chopped ginger or ginger paste
1 clove garlic, minced
Chives, chopped
Mushrooms are the Ultimate Keto Ingredient
These creative keto mushroom recipes are sure to get you excited about your new diet! The secret? All five have one special ingredient: mushrooms.
Blended with your favorite meat, raw or cooked mushrooms can help you slash calories and get the nutrients you need for a healthier lifestyle. However delicious and nutritious fresh fungi can be, we recommend seeking the advice of a medical professional before embarking on any diet or lifestyle modification, such as switching to keto.
Learn all about the science behind the dietary benefits of the mighty mushroom by downloading our ebook, Everything You Need to Know About Blended Mushrooms. It outlines all the reasons mushrooms should be an important part of anyone's diet, and even features some keto-friendly recipes!