If "eating better" is an ever-present item on your to-do list, you're not alone.
We understand how hard it can be to stick to your vow to cut the calories when there are so many delicious, high-carb, high-fat foods tempting you around every corner. That's why we've compiled some of our healthier recipes— creative platters that are quite delicious despite their heavy use of vegetables, grains and lean meats.
Feel inspired to eat better this year with these low-cal, flavorful recipes:
1. King Trumpet "Bacon"
People everywhere love bacon, but what they don't love is how fattening it can be. Bet you didn't know you could sub in healthy White mushrooms, Baby Bella or Portabella mushrooms instead! This savory fungi imitates the texture and robust taste of your favorite meat when cleverly seasoned, and is a guilt-free, low-carb addition to soups, salads and more.
2. Mini Apple Blended Burgers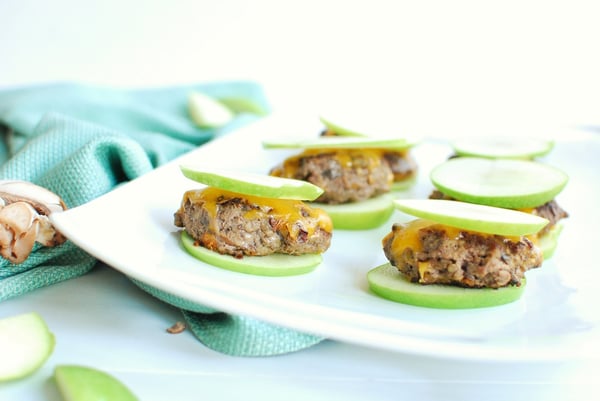 These simple mini burger bites are made up of nutritious Baby Bellas, apple and lean ground beef. Skip the cheese if you want to cut calories, but the thinly sliced cheddar isn't too much of a cheat. Served over cucumber slices, you can get a little extra crunch without fattening fries or potato chips. Thanks to Chrissy from Snacking in Sneakers for this healthy dish.
3. Rainbow Salad with White Mushrooms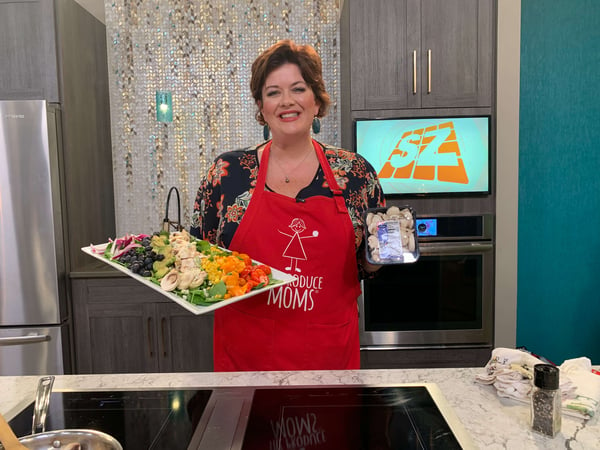 The Produce Moms really out-did themselves with this colorful dish. From antioxidants in blueberries to fiber in avocado, you'll receive a diverse palette of nutrients from fruits and veggies of every color of the rainbow. Topped with lemon honey vinegar, this salad is bright, flavorful and most importantly— healthy.
4. Asian Chicken Portabella Wrap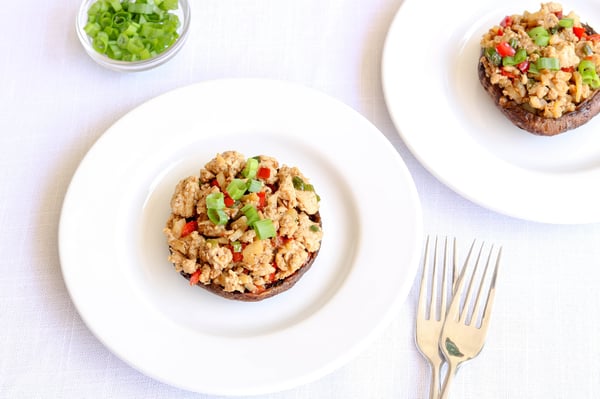 Skip the high-carb tortilla wrap by cradling your fixings in the deep cap of a Portabella mushroom. This recipe doesn't include any fattening filler like rice, but instead relies on flavorful chicken, water chestnuts, red pepper and ginger for its taste. Thank you to Shannon from KISS in the Kitchen for sharing.
5. Marinated Mushroom 7-Layer Salad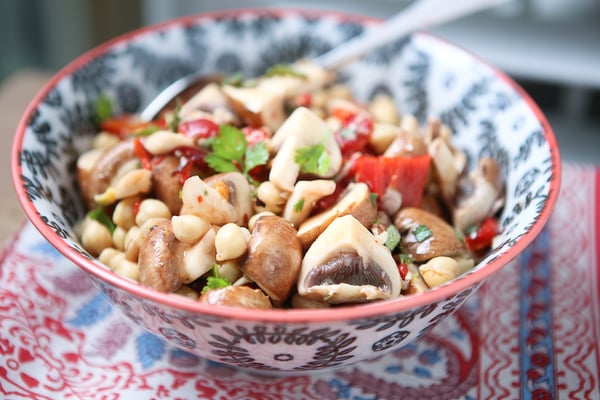 Many people lose steam with their New Year's Resolution to eat healthier because they get bored of eating salads. This salad from The Mushroom Council, however, is anything but boring. Enjoy a myriad of textures and flavor; from peas and peppers to mushrooms and radishes, you're getting both vitamins and that full feeling.

6. Taco Mushroom Lettuce Wrap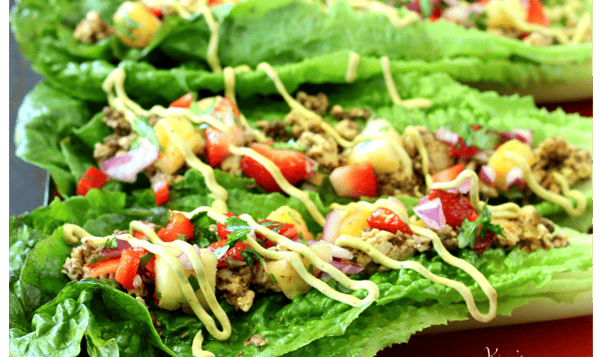 House down tacos without guilt by making these tortilla-free lettuce wraps. With bright pineapple strawberry salsa, smooth avocado cream and savory mushroom turkey mix, these low-cal tacos from Blenditarian, courtesy of Kim's Cravings, are a sure-fire way to stick to that diet.
7. Kale & Basil Pesto Zoodles with Mushrooms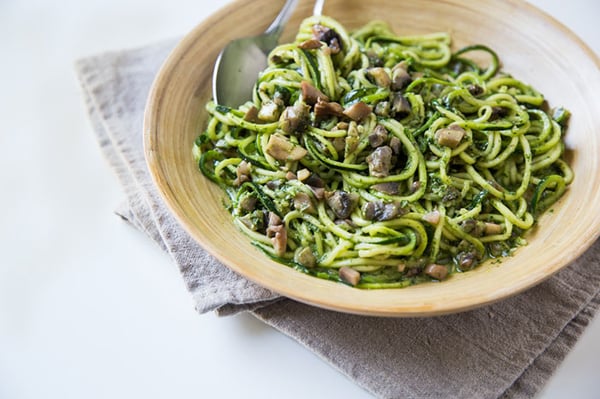 Instead of carb-heavy pasta, shred some zucchini and enjoy these The Mushroom Council "zoodles." Kale, pine nuts and basil stand out strong, as do the White mushrooms. A little Parmesan goes a long way in the recipe, but you could skip it if you're steering clear of cheese in your New Year's Resolution. This spaghetti look-alike is so good, you won't realize you're eating vegetables!
More Healthy Mushroom Recipes
If you found these recipes appealing, we have more where this came from!
Download our More Flavor, Less Guilt ebook to enjoy 15 flavorful, healthy mushroom recipes. This digital cookbook is an easy resource to pull up on your tablet while in the kitchen and perfect to email to a friend.