While we all love the summertime, sometimes the heat can really curb your appetite! When you're feeling tacky and dehydrated, the last thing you want is a dense, hot platter of food.
Instead, enjoy some light, refreshing bites. We've gathered five of our favorite cold-served mushroom recipes, which hit the spot on a hot day.
Beat the heat with these tasty ideas:
1. Mushroom & Shallot Deviled Eggs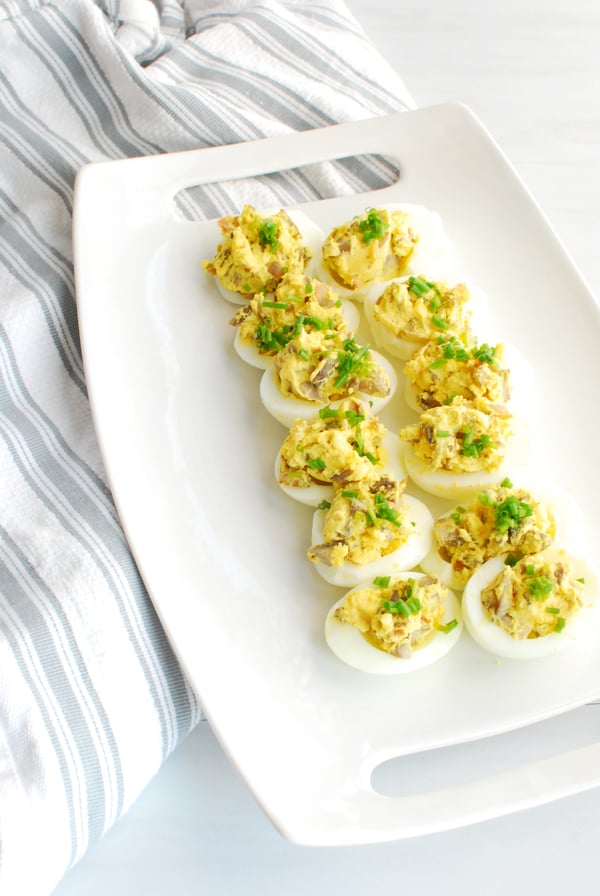 Chilled deviled eggs can hit the spot with a refreshing salad or as a quick snack when passing by the fridge. These mushroom and shallot creations are super quick to make too! As you boil the eggs, sear your White or Baby Bella mushrooms to bring out their full flavor. Each egg half is filled with a creamy blend of cooked yolk, mayo, apple cider vinegar and a dash of salt and pepper.
Thank you to Chrissy from Snacking in Sneakers for this wonderful egg recipe.
Ingredients
6 eggs
1/2 tbsp butter (or olive oil)
1/2 large shallot, finely chopped
4 oz White or Baby Bella mushrooms, finely chopped
2 tbsp mayo
1 tsp apple cider vinegar
1/8 tsp salt
1/8 tsp pepper
1 tbsp chives, finely chopped
Get the nutrition facts and instructions right here.
2. Mushroom & Chive Potato Salad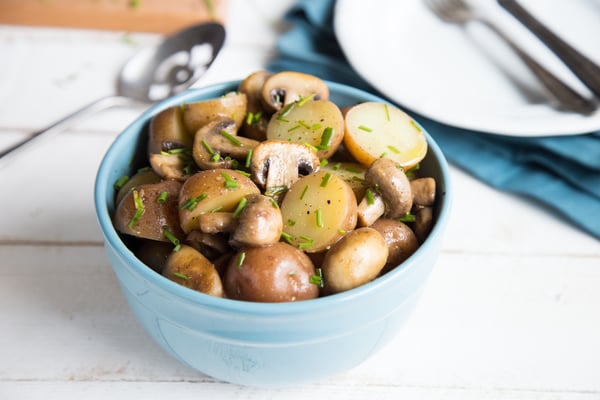 Who said potato salad needs to be slathered in mayo? This mushroom and chive salad uses zesky extra virgin olive oil, mustard and apple cider vinegar instead for more flavor and less calories. Pick up some small red potatoes at your local farmers market or produce store and let them boil while you heat some White mushrooms until they're tender. Simply whisk the dressing together and enjoy a refreshing side, topped with fresh chives.
Thank you to the Mushroom Council for sharing this picnic-friendly recipe.
Ingredients
1 ½ pounds small red potatoes, halved
1 tbsp olive oil
8 oz White mushrooms, halved
Pinch of fine sea salt
Pinch of ground black pepper
Dressing
2 tsps apple cider vinegar
1 tsp brown mustard
¼ cup extra virgin olive oil
2 tbsp chopped chives
½ tsp fine sea salt, or to taste,
¼ tsp ground black pepper, or to taste
Check out how long to boil the potatoes and how to assemble this salad on our blog.
3. Marinated Mushroom 7-Layer Salad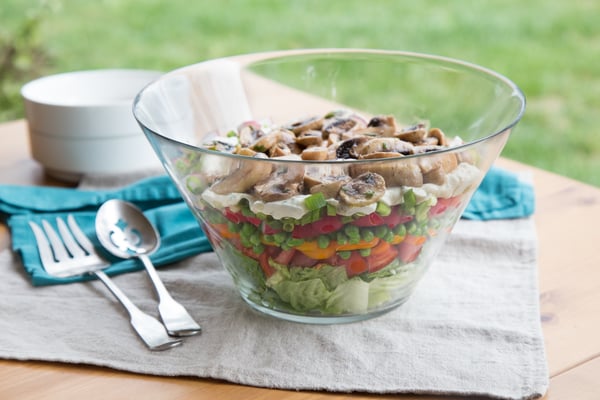 Do you have any upcoming parties or picnics this summer? If so, you're in luck! This 7-layer salad is an incredible dish to bring to any event. It's filled with tasty vegetables and marinated mushrooms. Enjoy sweet peppers, peas, radishes and green onions with, of course, your classic tomatoes. The layer of sour cream and mayo adds a creaminess that pairs well with the fresh chives, cilantro and parsley while those zesty mushrooms give it a tang for equal balance.
Thank you to the Mushroom Council for these simple instructions.
Ingredients
¼ cup extra virgin olive oil
1 clove garlic, grated
2 tbsps rice vinegar
1 tbsp chopped chives
½ tsp fine sea salt
¼ tsp ground black pepper
8 oz sliced white button mushrooms
4 cups chopped romaine lettuce
2 medium tomatoes, cored and chopped
8 to 10 mini sweet orange and yellow bell peppers, sliced
1 ½ cups green peas (thawed, if frozen)
1 bunch radishes, quartered (about 12 radishes)
6 green onions, white and green portion sliced
¾ cup mayonnaise
¼ cup sour cream
1 tsp chopped chives
1 tsp chopped cilantro
1 tsp chopped parsley
1 tsp garlic powder
1 tsp onion powder
1 tsp fine sea salt
Find this gluten-free, vegetarian dish on the Monterey Mushroom's website.
4. Caramelized Onion & Mushrooms Hummus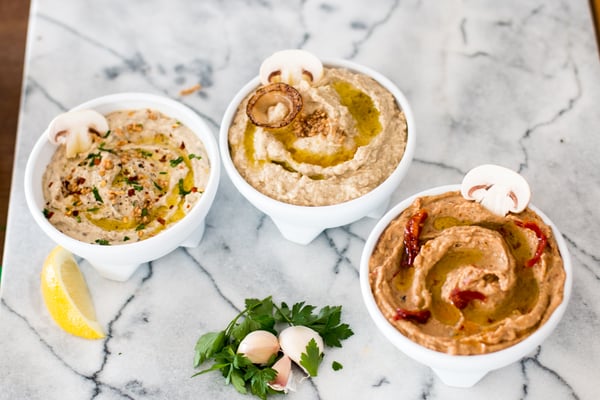 Who doesn't love a creamy, refreshing hummus? Smash some plump chickpeas with some sauteed onion, carmelized to perfection. This hummus recipe wouldn't be the same without its fresh mushrooms either, which when mixed with olive oil, garlic, lemon juice and a hint of salt, embody a smooth yet robust flavor. Let's not forget all the creative garnishes, including pine nuts, fresh herbs or chili pepper flakes. Dip your favorite foods into this spreadable delight— like pita or tortilla chips, raw vegetables or soft naan— and relax under the shade.
Ingredients
2 tbsp + 2 tbsps olive oil
1 medium onion, thinly sliced & quartered
1/4 tsp + 1/2 tsp salt
4 oz mushrooms, sliced
1 tbsp fresh garlic, minced (about 4 cloves)
3 tbsps lemon juice, fresh squeezed
7 tbsps water
1 can (15 oz) garbanzo beans (AKA chickpeas), drained
Optional garnishes: a sprinkle of paprika, a swirl of olive oil, pine nuts (especially for the basil hummus), chopped parsley, chili pepper flakes
Make this unique hummus in three easy steps. Check out the instructions on our blog.
5. Blended Taco Salad in a Jar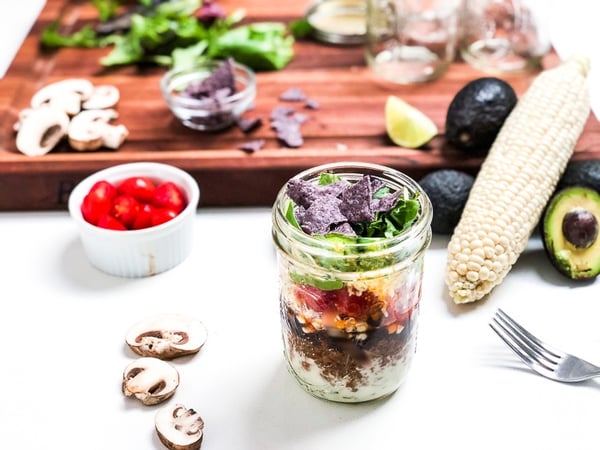 Keep it cool on-the-go with this blended taco salad recipe. Jarring the contents keeps them nice and chilled to beat the heat. Pack the mason jars in a cooler and bring them to the park for a casual picnic or enjoy on the comfort of your own shaded deck. The beans, onions, cherry tomatoes and chopped mushrooms pair well with the cheddar and ground beef. With a refreshing ranch dressing, you won't be able to stop dipping in for another bite.
Ingredients
1 tsp coconut oil or oil of choice, safe for high heat
1 lb ground beef
1 taco seasoning packet
1 small onion diced
8 oz chopped Brown mushrooms or Let's Blend® Mexican flavor
2 tbsps tomato paste
½ cup water
Romaine lettuce, chopped (or use bagged salad)
Cherry tomatoes, halved
1 can black beans
1 cup cheddar cheese, grated
1 bottle Catalina or ranch salad dressing, or make you own
Tortilla chips, for topping
Check out the video for making your own jarred taco salad on our blog!