Who doesn't enjoy a hearty sandwich? However, sandwiches can be so… boring!
Instead of the traditional deli slices, get creative with some interesting recipes.
Here are four sandwich recipes that incorporate the mighty mushroom for an extra boost of flavor and unique texture:


1. Portabella Mushroom Philly Cheese Steak Sandwiches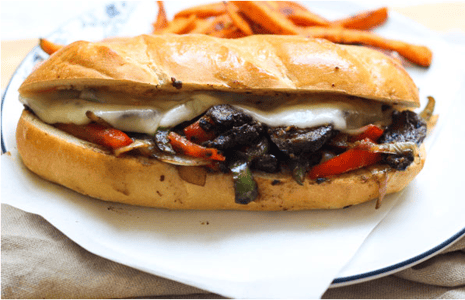 While a gooey Philly cheesesteak is enough to make almost anyone's mouth water, this savory sandwich is extra special! Instead of beef, it features robust, sliced Portabella mushrooms. Not only can this meatless meal help you cut back on your caloric consumption, but the seasoned mushrooms create a unique flavor profile, unlike any cheesesteak you've ever had. This batch makes four steamy, cheesy steaks— so share with friends. Or don't. We won't judge.
Thank you to Homemade Nutrition for this fun take on the traditional Philly.

Ingredients
1 14 oz package sliced Portabellas OR 2 8 oz packages of Portabella caps, sliced*
1 tbsp steak seasoning
1 tsp onion powder
1/2 tsp garlic powder
1 tsp dried parsley
2 tbsp balsamic vinegar
1 tbsp Worcestershire sauce
1 tbsp + 1 tsp light olive oil or canola oil
1 large onion, sliced
1 green bell pepper, sliced
1 red bell pepper, sliced
3/4 cup sharp cheddar cheese
For the sandwiches:
4 hoagie rolls or white sub sandwich rolls
6 slices provolone cheese, sliced in half
Try this meatless recipe by downloading the cooking instructions on our blog.
2. Maitake Pulled Pork Sandwich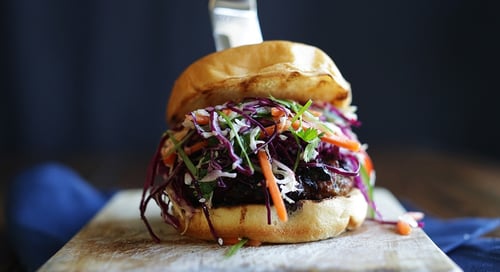 Another incredible meat-free recipe is our pulled "pork" sandwich— a BBQ lover's indulgence. The mushrooms in this Maitake sandwich are seasoned with your favorite barbecue sauce, tart apple cider vinegar, and creamy Dijon mustard. Top it off with a few slices of sweet onion for added texture and thickness, and bite into that crusted bun. Serve these sandwiches with coleslaw or chips, for the complete experience.
Ingredients
4 oz Maitake (or oyster) mushrooms
½ cup sweet onion, sliced thinly
1 tbsp vegetable oil
½ cup barbecue sauce of your choice
¼ cup of water
1 tbsp apple cider vinegar
1 tsp Dijon mustard
4 "slider buns" or mini burger buns
New to the Maitake mushroom? You'll be blown away by its unique umami flavor. Get the complete recipe here.
3. Blended Mushroom Sliders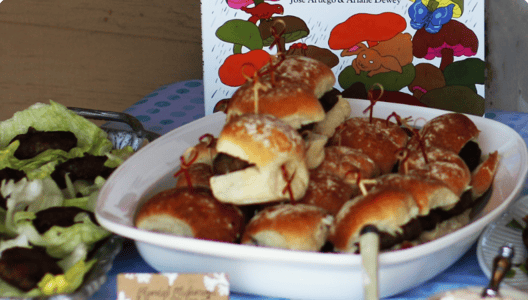 "Slide over those sliders!" These mini burgers are easy to eat in a few bites— and you can indulge without guilt, as this blended recipe helps to cut the calories and fat of traditional patties. The secret is mixing one pound of beef with one pound of mushrooms, for that full feeling, with less meat. The pop of fresh thyme and crisp red onion inside the burgers give each patty extra flavor, while the optional garnishes complete the jam.
Save time cleaning, slicing and spicing up mushrooms by choosing Let's Blend®. These pre-diced and pre-seasoned mushrooms are conveniently packaged and ready to blend with any of your favorite meats. Plus, they're available in three fun flavors!
Thank you to the Mushroom Council for inspiring us to make this spin-off of their original blended burger recipe.
Ingredients
1 pound Brown or White Button mushrooms
2 tbsp olive oil, divided
1 pound ground beef
1 small to medium red onion
4 sprigs of fresh thyme
Salt and pepper to taste
16 slider buns or rolls
Topping recommendations: Fresh tomato, red onion, butter lettuce, cheddar cheese and your favorite spreads
Print the recipe for these decadent sliders here. Or, watch the recipe instructions below.

4. Portabella Burger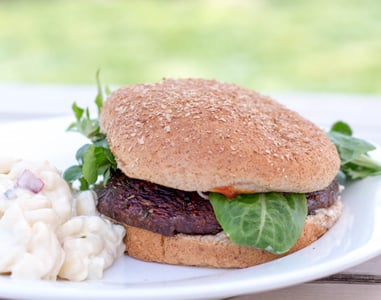 Large Portabella mushroom caps mimic the size and shape of a burger patty, making them the perfect meatless substitute. Best of all, one Portabella mushroom has about 30 calories and no fat or cholesterol. The "burger" is marinated in smoky balsamic vinegar, Worcestershire and soy sauce as well as Italian seasoning, then grilled to give you that roasted taste you love. Served on a whole wheat bun, it's a healthy lunch to enjoy one sunny day with the family.
Ingredients
4 Portabella caps, whole or 1" slices
2 tbsp extra virgin olive oil
2 tbsp balsamic vinegar
2 tbsp soy sauce
1 tbsp Worcestershire sauce
1 tbsp Italian seasoning
4 buns of your choice
Burger toppings of your choice
Get marinating and grilling instructions here. Or, watch our video!
Hungry for More Mushroom Recipes?
These sandwiches are savory and filling, thanks to the addition of hearty, seasoned mushrooms.
If you love these recipes, we've got even more! Download our More Flavor, Less Guilt ebook to enjoy 15 flavorful, healthy mushroom recipes.