It's the perfect time to fire up the grill and make some juicy burgers— and we've got some incredible patty blends ready to go.
These burger recipes are extra tasty because they're all blended burgers, which incorporate mushrooms into, not just on top of the patty.
Why blend mushrooms into your meals, instead of merely enjoying them as a side or garnish? There are so many reasons— which is why we devoted an entire month to celebrating the power of "The Blend."
Check out our links above to learn more, or experience the scrumptious mushroom/meat combo for yourself by whipping up one of these recipes!
1. Blended Turkey with Avocado Mushroom Burger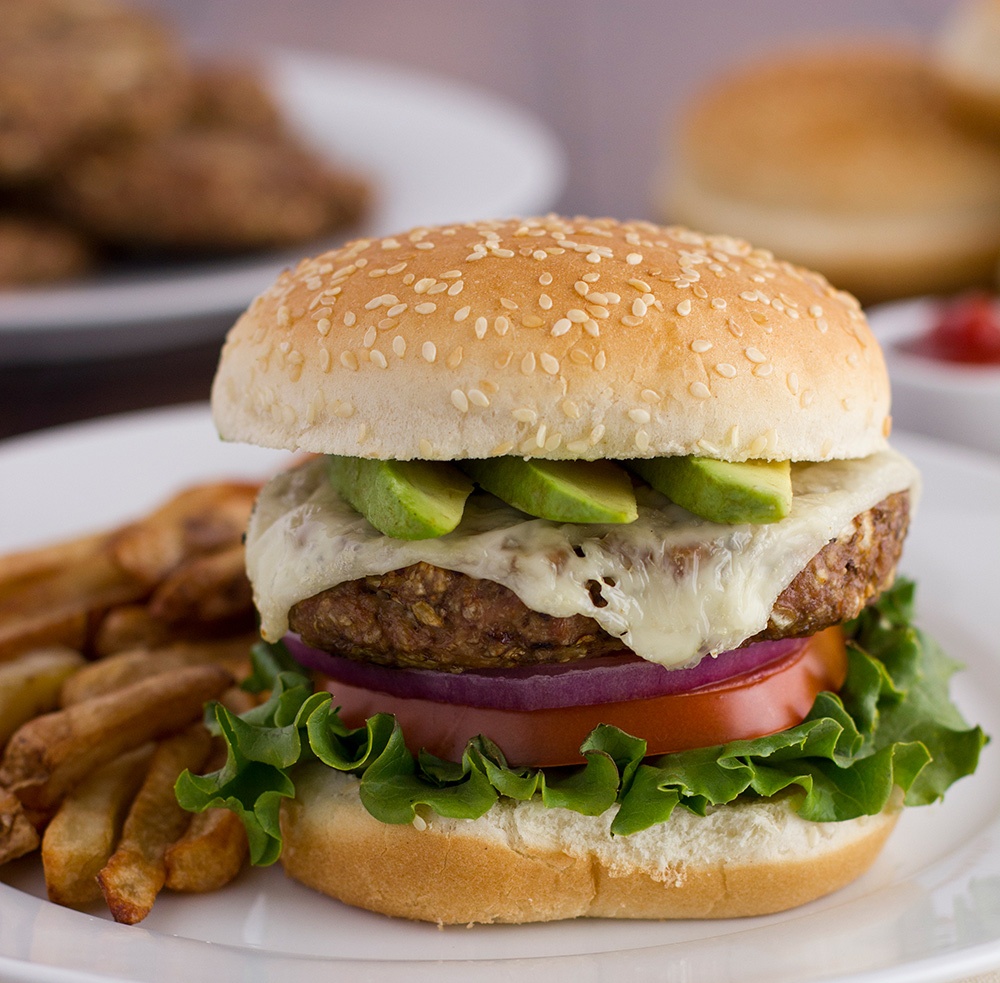 Ah, the turkey burger: the deliciously overlooked underdog of burgers. Ground turkey is usually a leaner option (in terms of fat) when compared to traditional beef, and offers a different flavor and texture. Mixed with a blend of your favorite mushrooms, Mexican seasoning and a kick of fresh onion and garlic, each patty has fewer calories, with that same hearty profile you love. This burger wouldn't be complete without a dollop of creamy avocado, bright green spinach and a ripe slice of tomato— so be sure to dress it with all your preferred fixings!
Ingredients
1/3 pound mushrooms (any you'd like), finely chopped
1 pound lean ground turkey
1 tsp Mexican seasoning
1/2 small onion, finely diced
1 clove garlic, minced
1/2 cup breadcrumbs
1 egg
1 medium ripe avocado, peeled and sliced
1 cup baby spinach
1 medium tomato, sliced
1 small red onion, sliced
6 hamburger buns
BBQ or sear these blended burgers with easy cooking instructions, found right on our blog.
2. Mediterranean Blended Burger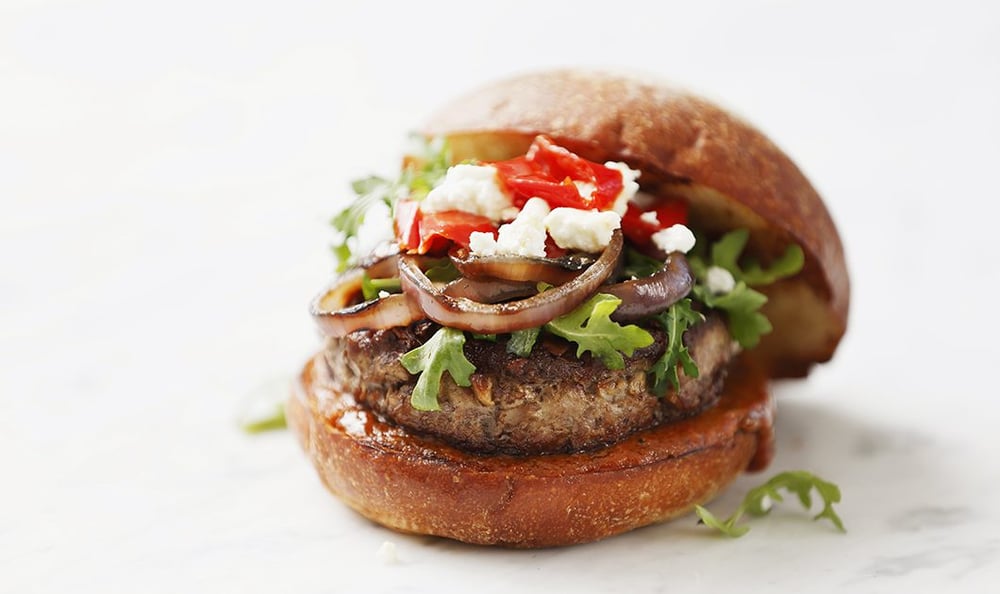 Did someone say "Mediterranean"? Yes, please. This blended burger makes an homage to the hallmark flavors found in your favorite ethnic dishes. Although the burger recipe itself is quite simple— just some beef and fresh mushrooms— the toppings are what transport you to the tastes of the Mediterranean Sea. Top these patties with some Romesco sauce (with notes of pine nut, spicy peppers, and garlic), sautéed onions and don't forget some creamy feta. Go wild and plate with some chopped Greek salad or spicy Escarole for the authentic package.
Ingredients
1/2 pound Brown or White Button mushrooms
2 tbsp olive oil, divided
1 pound ground beef
1/2 tsp salt
4 buns
Topping recommendations: feta cheese, romesco sauce, sweet peppers, and sautéed red onions
Print the recipe for these easy blended burgers here.
3. Let's Blend® Classic Hamburger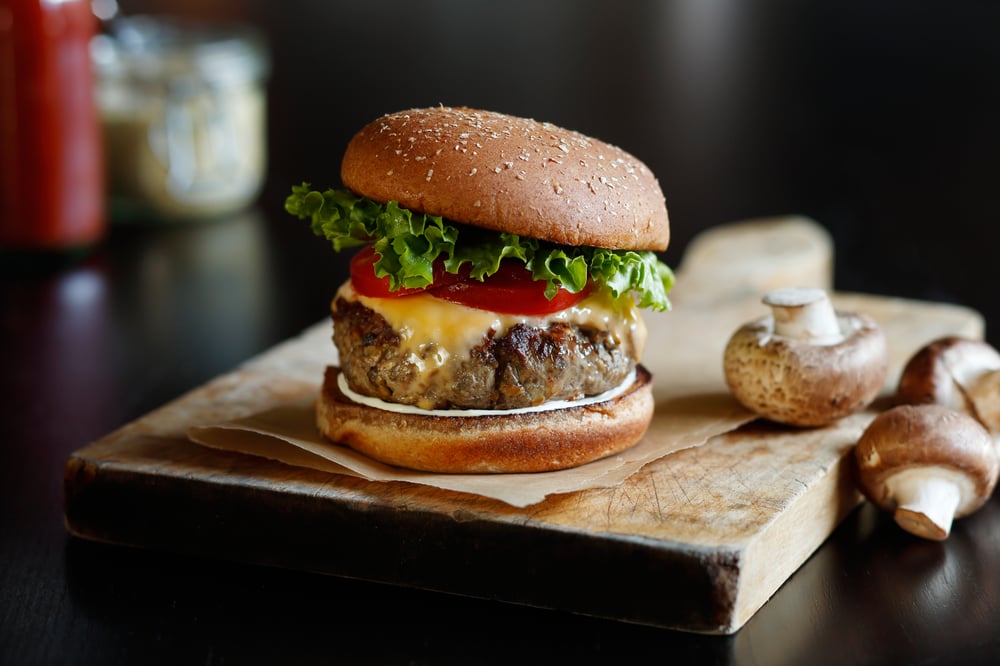 You can't go wrong with a classic hamburger, but you can enhance it, easily, with a very special ingredient: mushrooms. The trouble is, cleaning and chopping mushrooms is just another step, keeping you in the kitchen longer. Cut your prep time by using Let's Blend®, or our pre-chopped, pre-seasoned mushroom packages, available at many common grocery stores. This recipe uses our Classic blend, which includes dry seasonings like salt, garlic, paprika and more, for rich flavor without the work.
Find Let's Blend at your local retailer, like Krogers, or, substitute with 8 ounces of your own favorite mushrooms, diced and seasoned similarly.
Ingredients
8 oz Let's Blend® Classic Finely Diced Mushrooms
16 oz ground beef4-6 hamburger buns
1 tbsp olive oil (if pan frying)
Recommended toppings: lettuce, tomato, onion, mayonnaise, ketchup, mustard, and pickles
Learn more about the power of "The Blend" and Monterey Mushroom's convenient, pre-packaged mushroom blends. Find this recipe on our website.
4. Mighty Mushroom Lettuce Wrapped Blended Burger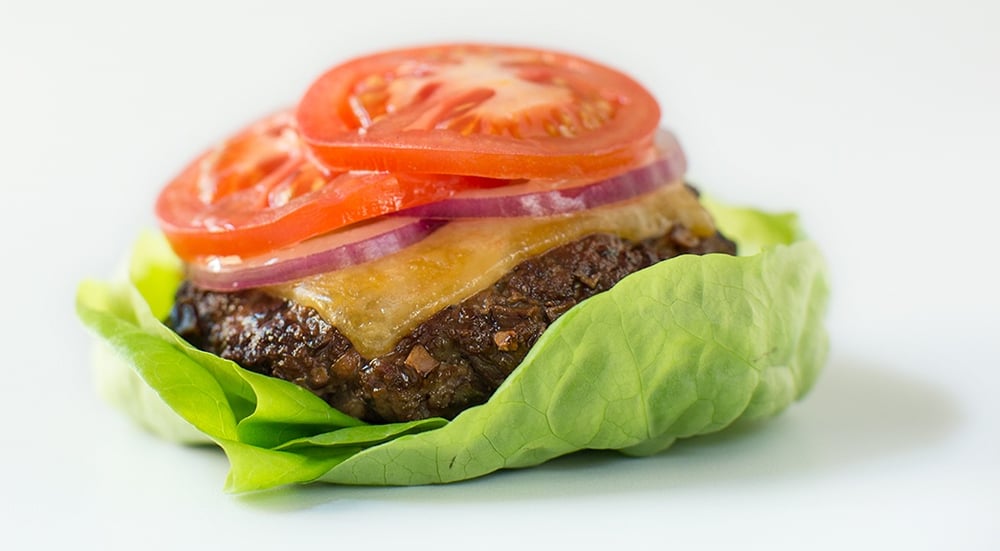 Craving a burger but don't want the extra calories or to suffer from that overly full feeling? Try our lettuce wrap burger. This recipe is lighter and guilt-free, as it uses only half the meat of a traditional patty and ditches the carby bun. The instant calories cut is the perfect bargaining tool for splurging on creamy cheddar or some tasty sides. Did we mention it's gluten-free? It sure is one mighty burger!
Ingredients
½ pound mushrooms, Brown or White Button
2 tbsp olive oil, divided
1 pound ground beef
½ tsp salt
4 slices cheddar cheese
1 tomato, thinly sliced
½ red onion, thinly sliced
1 head iceberg, green leaf or butter lettuce, rinsed then dried
Check out the full cooking instructions for this healthy burger recipe here.
5. Blended Mushroom Sliders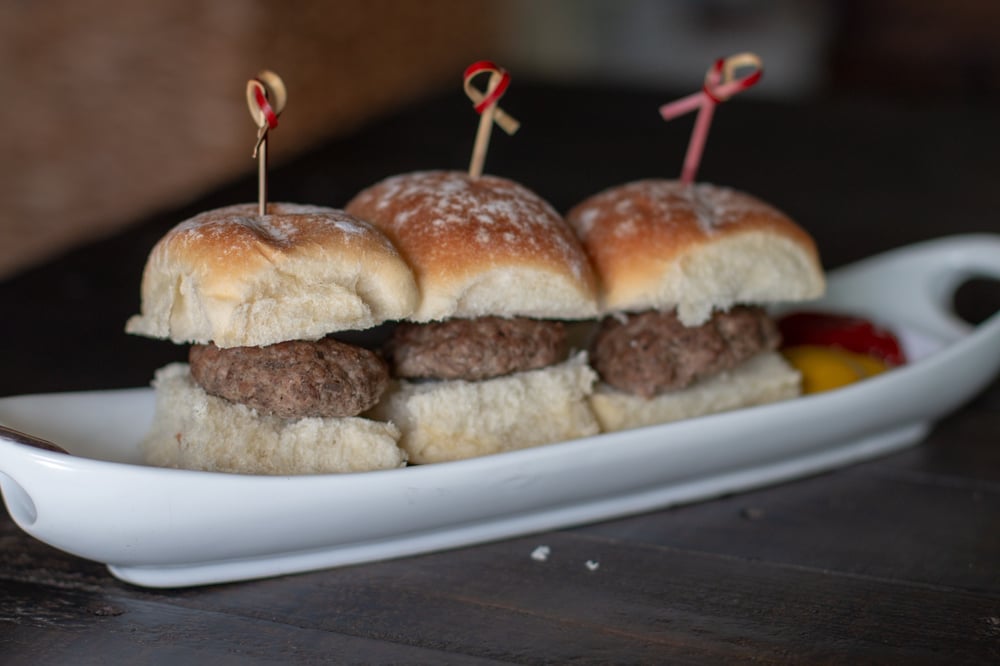 We couldn't have a whole post about burgers and not mention sliders! These sliders, like all the ingredients listed here, are mixed with tasty mushrooms for added flavor. But these mini bites are great for sharing, or for making extra for quick lunches or snacks. Enjoy the notes of fresh thyme, crisp onion, and your favorite toppings all week long.
Thank you to the Mushroom Council for inspiring us to make this spin-off of their original blended burger recipe.
Ingredients
1 pound Brown or White Button mushrooms
2 tbsp olive oil, divided
1 pound ground beef
1 small to medium red onion
4 sprigs of fresh thyme
Salt and pepper to taste
16 slider buns or rolls
Topping recommendations: Fresh tomato, red onion, butter lettuce, cheddar cheese, and your favorite spreads
Print the recipe for these decadent sliders here. Or, watch the recipe instructions below.
More Recipes!
Craving more delicious mushroom-inspired recipes? Download our More Flavor, Less Guilt ebook to enjoy 15 more!