September is National Mushroom Month, and we're thrilled to celebrate 30 days of fungi fun!
In honor of this special time, the experts at Monterey Mushrooms have shared some of their favorite mushroom recipes featured on our blog.
Here are five scrumptious mushrooms recipes to do Mushroom Month right!
1. Portabella Pizza Caps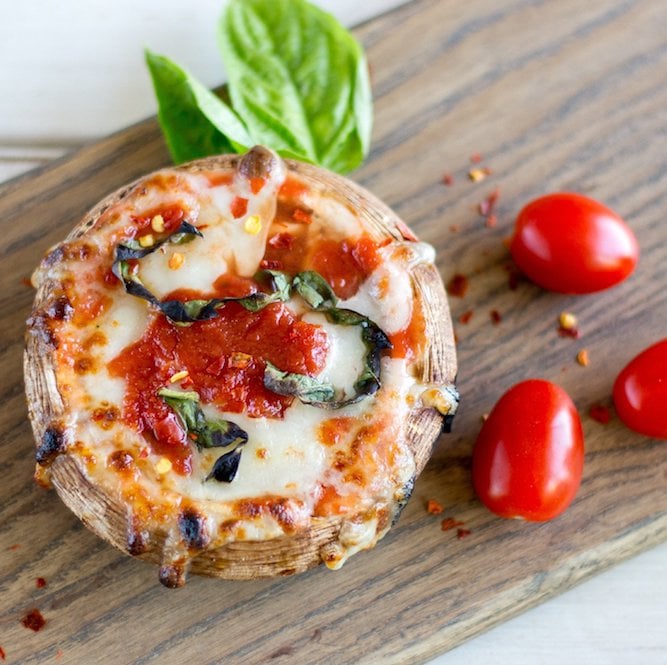 We love this creative recipe for so many reasons, it's hard to list them all. Not only does subbing out the dough for mushrooms caps make this a guilt-free, lower-calorie snack, but you can top your pizzas any way you choose— with an original cap every time. In fact, this is the perfect recipe for setting up a fun pizza station and letting your guests go to town, selecting their favorite toppings. You'll never know what cheesy flavor combos await until you take a bite!
Ingredients
4 Portabella caps
2 tsp extra virgin olive oil
1 cup pizza sauce
1 tbsp Italian seasoning
1 cup shredded Mozzarella cheese
Topping suggestions: Onions, spinach, olives, bell peppers, pineapple, pepperoni, sausage, bacon or extra cheese
Simply fire up your grill and place your oil-basted fungi on the grates under direct heat for 2-3 minutes or preheat your oven and bake them right in the kitchen. Get grill temperatures and other cooking instructions on the Monterey Mushroom blog.
2. Oyster Mushroom Calamari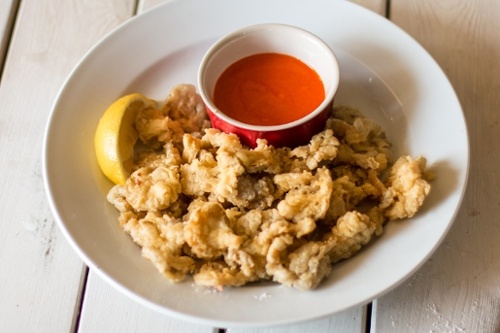 Feeling fancy tonight? You don't have to go to a five-star restaurant and order expensive seafood. Enjoy a crunchy plate of "calamari" at home, by frying some Oyster mushrooms! Our food experts love this imitation recipe, in part because it replicates the texture of calamari so closely, you might not realize you're eating fungi. The creamy buttermilk and flour coating is packed with the sharp flavors of paprika and garlic, and its mushroom's natural umami profile gives you the robust, satisfying feeling you love in this classic appetizer.
Ingredients
4 oz Oyster mushrooms
1 cup flour
1 tbsp smoked paprika
1 tsp garlic powder
1 cup buttermilk
Salt and pepper, to taste
Lemon wedges
Tartar sauce, optional
Enjoy these meatless crisps with easy instructions, found here. Watch the video directions here.
3. Mushroom & Cauliflower Buffalo Bites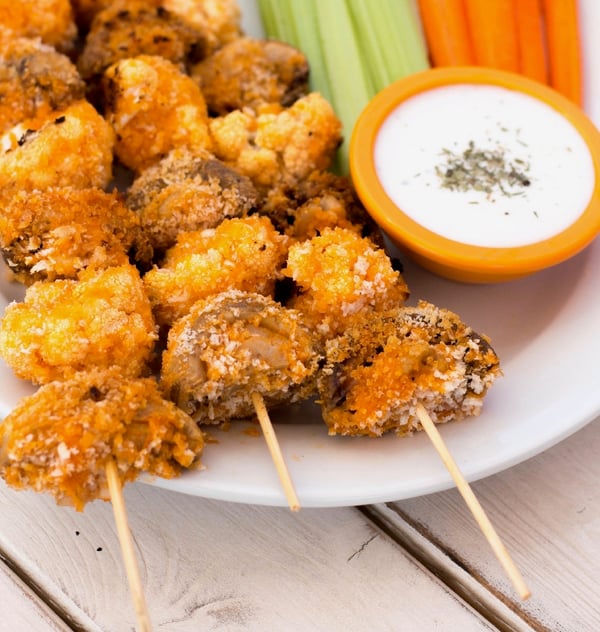 Nosh on some buffalo bites, without the chicken. Our mushroom bites are actually cauliflower and mushrooms in disguise— hiding behind a crunchy layer of Panko, zesty hot sauce and butter. Skewer your coated delights and grill for two minutes on each side for crisp perfection. Make them as spicy or as mild as you like— or make two batches for guests to pick and choose. Serve with a side of blue cheese and celery or carrots for the full experience.
Ingredients
8 oz medium White mushrooms
1 head of cauliflower
2 cups Panko crumbs4 tbsp butter
5 tbsp Frank's hot sauce
1 tsp white vinegar
1 tsp garlic powderSalt and pepper to taste
Recommended sides: Celery or carrots with blue cheese dressing
Bring the heat with this meatless summer grill platter. Find the instructions on our blog.
4. Portabella Fries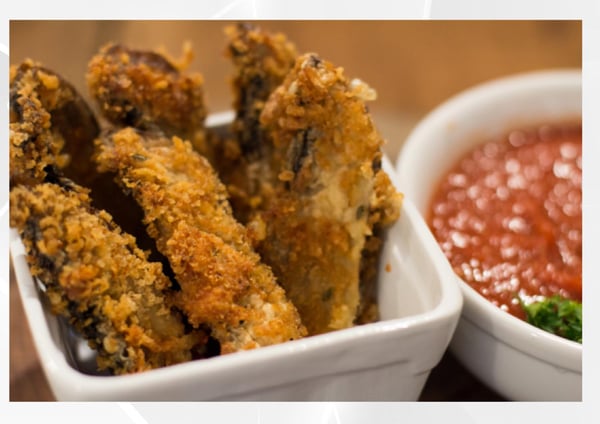 Stop packing your stomach with heavy starch. Eat fewer calories with the same satisfying feeling by slicing and breading some Portabella fries. Portabella caps are large enough to cut into hearty wedges without any fuss. Mushrooms also contain a natural flavor of umami, which tastes a whole lot like salt. All the yumminess, with only a dash of real sodium and pepper. The Parm and fresh thyme really tie it all together. Serve these amazing fries with your favorite blended mushroom burger for a surge of healthy antioxidants.
Ingredients
8 oz Portabella mushroom caps
1/2 cup flour
1 egg, lightly beaten
3/4 cup Panko bread crumbs
1/4 cup Parmesan cheese, grated
1/2 tsp fresh thyme leaves, chopped
Salt and pepper to taste
These Portabella fries only take 8-12 minutes to bake or 3-4 minutes to fry. Get the directions here. Or, watch our YouTube video.
5. Marilyn's Mushroom Burger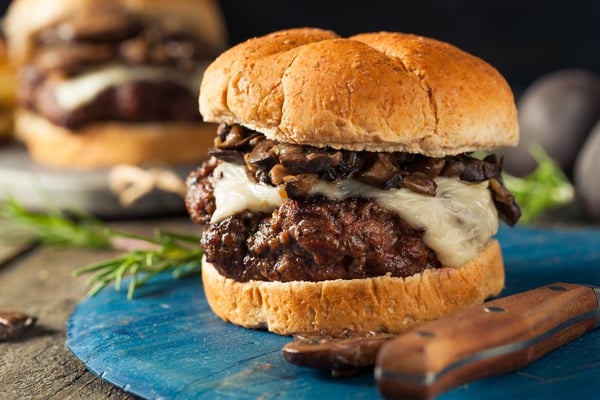 All summer long we ran a Show Us Your Burger Love Sweepstakes, where we asked our happy customers to share with us their favorite mushroom burger recipe. Marilyn's inventive burger had us majorly drooling, and we know it'll leave you hungry too! Her blended patties are a well-balanced combination of ground beef and mushrooms, blended with a few special seasonings. What really sets this burger recipe apart is the sweet glaze, which complements the salty umami of mushrooms quite magically. Thank you, Marilyn! We're delighted to share.
Ingredients
2 lbs ground beef (85% lean)
Kosher salt and freshly ground black pepper
1/4 cup Dijon mustard
3 tbsps soy sauce
1 tsp sugar
6 slices Swiss cheese
1 tbsp olive oil
8 oz chopped mushrooms
2 tsps fresh thyme leaves or 1 tsp dried
2 cloves garlic, minced
6 yeasty buns
Find out how to blend the mushrooms and beef and whip up the perfect glaze with the full recipe instructions here.
Download our More Flavor, Less Guilt ebook to enjoy 15 flavorful, healthy mushroom recipes.