Food manufacturers are sneaking extra nutrients into many of their products using a special ingredient: mushroom powder.
Mushroom...powder? Yes, mushroom powder. Ground dried mushrooms are packed with important vitamins and offer antioxidant-like properties. By incorporating this powder into your best-selling products, you can enhance your nutrition label without affecting the great taste your customers have come to love.
Let's look at some of the exceptional benefits of adding mushroom powder to your food, what products are hot choices and some useful recommendations to help your food scientists to start blending:
What are the Benefits of Adding Mushrooms to Food Products?
Perhaps the most influential reason food manufacturers are beginning to play with mushroom blends is because retailers like to stock foods with additional nutrition benefits. It's not just because these grocers want more options than their competitors (but believe us, they do!), it's also that retail customers want healthier choices. Consumers are on the hunt for healthier options—and they're putting in requests at stores for health-forward choices on retail shelves. In fact, studies show that shoppers are willing to pay more for food that delivers the benefits it claims on the packaging.
Mushrooms are a popular choice for enhancing a product's nutrition panel because they contain five of the eight essential B vitamins: riboflavin (B2), folate (B9), thiamine (B1), pantothenic acid (B5) and niacin (B3). (White and brown mushrooms see significant levels of B2, B3 and B5, especially).
These nutrients are incredibly valuable to have in products, as the body isn't able to produce essential B vitamins on its own in quantities great enough to be beneficial; therefore, the only way we get them is through dietary choices. In fact, consumers are making their own mushroom powder at home to receive these benefits, so why not offer them products that are already enhanced?
Mushrooms can also be an excellent source of vitamin D, which many Americans are deficient in. Shoppers and retailers alike are interested in foods with high vitamin D, as evidence points to this nutrient as a key helper in strong bone health, immune system enhancement and more.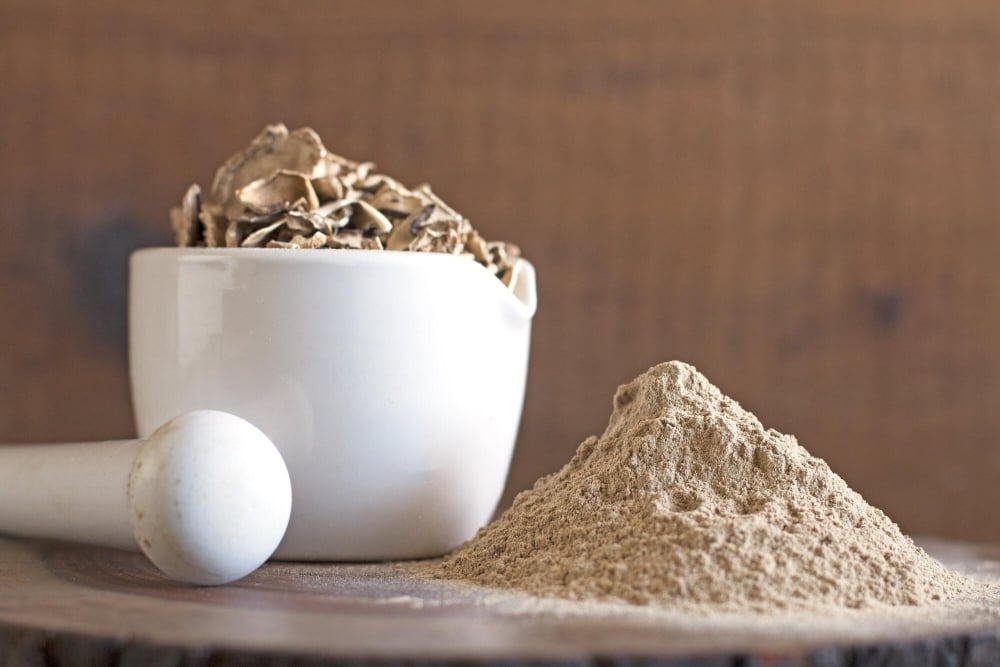 Products Perfect for a Mushroom Powder Blend
Mushroom powder boasts a long portfolio of blend-worthy products, so many that we made a post featuring our most popular blend suggestions.
In this linked article, you'll find that ground mushrooms pair perfectly with common powder-blended products, like smoothies and shakes (where you'd typically find protein powder combinations). In contrast, you may be surprised by some recommendations— like chocolate and coffee —which are often complemented by the robust mushroom.
While not all products incorporate seamlessly with mushroom powder, there's an impressive list of those that do, and food scientists are whipping up clever blends regularly.
Options for Mushroom Powder Blends
Here at Monterey Mushrooms, we are proud to produce "Just Mushrooms" powder, made from Agaricus bisporus mushrooms grown at our very own California farms. Just Mushrooms is "just" that, consisting of 100% pure mushroom powder, with no added excipients or preservatives.
Food and supplement manufacturers can select their desired features, such as vitamin D level, mesh size and organic certification. White button mushrooms serve as our standard, high-quality raw material, however Brown and Portabella options are also available as custom orders.

The savory-enhancing and bitterness-balancing powers of mushrooms can be used to enhance or tame your desired flavor profile; blend ratios can be adjusted to either bring out or subdue the taste. For instance, a food manufacturer adding Button mushroom powder to a soup broth product may choose to incorporate a larger ratio of powder than a manufacturer adding it to breakfast bars, as the rich umami can be used to enhance the taste of the broth. In the nut bar, however, the mushroom taste can be masked by using less powder, since it doesn't serve that particular palate profile. For questions about the proper ratios for blends, contact our helpful fungi experts.
Here's a chart showing how our High Vitamin D mushroom powder can be used at various levels to help you achieve higher daily value percentages on your nutrition labels: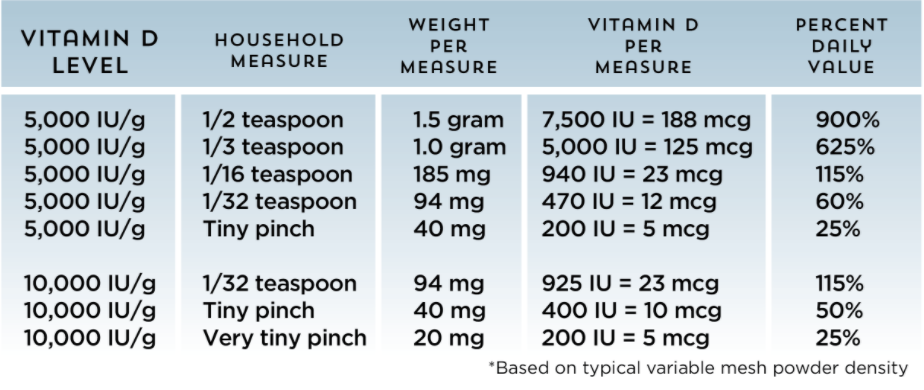 Choosing Your Mushroom Powder
Major brands are already using our mushroom powder in their products to enhance their dietary benefits. You could, too!
Let your food scientists experiment by requesting a vitamin D sample, today.
Want to explore more about the power of High Vitamin D mushrooms? Download our ebook, Everything You Need to Know About High Vitamin D Mushrooms for Food Manufacturers, and share it with your product developers for more information.
Learn More About How to Get Our High Vitamin D Mushrooms On Your Shelves: