With the holiday season just around the corner, you might be scrolling through the Internet trying to find some holiday recipes that will impress your loved ones this year.
Look no further!
We've got five mushroom-friendly recipes to get festive this holiday season, with mouthwatering meals and nibblers alike. Why mushroom-friendly recipes, you ask? Mushrooms are versatile and can enhance any meal they're tossed into. Furthermore, they're full of nutrients, such as:
Vitamin D.
Fiber.
B Vitamins: Riboflavin, Niacin, and Pantothenic Acid.
Potassium.
Selenium (an antioxidant).
Copper.
Ergothioneine.
Mushrooms are a perfect substitute for many ingredients for those looking to lose weight or eat healthier as their New Year's resolution. These five holiday recipes are perfect for closing out the year and/or for starting your 2023 off on the right track since they are tasty and full of nutrients for healthy eating!
The 5 Must-Have Holiday Recipes With Mushrooms
1. Mushroom Meatballs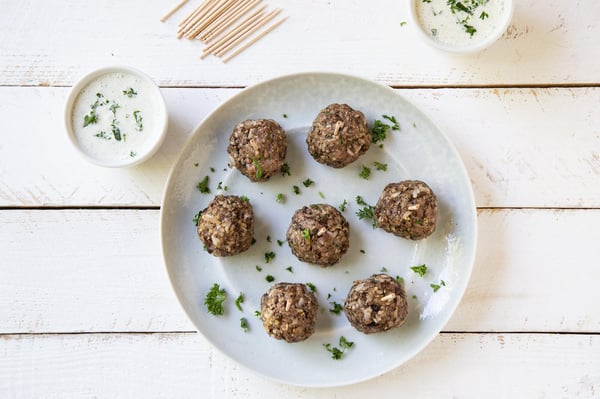 Meatballs are a fun food to pop on your plate at parties or to add to many meals to enhance your protein intake. Lamb in particular is a mighty source of protein and contains all nine essential amino acids your body needs for growth and maintenance. When blended with fresh Monterey® White Mushrooms, these meatballs are a nutritious mouthful. White Mushrooms are one of the most versatile fungi for recipes due to their mild and earthy, less powerful flavor profile compared to Brown varieties. White Mushrooms can take on the overall flavor of the dish you're making, which makes them friends with many different ingredients!
For this perfect holiday recipe, enjoy the aromatic mint and parsley, pine nutty undertones, and let's not forget the creamy yogurt cucumber dip to go along with the blended meatballs.
Thank you to The Mushroom Council for this flavorful recipe.
Ingredients
12 oz. Ground lamb
4 oz. Monterey® White Mushrooms, finely chopped
¼ cup cooked long grain rice, cooled
¼ cup pine nuts
¼ cup chopped yellow onion
2 garlic cloves, chopped
1 Tbsp. Chopped fresh mint
1 Tbsp. Chopped fresh parsley
1 Tbsp. Fresh lemon juice
1 tsp. Fine ground sea salt
¼ tsp. Ground black pepper
Cucumber Yogurt Dipping Sauce
½ cup plain whole milk Greek yogurt
1 small Persian cucumber, chopped (about 5 inches long)
1 Tbsp. Chopped yellow onion
¼ tsp. Fine ground sea salt
¼ tsp. Cumin
¼ tsp. Coriander
Pinch ground cinnamon
Check out the full recipe!
2. Mushroom Gravy Recipe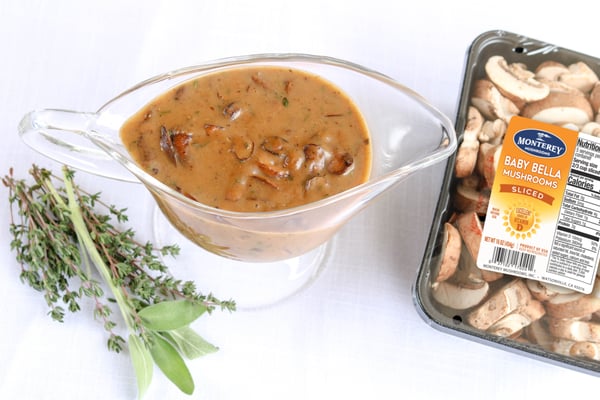 What's a spread without a little gravy? Top your favorite meat, mashed potatoes, vegetables, or other holiday appetizer recipes with a drippy coating of this mushroom-based gravy. The special umami profile of Monterey® Baby Bella Mushrooms gives this topping a meat-like taste, adding robustness compared to traditional gravy. Additionally, Baby Bella's umami can take on a salty flavor, yet they're very low in sodium. This unique trait can help you substitute high-sodium foods with these mushrooms, which are also packed full of nutrients.
A few spoons of herbs, minced garlic and smooth butter complement the already incredible flavor of this recipe. But what really makes this gravy is the touch of coconut aminos— adding just a hint of sweetness for a balanced recipe you'll find yourself wanting to make year-round!
Ingredients
1 Tbsp. Butter* (*or substitute ghee for lactose-free gravy)
2 tsp. Minced garlic
16 oz. sliced Monterey® Baby Bella Mushrooms
4 Tbsp. Butter*
4 Tbsp. Gluten-free flour (1:1 all-purpose flour)
2 cups broth, from chicken or turkey
2 tsp. Coconut aminos
2 tsp. Fresh thyme
2 tsp. Fresh sage
1/2 tsp. Salt
1/2 tsp. Pepper
3-4 Tbsp. Water, for desired consistency (more if you like a thinner gravy)
Did you know this recipe is gluten-free? Check out the full recipe!
3. Stuffed Mushrooms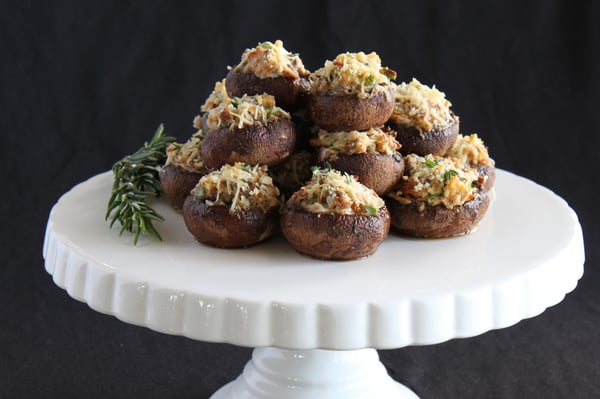 If you want a recipe that will be the life of any holiday party, our stuffed Baby Bella mushrooms are the perfect dish to share with friends and family. Stuffed with goat cheese and pancetta or bacon, these little mushrooms pack a lot of flavors and will make your tastebuds break out in a festive dance!
Ingredients
16 oz. Monterey® Baby Bella Mushrooms
2 Tbsp. Butter
4 oz. Pancetta or Bacon, finely diced
1/2 cup Green Onions, chopped
2 cloves Garlic, minced
1/2 tsp. Salt
1/8 tsp. Dried Red Chile Flakes
4 oz. Goat Cheese (Chevre), crumbled
1/2 cup Parmesan or Romano cheese, shredded
Fresh thyme leaves for garnish
Fresh parsley and cheddar cheese for garnishing
You can get the entire recipe for our incredible stuffed mushrooms here!
4. Creamy Mushroom Puffed Shells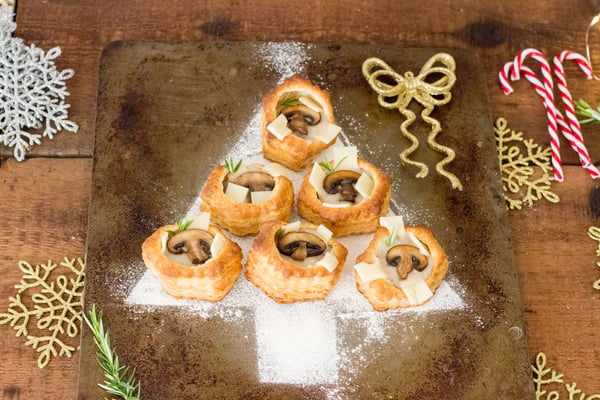 Instead of baking some boring buttered rolls this holiday, try something with a little more flare and entertainment. In this mushroom recipe, you use a shot glass to shape a hole into your biscuit (think pigs in a blanket, except you don't push all the way through the bread).
This rivet in the roll makes the perfect bowl for creamy mushroom soup. Paired with a little Swiss and fresh rosemary, these flakey yet milky treats go with any dinner, making them one of our favorite holiday appetizer recipes!
Ingredients
8 oz. Monterey® Baby Bella Mushrooms, sliced
Frozen puff pastry shells
Your favorite creamy mushroom soup
2 tsp. Extra virgin olive oil
2 sprigs fresh rosemary
Sliced aged Swiss cheese, cut into strips
A shot glass
Make a whole batch and enjoy these toasted biscuits all week long. Print the recipe here.
5. Blended Green Bean Casserole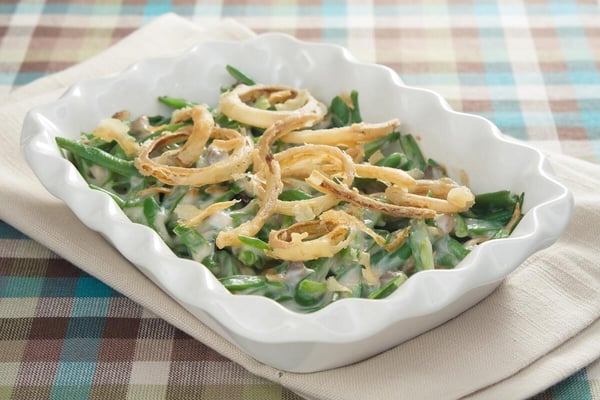 Green bean casserole is a crowd-pleaser around the holidays. This twist on the classic casserole doesn't use canned green beans, but ones straight from the produce department for a more fresh and flavorful dish.
Mixed with chopped mushrooms, this veggie dish is packed with more nutrients than traditional canned recipes. You can sprinkle your favorite cheese, bacon, almonds, or more on top for a familiar yet unique comfort food for any get-together.
Ingredients
8 oz. Monterey® Baby Bella Mushrooms or Monterey® White Mushrooms, sliced or finely diced
4 cups fresh green beans, broccoli, and/or asparagus, cut to bite size
1 Tbsp. Water
(1) 10 1/2 oz. Can cream of mushroom soup
3/4 cup milk
1/8 tsp. Black pepper
1 1/3 cups crispy fried onions (split 2/3 cup + 2/3 cup)
1/2 cup grated cheese (Jack, Swiss, or Cheddar)
Optional: 8 oz. Can sliced water chestnuts (drained), 1/3 cup bacon crumbles, 1/2 cup sliced almonds (toasted)
Find out bake time on the Monterey Mushrooms' blog.
Related Holiday Recipes
Craving More Holiday Recipes?
Whether your New Year's resolution is to lose weight, eat healthier, or you're just looking for a great recipe to make this holiday season, these five recipes are only a few of the many delicious ideas we have for adding mushrooms to your favorite holiday meals.
Download our Holiday Cookbook for other mushroom-friendly holiday appetizer recipes, such as Monterey® Baby Bella Mushrooms with figs, honey, brie, and more!