Every year you get invited to a New Year's Eve bash— and every year you don't know what to bring!
That's why we put together a few unique dishes, different than the usual wings or chips and sure to "wow" guests.
Here are five mushroom-inspired New Year's Eve recipes: all easy to whip up during the busy holidays, but all equally delicious.
1. Lamb & Mushroom Blended Meatballs with Spiced Cucumber Yogurt Dipping Sauce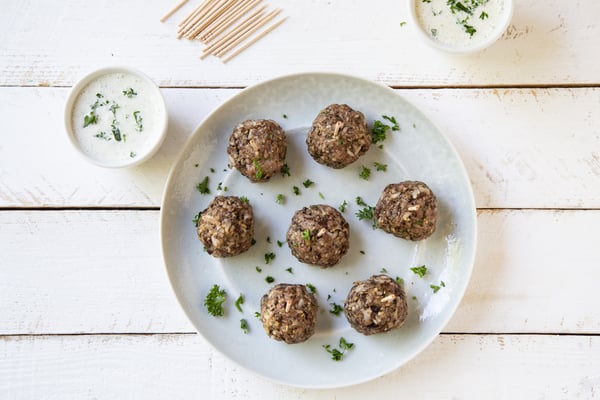 It's pretty common to see crockpot meatballs at gatherings, but have you ever been served delicate and savory lamb meatballs? Step up your game with easily the most elegant fixing at the New Year's celebration: tender lamb and mushroom blended balls. When paired with smooth White mushrooms, pine nuts and fresh mint and parsley, this soft, juicy meat is a delight to the senses. Serve with homemade creamy Greek yogurt cucumber dip and we promise your bites won't last till midnight!
Thank you to The Mushroom Council for this flavorful New Year's Eve recipe.
Ingredients
12 oz ground lamb
4 oz White button mushrooms, finely chopped
¼ cup cooked long-grain rice, cooled
¼ cup pine nuts
¼ cup chopped yellow onion
2 garlic cloves, chopped
1 tbsp chopped fresh mint
1 tbsp chopped fresh parsley
1 tbsp fresh lemon juice
1 tsp fine ground sea salt
¼ tsp ground black pepper
Cucumber Yogurt Dipping Sauce
½ cup plain whole milk Greek yogurt
1 small Persian cucumber, chopped (about 5 inches long)
1 tbsp chopped yellow onion
¼ tsp fine ground sea salt
¼ tsp cumin
¼ tsp coriander
Pinch ground cinnamon
Head over to our blog to print the full recipe.
2. Goat Cheese & Pancetta Stuffed Mushrooms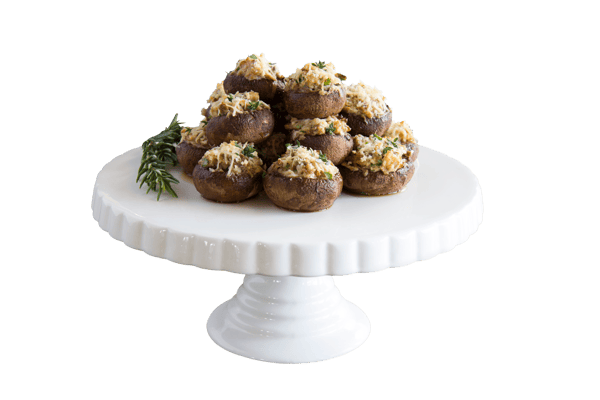 You can't go wrong with stuffed mushrooms, but you can take this contemporary dish to the next level. Goat cheese and pancetta go together like a horse and a carriage, and we've saddled up our favorite cheese and meat pairing to create one delicious ride. A touch of garlic and red chile flakes complement the creamy and salty goodness perfectly, while the mushrooms boast an unmistakable texture of their own. These stuffed treats are a surefire hit, every time.
Ingredients
16 oz Baby Bella mushrooms
2 tbsp butter
4 oz pancetta or bacon, finely diced
1/2 cup green onions, chopped
2 cloves garlic, minced
1/2 tsp salt
1/8 tsp dried red chili flakes
4 oz goat cheese (Chevre), crumbled
1/2 cup Parmesan or Romano cheese, shredded
Fresh thyme leaves, for garnish
Discover how to assemble these savory caps on the Monterey Mushroom blog.
3. Mushroom Martini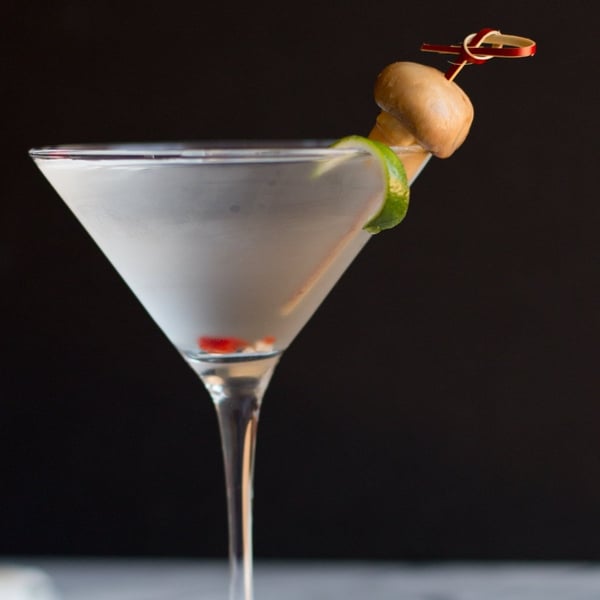 Hold on— a mushroom… martini? Guests might question your drink choice at this year's celebration, but tell them "don't knock it 'til you try it!" Instead of toasting with champagne, kick off the new year with a new drink. The gin-lovers in the crowd will enjoy the same juniper taste they love, complemented with the earthy smell of mushrooms, the sweet taste of Vermouth and a twist of lime. This mushroom-infused cocktail makes one creative addition to any party.
Ingredients (for one cocktail)
Ice
2 1/2 oz London dry gin, infused with dried mushrooms for at least 24 hours
1/2 oz dry Vermouth
Marinated mushrooms, for garnish
Fresh lime, twist
Cheers! Print this cocktail recipe here.
4. Mushroom & Shallot Deviled Eggs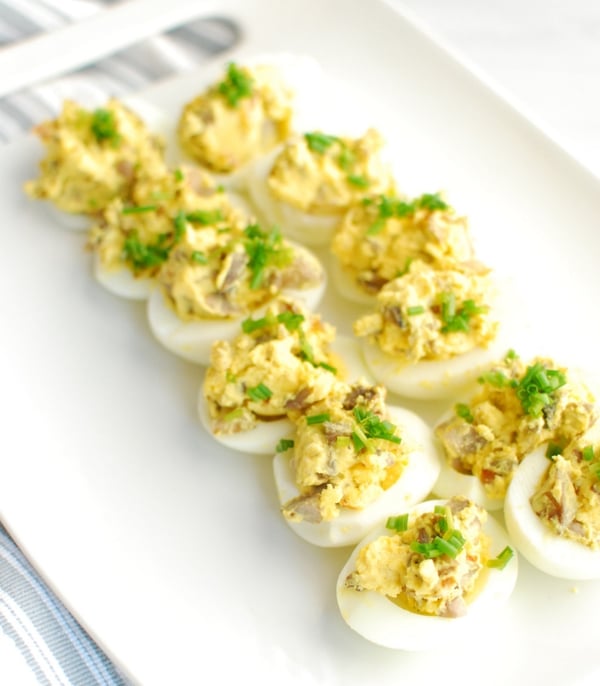 You can't show up to a get together without deviled eggs; they're a staple! These eggs, however, have a few extra ingredients to boost their flavor. Fresh mushrooms give the eggs a savory edge, with a little help from chopped shallot. Apple cider vinegar balances the creamy taste with a bright bite, and fine swirls of chives add a crunch.
A special thanks to Chrissy from Snacking in Sneakers for sharing this recipe.
Ingredients
6 eggs
1/2 tbsp butter (or olive oil)
1/2 large shallot, finely chopped
4 ounces white or baby bella mushrooms, finely chopped (half of an 8-ounce package)
2 tbsp mayo
1 tsp apple cider vinegar
1/8 tsp salt
1/8 tsp pepper
1 tbsp chives, finely chopped
Find out how to assemble this eggcellent platter on our blog.
5. Baby Bellas, Figs, Honey & Brie
"Brie-e-utiful!" That's what your guests will be saying after trying this Brie combo on their favorite salted crackers. Each round will contain a creamy spread of slightly warmed cheese, a drizzle of sweet honey, fresh fig and an EVOO-coated Baby Bella. Bring a stone slab and arrange your fresh ingredients as a stunning presentation, encouraging NYE attendees to assemble their own creations— taking as much or as little as their heart desires.
Ingredients
8 oz sliced Baby Bella mushrooms
1 tbsp extra virgin olive oil
2 sprigs of thyme
Pinch of salt
1 wheel of Brie cheese
2 fresh figs
1/2 cup honey
Discover how long to heat the Brie and at what temperature here.
6. Hungarian Stuffed Cabbage Rolls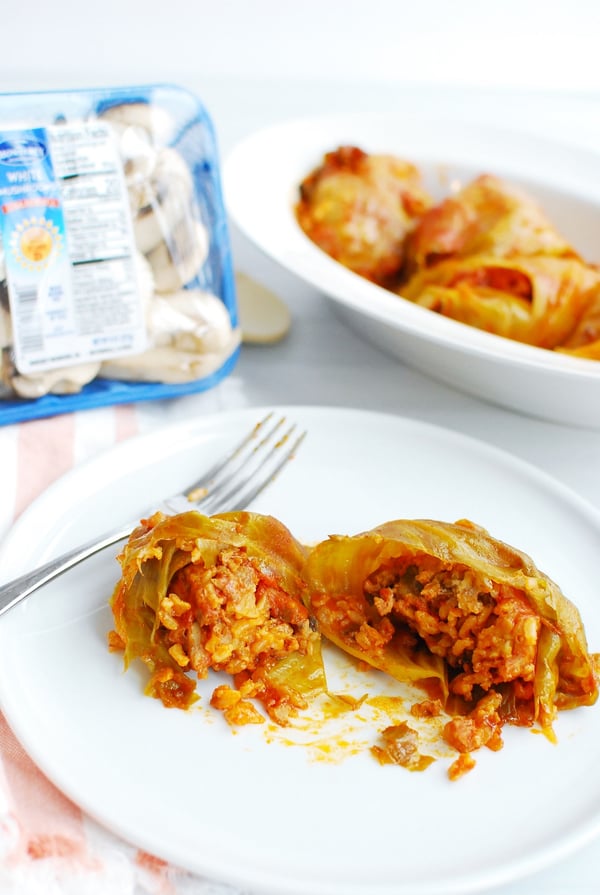 Hungarian cuisine is full of meat, grains and vegetables— and with this recipe, you can enjoy all three. Bring hearty and warm cabbage rolls to the party, stuffed with tender pork, comforting rice and some special fungi: our vitamin-packed mushrooms. Be sure to tell your guests how the High Vitamin D mushrooms in this dish help to build strong bones. These stuffed cabbage rolls can stay warm in the crockpot all New Year's Eve long, simmering in tangy tomato sauce. Plus, your cabbage rolls will pair excellently with red wine— the perfect combo for toasting as the ball drops. As the Hungarians say, "EGÉSZSÉGEDRE!" (CHEERS!).
Thank you to Chrissy from Snacking in Sneakers for this tasty, festive recipe!
Ingredients
1 medium head of cabbage
3/4 cup brown rice, dry
8 oz High Vitamin D White mushrooms, chopped
1 onion, chopped chopped
4 tbsp butter, melted (or plant-based butter)
1 lb ground pork
29 oz can of tomato sauce
1/2 tsp salt
29 oz of water
Though it takes a few hours of stove-top simmering, the dish itself involves minimal ingredients and prep time. Get cooking directions here.
Trying to Stick to Your New Year's Resolution?
Many people kick off the New Year with a goal to eat healthier. Start January off right with these taco lettuce wraps and skip the boring salad. Or, check out our entire blog on healthy mushroom recipes for sticking to your resolution.
Get more delightful holiday recipes featuring your favorite mushrooms here.