Easter is right around the corner, and here you are again: searching for the perfect Easter recipe! This holiday, don't sweat it. Bring a creative side to the celebration, featuring savory mushrooms for a boost of flavor.
Here are some of our favorite mushroom-inspired sides, to make picking the best holiday dish exciting and easy:


1. Blended Green Bean Casserole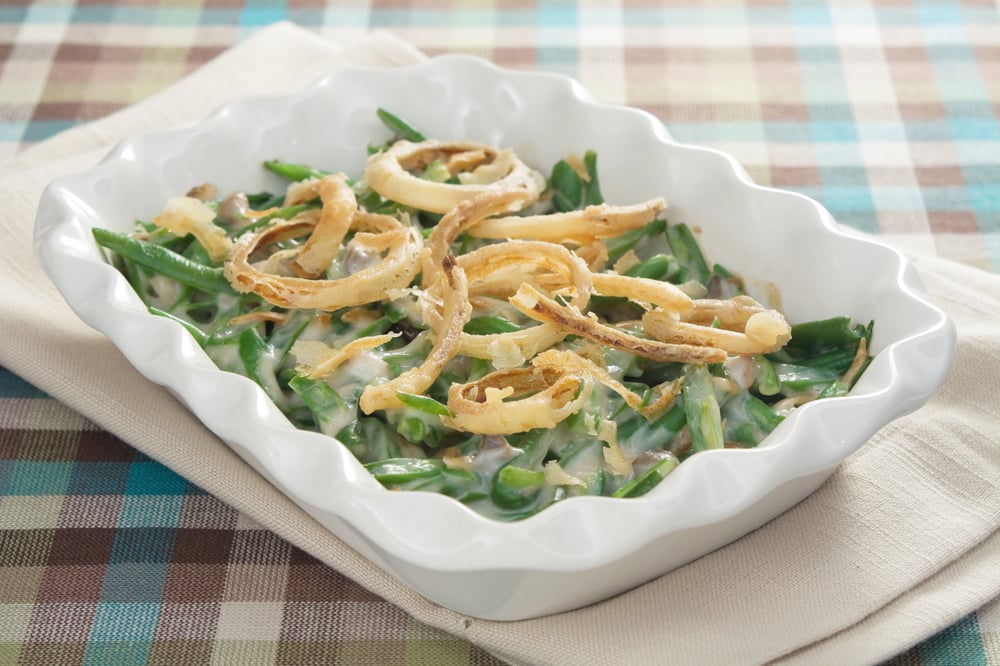 No matter what holiday it is, a warm green bean casserole is always a hit. This year, wow your family with a unique pan, mixed with Baby Bella or white mushrooms— adding flavorful umami. Simply wash your green beans, or other green veggies of choice (like fresh asparagus or broccoli) and mix them with some sliced mushrooms, creamy mushroom soup and milk. Paired with grated cheese, those fantastic crispy fried onions and other optional toppings, we've put a fun twist on this classic dish.
Ingredients
8 oz Baby Bella or white mushrooms, sliced or finely diced
4 cups fresh green beans, broccoli and/or asparagus, cut into bite-size pieces
1 tbsp water
(1) 10-1/2 oz can cream of mushroom soup
3/4 cup milk
1/8 tsp black pepper
1-1/3 cup crispy fried onions (split 2/3 cup + 2/3 cup)
1/2 cup grated cheese (Jack, Swiss or cheddar)
Optional: 8 oz can sliced water chestnuts (drained), 1/3 cup bacon crumbles, 1/2 cup sliced almonds (toasted)
Make a generous 2-quart casserole dish in only 55 mins! View the full recipe here.
2. Maple Balsamic Mushrooms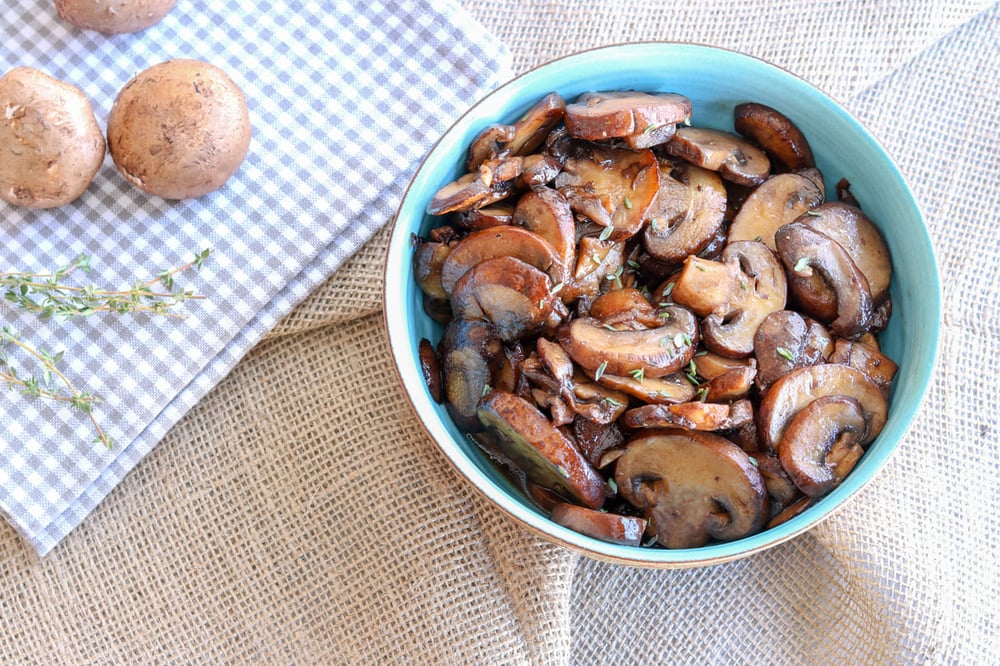 Rich and earthy umami. A sweet syrupy glaze. Creamy coconut notes. Let's not forget: a hint of fresh thyme. That's the flavorful experience your tongue enjoys with every spoonful of these warm Maple Balsamic Mushrooms. This fantastic dish is a great addition to Easter dinner, perfect for sticking on top of the main course or served as a tasty side. The mushrooms are a rare combination of low-cal and sweet, so your guests can still hop down the bunny trail— not to mention, they're super quick to make.
Thank you to KISS in the Kitchen for these savory and versatile mushrooms!
Ingredients
32 oz organic, sliced Baby Bella mushrooms
3 tbsp avocado oil
4 tbsp maple syrup
4 tbsp balsamic vinegar
3 tbsp coconut aminos (can substitute soy sauce or GF soy sauce, but would reduce to 1 1/2 tbsp given sodium content)
1/2 tsp black pepper
2 sprigs fresh thyme
Fifteen minutes prep. That's it! Make these uniquely flavored mushrooms here.
3. Hot Italian Stuffed Mushrooms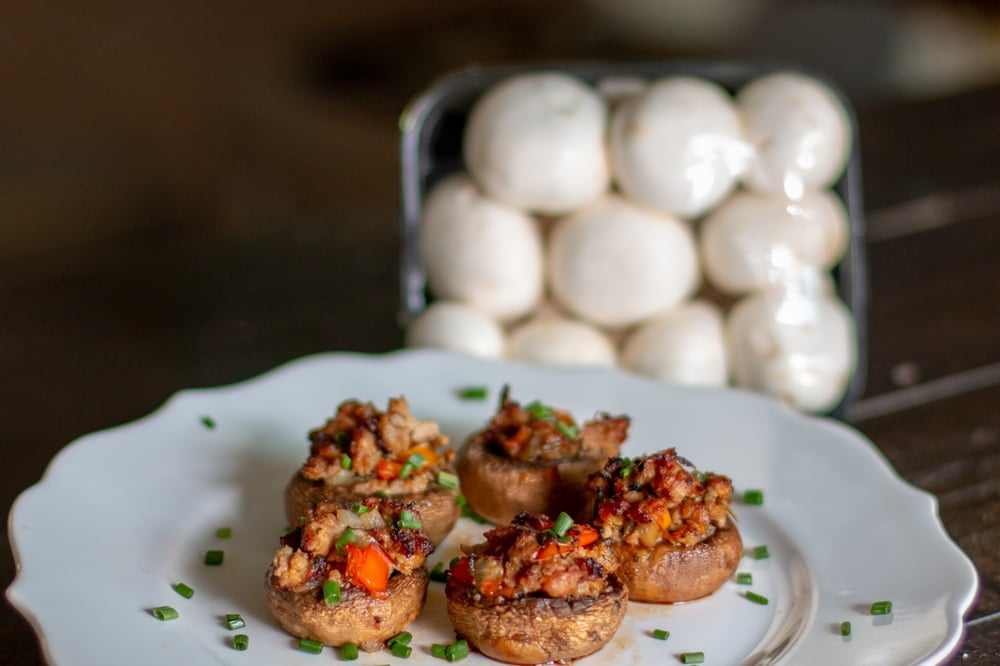 Spice up your life this Easter, with our Hot Italian Stuffed Mushrooms. Each Baby Bella or White mushroom is cradled with a hearty and flavorful scoop of perfection. The zesty Italian sausage, onion and diced peppers give it a bit of a bite, but the fresh herbs— sage, rosemary and thyme— add a fresh finish. Plus, it's gluten and dairy-free, tempting those even with restricted diets around the dinner table.
Ingredients
1 lb Baby Bellas or White stuffers, de-stemmed
1 lb hot Italian sausage
1 cup diced peppers
1 cup diced yellow onion
2 tbsps finely chopped fresh sage leaves
1 tbsp minced fresh rosemary
1 tsp fresh thyme
Salt and pepper, to taste
1/4 cup diced green onion (optional)
This Easter side is easy to pass around— no scooping required. Get the cooking instructions here.
4. Mushroom & Shallot Deviled Eggs
This Mushroom & Shallot Deviled Eggs recipe is the perfect addition to your feast with all those extra eggs you'll likely have laying around from the Easter egg dying.
This recipe takes deviled eggs to the next level with their creamy centers, complemented with baby bella mushrooms and tasty chopped shallots that will keep you wanting more. Did we mention they are keto-friendly?
Ingredients:
6 egg
1/2 tbsp butter (or olive oil)
1/2 large shallot, finely chopped
4 ounces white or baby bella mushrooms, finely chopped (half of an 8-ounce package)
2 tbsp mayo
1 tsp apple cider vinegar
1/8 tsp salt
1/8 tsp pepper
1 tbsp chives, finely chopped
Click here to visit our recipe blog page to get the instructions.
5. The Veggie Rainbow
Easter is one of the more colorful holidays, and while you won't find pastel food on these kebabs, there's still a rainbow of shades! This bright side dish includes red, orange and yellow pepper, purple potatoes and more to draw the eye of your dinner guests. White mushrooms contain the slices of paradise and break up the crunch of veggies. Enjoy the spring breeze as you grill them outside while the kids hunt for eggs.
Ingredients
Medium White mushrooms
Red bell pepper
Orange bell pepper
Yellow bell pepper
Yellow squash
Zucchini
Green bell pepper
Red onion
Purple baby potato, pre-cooked
Make this Veggie Rainbow recipe with the help of our cooking directions. There you'll find the seasonings too!
6. BONUS Recipe: Homemade Mushroom Ham Cheese Pockets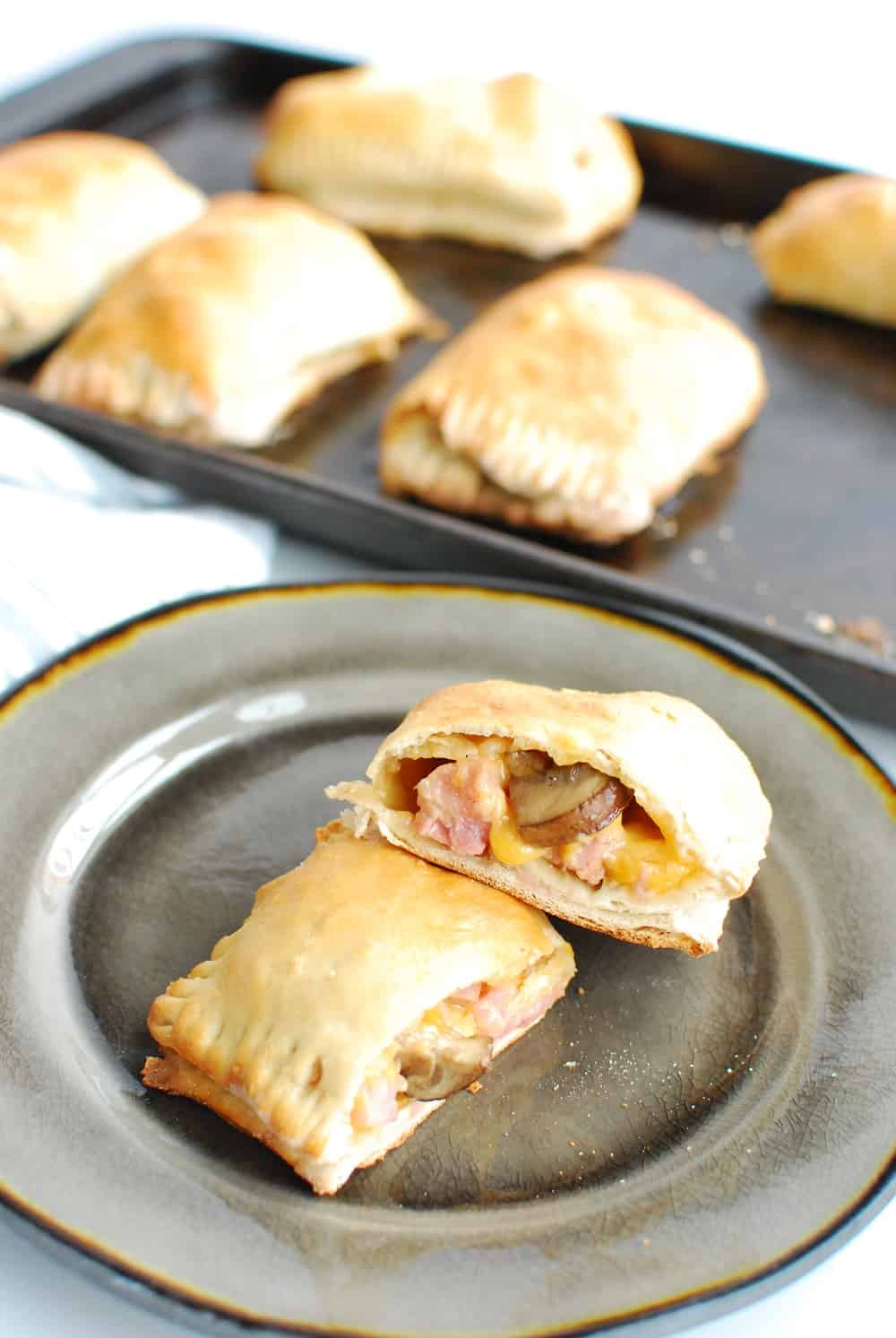 While not really a side dish, these cheese pockets are too good not to share. Many families carve a ham for Easter dinner, but, oftentimes, there's plenty of leftovers to store! Instead of making soup or sandwiches with the extra meat, cut your pig early— and bring some cheesy hot pockets to your feast. These homemade mushroom, ham and cheese-filled squares are golden-brown delights, with very few ingredients. Best of all, they're microwave-friendly for easy prep Easter Day. On the slim chance they don't all get snatched up, freeze any leftover pockets for later.
Thank you to Chrissy from Snacking in Sneakers for this creative addition.
Ingredients
Dough:
2 1/4 tsp active dry yeast
1 tsp sugar
1 cup warm water
2 tbsps olive oil
1 tsp salt
2 1/3 cup flour
Filling:
1/2 tbsp butter
1 1/4 cup mushrooms, chopped
1 1/4 cup ham, chopped
1 1/4 cup cheddar cheese, shredded
Egg wash:
1 egg
1 tbsp milk
Have fun rolling out dough over the aroma of sautéed mushrooms, chopped ham and shredded cheddar. Get the cooking instructions here!
Can't Get Enough of These Mushroom-Inspired Sides?
These mouthwatering Easter sides are sure to be the talk of the town this holiday. Impressed by these creative mushroom recipes?
Download our free More Flavor, Less Guilt Cookbook to get more. This cookbook features a ton of mushroom dishes worth bragging about.