Autumn is one of the best times of the year to indulge in warm, seasonal favorites. That's why we compiled some of our most tempting fall recipes featuring robust mushrooms.
Here are five autumn-inspired recipes to embrace the season ahead:
1. Mushroom, Apple & Walnut Stuffed Acorn Squash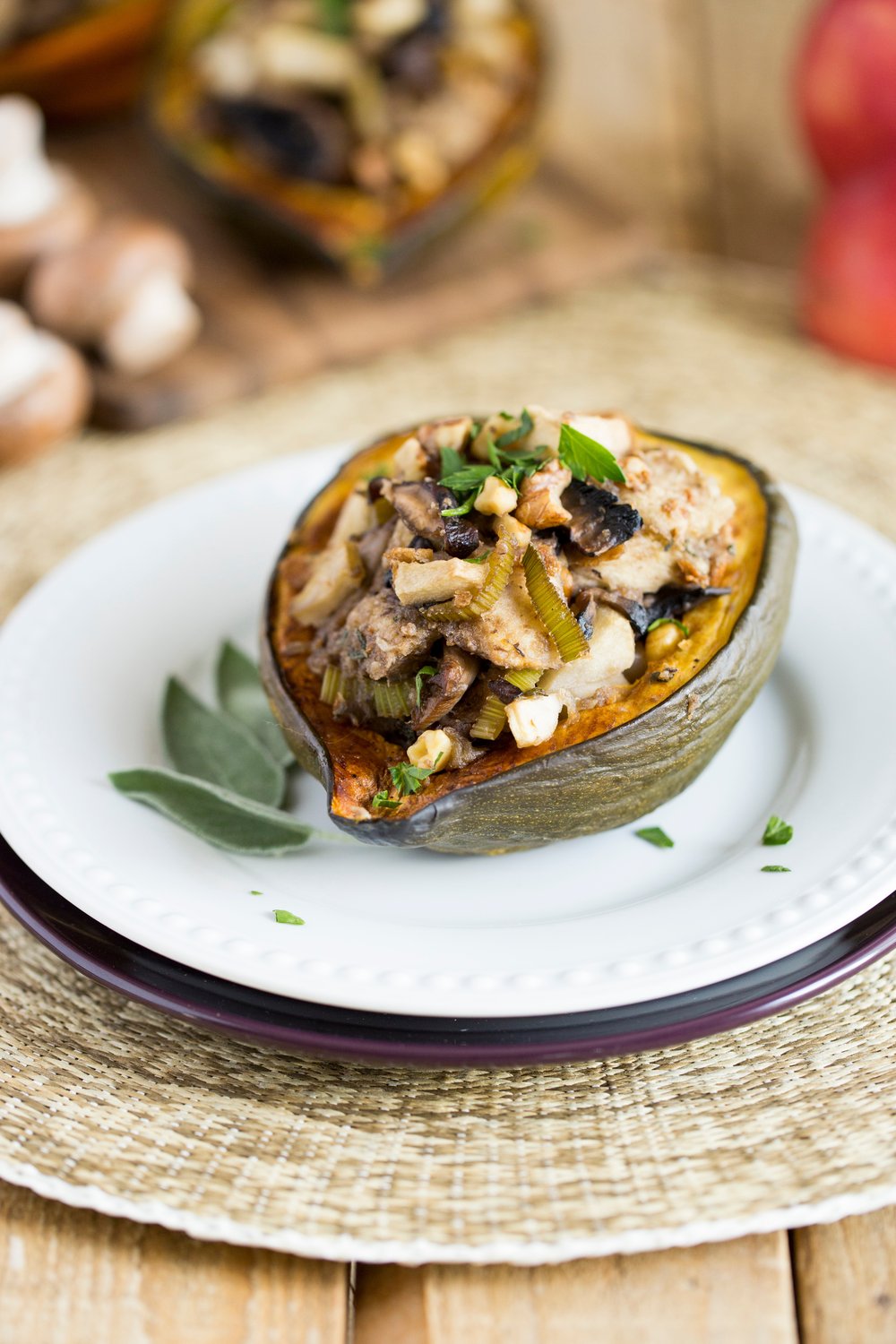 When you think fall food, what comes to mind? Guarantee squash and apples make the list! Find a plump acorn squash at your local farmer's market and make a day out of picking apples with the family. This recipe includes your favorite savory mushrooms and crunchy celery— sautéed with creamy butter, earthy sage and vegetable stock. Pour it over some soft sourdough with some chopped walnuts and bake that beautiful stuffed squash until it's golden brown. This fall recipe is a festive choice to serve up with roasted chicken or glazed ham on a breezy autumn night.
Ingredients
4 small-medium sized acorn squash, seeded, cut in half lengthwise
Salt and pepper
2 tbsp olive oil
8 oz fresh mixed mushrooms (Portabella, Shiitake, Oyster), coarsely chopped
2 celery stalks, thinly diced
2 apples (Idared, Golden Delicious, Honeycrisp, or Empire), peeled and finely diced
3 tbsps butter
1 tbsp fresh sage leaves, finely chopped
1 cup vegetable stock
½ cup walnuts, roughly chopped
1 small loaf of day-old sourdough or French bread, cut into ¼ inch cubes (approximately 5 cups)
The umami in the mushrooms and the tartness of your baked apples gives this squash a blend of incredible flavor. Get the full recipe here.
2. Blended Turkey & Mushroom BBQ Stuffed Sweet Potatoes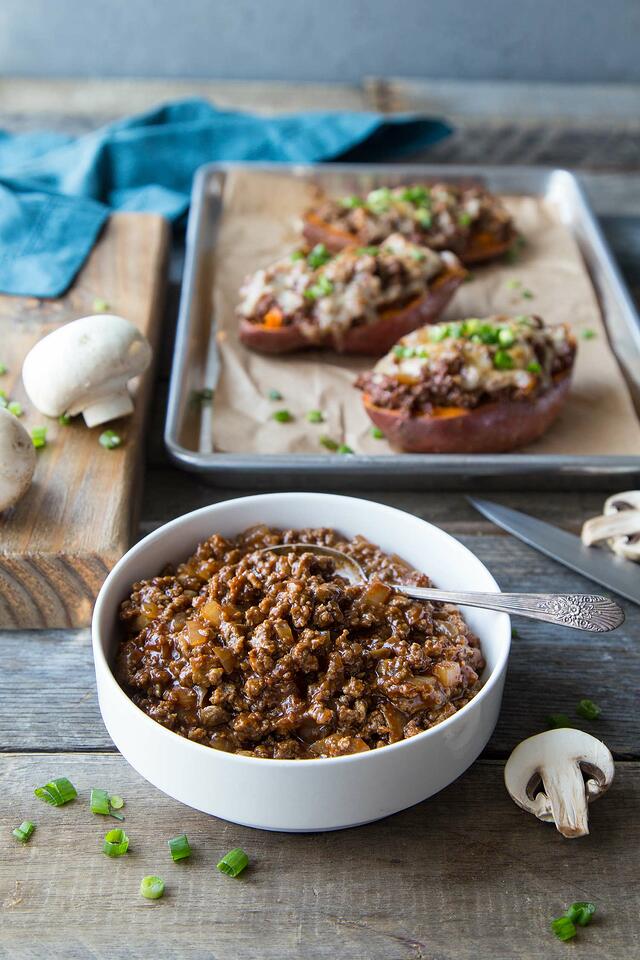 Another fall staple is sweet potatoes. Instead of baking them in the oven with some butter, get creative. The chefs at The Mushroom Council got crafty, using ground turkey and White mushrooms to add a savory, texture-rich twist to the traditional tater. But then they got really wild: tossing in BBQ sauce! Trust us, when paired with shredded Monterey Jack cheese and a little onion, it's one scrumptious combo. This recipe makes enough to stuff four hearty sweet potatoes. Serve these exciting talking pieces to your favorite dinner guests at your autumn soiree.
Do you love potatoes? (Honestly, who doesn't?). Check out these other tater and mushroom combos straight from our recipe blog.
Ingredients
4 large sweet potatoes (about 1 lb each)
16 oz White mushrooms
1 lb lean ground turkey
1 small yellow onion, diced
2 cups prepared barbecue sauce
2 cups shredded Monterey Jack cheese
4 green onions, white and green portion sliced
Blending with mushrooms with meat is a great way to reduce your caloric and fat intake. It's not hard to do either! Get the full cooking instructions here.
3. One Pot Chicken & Mushroom Pot Pie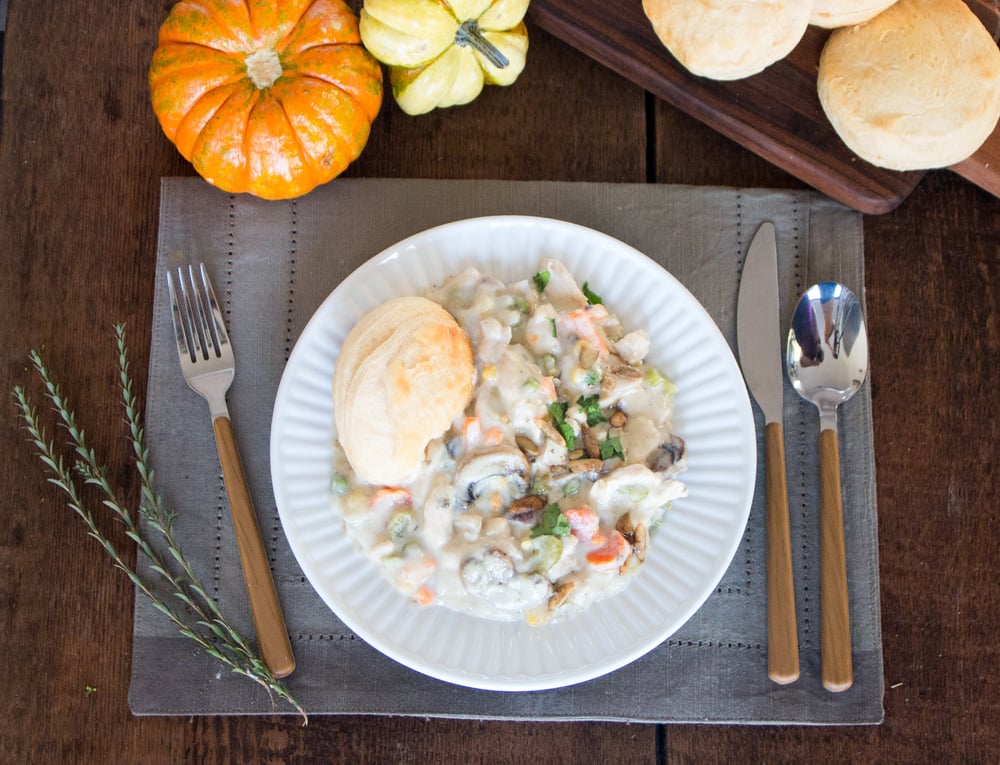 Chicken pot pie is a beloved comfort food, but can become quite the undertaking— with a lot of time and commitment for the cook. Not with this pot pie. This simple recipe uses easy-to-prepare ingredients and requires little-to-no cleanup. But don't think you're sacrificing taste for convenience. With grilled chicken breast, creamy mushrooms and vegetables in every bite, this pie is a sure crowd-pleaser.
If you love all things pot pie, check out these three Shepherd's pie-inspired recipes using mushrooms.
Ingredients
1 pound boneless, skinless chicken breasts
1 small onion, diced
3½ celery stalks, diced
2 (10.5-oz) cans Campbell's® Healthy Request condensed cream of chicken soup
2 (10.5-oz) cans of Campbells™ Cream of Mushroom soup
1.5 cup milk
1 tsp minced garlic
1 tsp dried thyme
1 tsp salt
½ teaspoon black pepper
1 (16-oz) bag frozen mixed vegetables, thawed
2 tbsp chopped fresh parsley
1 cup fresh mushrooms
1 (12-oz) can Pillsbury Grands!® Jr. Golden Layers Flaky Biscuits
Serve this warm fall recipe up fresh for the best experience. Print the recipe on our blog.
4. Butternut Squash & Mushroom Soup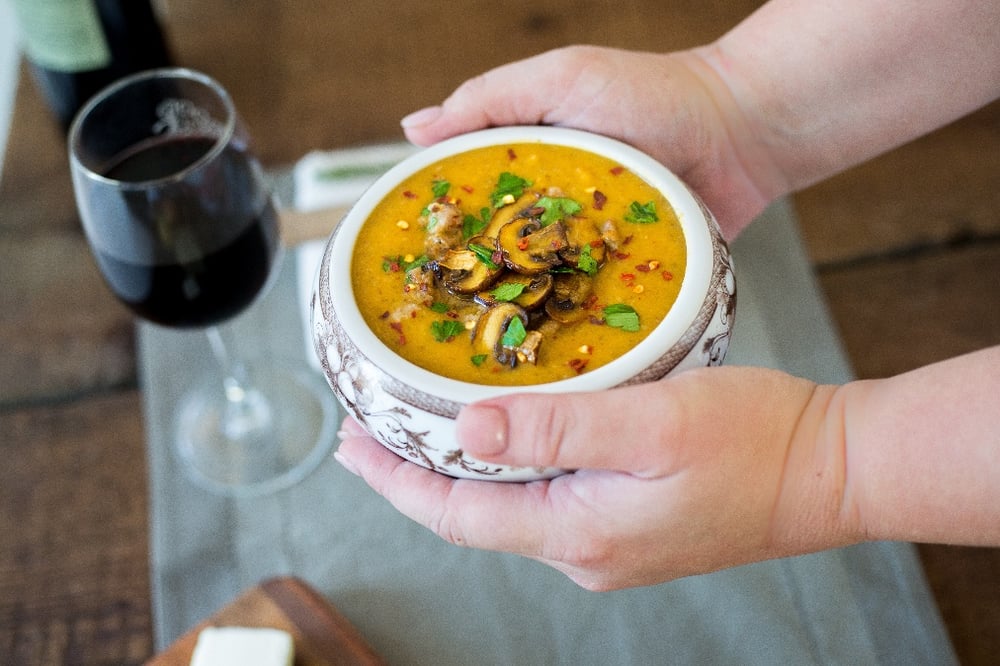 Mmm, what's fall without a creamy, delicious soup? Not only does this autumn recipe include the sweet butterscotch-reminiscent flavor of the butternut squash, but it also boasts a forward hit of fresh Italian sausage. Let's not forget the White mushrooms, which add a gentle saltiness without the added sodium. Complemented with a bite of onion and garlic, as well as the aroma of rosemary and parsley, you'll be sure to impress guests with these smooth and savory bowls. Serve as a hearty main course or a delightful prelude to any feast.
Warm up this fall with these five other tasty mushroom soups.
Ingredients
1 cup yellow onion, 1/4-inch dice
1 tbsp olive oil
4 cups butternut squash, 1-inch cubes
2 sprigs rosemary
1/2 tsp kosher salt
Black pepper freshly ground, as needed for seasoning
3 cups unsalted chicken stock or broth
8 oz White mushrooms, 1/4-inch slices
4 cloves garlic, peeled and minced
1/2 pound fresh Italian sausage removed from casing, about 2 sausages
1 tbsp chives, sliced for garnish (optional)
1 tbsp fresh parsley, chopped for garnish (optional)
The team at Monterey Mushroom's simply can't get enough of this soup— and we hope you fall in love with it as well. Find out how long to simmer on our blog.
5. Chef Toni's Mushroom Chili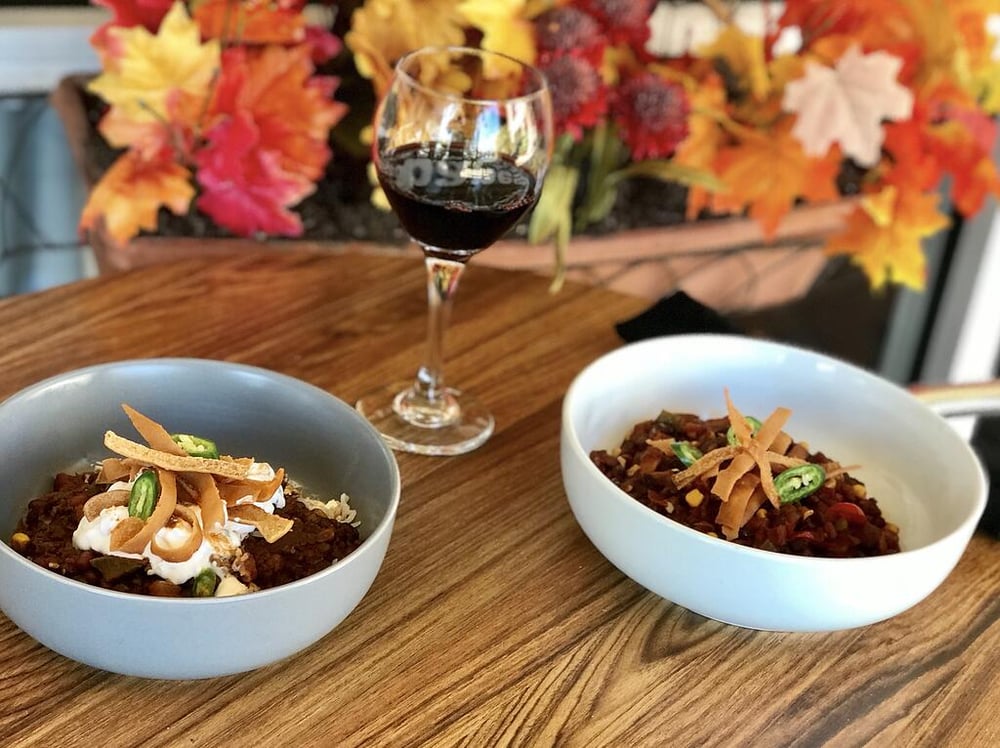 This Mediterranean and Lebanese-inspired creation is chili at its finest. Fresh produce, robust Aleppo pepper and your favorite red wine give it a strong base that'll have you scooping the pot for more. Don't be intimidated by the number of ingredients in this chili recipe. While the list looks lengthy, it includes a lot of common spices or items in a typical kitchen. Notice that there's no meat in this chili! That's because the beans, diced veggies and savory mushrooms give this meatless recipe the same flavor profiles as most meats.
Thank you to Chef Toni for sharing this fantastic recipe.

Ingredients
2 lbs mushrooms, rough chopped
2 red peppers, diced
1 green pepper, diced
1 hot pepper of choice, diced
2 large onion, diced
7-8 garlic cloves, minced
1/2 cup of corn
1/2 cup of beans
2 diced tomatoes with liquid reserved
2 tbsp chili powder
1 tsp cinnamon
1 tbsp paprika
1 tbsp Aleppo pepper (or chili flakes)
1/2 cup red wine
1/4 cup water
1 can tomato paste
Salt and pepper to taste
Chef Toni Elkhouri co-owns a restaurant with her mom, Marlene Elkhouri, in Melbourne, Florida. Give their recipe a try on our blog.
Keep the Delicious Recipes Coming!
Really into all things fall? Make one of these eight Halloween-inspired recipes too.
Then, download our More Flavor, Less Guilt ebook to enjoy 15 flavorful, healthy mushroom recipes.