Whether you're the head chef at a respected restaurant or you manage a large-scale institutional kitchen, we know you're always looking for cost and time-effective ways to jazz up your menu.
But let's be frank: foodservice professionals like you know this is easier said than done. Some menus are long-standing and hard to change— plus you don't always have the luxury of making meticulous, fresh platters when speed, profits and bulk production take priority.
But we're here to let you in on a secret… Many chefs are using a special classification of food to spice up their menus with little effort: fresh fungi!
In this post, we broke your menu down into its main categories and picked our favorite mushrooms for each. We even tossed in a few of our favorite recipes for inspiration. Happy cooking!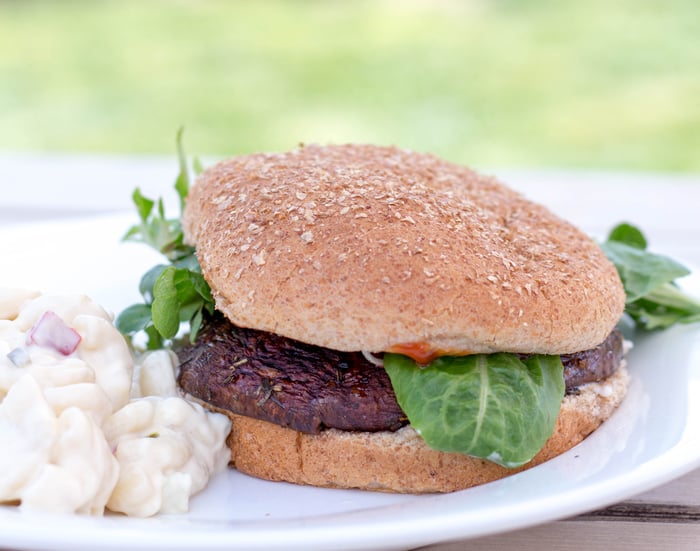 Portabella Mushrooms for Vegetarian Dishes / Meat Substitutes
One reason diners love Portabella mushrooms is that they are a nutritious, flavorful vegetarian/vegan choice on the menu. Portabella caps mimic the thickness and robust flavor of many popular meats. Their taste is more distinct and savory than White mushrooms, and they are much larger, similar to a slab of meat. For these reasons, these large mushroom caps are used for vegetarian or vegan "burgers," like in our Port Burger recipe, where they're grilled and served in between a bun like a meat patty.
They're also a bold stand-alone mushroom, prepared solo as veggie-friendly "steaks" and paired with a starch and vegetable, like this Portabella Steak recipe. These could be served in lieu of not only beef, but also pork chops or other solid chunks of meat like chicken breast.
Ports are also easily sliced to imitate Steak Sandwiches or stuffed with delicious vegetarian or vegan blends of rice, cheese, beans, or more. Really, as far as mushrooms go, you can't go wrong when stocking up on the crowd-pleasing Portabella!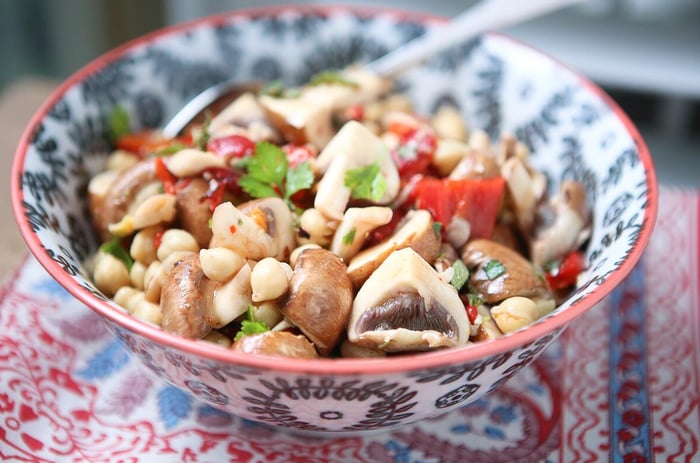 Baby Bella Mushrooms for Side Dishes
Never underestimate the power of a delicious side. The popular Baby Bella is a safe mushroom to add to most, since it's so versatile. Similar in taste to its mature form, the Portabella, Baby Bellas are slightly less robust. Their smaller size makes them easy to chop into both large or small dice. Best of all, they taste great both raw and cold or cooked and warm!
This Maple Balsamic glaze for cooked Bellas is a savory, yet creamy way to dress up your mushrooms as their own side. We also have a cold Chickpea Salad or our famous Blended Green Bean Casserole for reference. Really, you can't go wrong sneaking a few Bellas into most meals!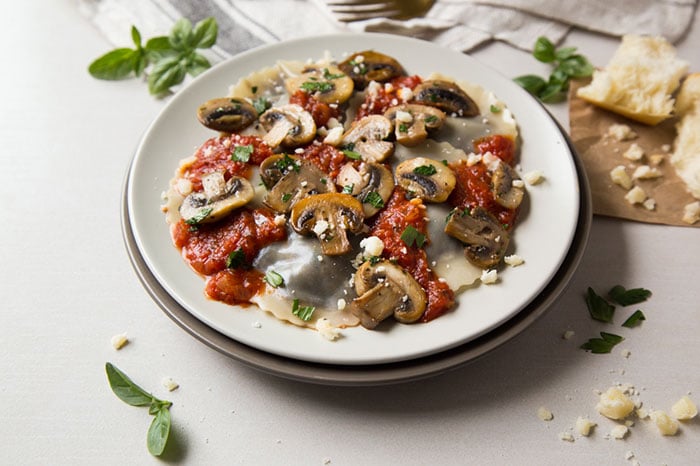 White Mushrooms for Pasta Dishes
There are so many inventive ways to spice up pasta plates, but one of our favorite pairings are noodles and White mushrooms. Because Whites are one of the most mild flavors of mushrooms in the edible fungi kingdom, they can easily integrate into almost any dish, adding an instant pop of nutrients.
Just incorporate a few sliced White mushrooms into your menu's current pasta choices, or try some of our special recipes. One of our most popular is a "Zoodles" recipe from The Mushroom Council, a veggie-friendly dish that uses zucchini noodles instead of pasta as a healthy, creative option. You also can't go wrong checking out our homemade Mushroom Ravioli for ideas. These wonton wraps promise surprisingly easy assembly.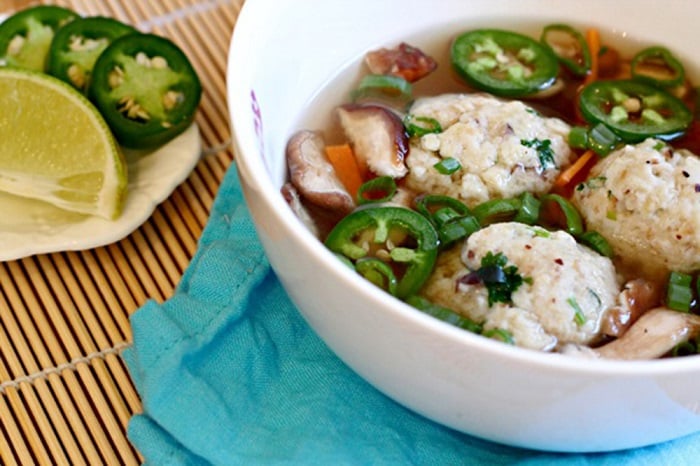 Shiitake Mushrooms for Soups / Broths
Just like Morel mushrooms are often easier and less expensive to dehydrate, you may choose to do the same with Shiitake mushrooms. These cousins of the Baby Bella have a softer, more delicate taste profile. Their more "fleshy" texture comes back to life when rehydrated in soups, adding a smokey, woody flavor to your broth, and making them a quick addition to most soups.
These wild mushrooms can also be purchased fresh and put in the freezer— easily pulled out when ready to toss into your broth. In fact, here are a few tips from our fungi experts on cooking with frozen mushrooms to bring the richness of Shiitakes into your favorite soups. Or, add a brand new item to the menu and give our Asian Matzo Ball Soup recipe a go!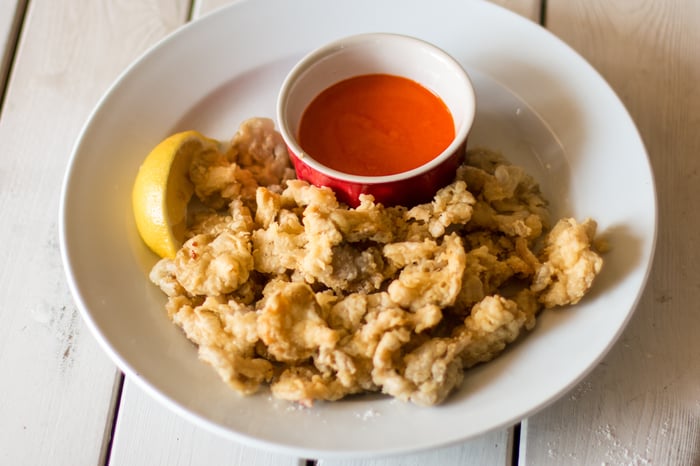 Oyster Mushrooms for Seafood Dishes
Oyster mushrooms are a best-kept secret for their excellent texture and flavor in seafood dishes. These wild mushrooms have a woody flavor and a unique texture in the fungi kingdom that reminds many of the mouthfeel of seafood flavors like shrimp or crab.
Serve Oyster mushrooms in lieu of calamari on your menu by battering and frying them, with the help of this Oyster Calamari recipe. Or toss a few into a Stir Fry with or instead of shrimp for an inventive twist. Oyster mushrooms are also wonderful in creamy pasta dishes like Alfredo. Think of any dish that would have a fork or spoonfuls of fish (like soups or tacos) where you could easily toss some grilled Oysters into the mix.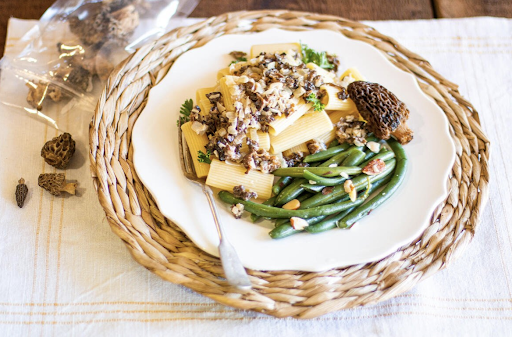 Morel Mushrooms for Sauces
You know how costly specialty mushrooms can be. Not to mention, in food service, it can be hard to keep these delicacies fresh or to make them last. To solve this problem, many wild mushrooms can be purchased in dried/dehydrated form (or you could dehydrate fresh mushrooms yourself!). When used in sauces, these dehydrated mushrooms become "rehydrated," passing on the taste and texture of their near original freshness. Bingo!
Morel mushrooms in particular are a beautiful choice for sauces— adding a nutty, meaty note to pasta, poultry or seafood platters. In this Morel Sauce recipe, for instance, you can imagine how buttery a white wine-based, cream sauce would taste with the natural umami taste of a wild mushroom.
More Foodservice Menu Ideas
Looking for other ways to improve your menu with tasty, cost-effective, healthy options? Mushrooms are an incredible food to slip into many popular dishes, adding fresh flavor and nutrients with little extra work.
Download our More Flavor, Less Guilt Cookbook for a few more mushroom recipes ideas for customers.