One of the best parts of the holiday is gathering around the table to indulge in delicious food. But long after the full tummies, you're left with container upon container of leftovers in the fridge.
You don't want to waste the leftovers, but you can only eat the same thing so many times in a row. That's why we've compiled a few recipes for reinventing your leftovers with your favorite fabulous fungi!
Fresh mushrooms are the perfect ingredient for holiday leftover recipes. They can be incorporated into so many meals, and their incredible umami taste complements most ingredients, including leftover ham, beef, turkey, or chicken. When you're reinventing leftovers, mushrooms also add much-needed moisture.
In addition to turning your boring leftovers into delicious meals but mushrooms also add a nutritional punch. They are full of vitamins, minerals, and fibers. For example, five White mushroom caps have nearly as much potassium as a banana. Or, when you opt for Monterey Mushrooms® High Vitamin D sliced Whites, sliced Baby Bellas, or whole Portabella caps, you have an excellent source of Vitamin D with 50% of the FDA's daily value per serving!
Check out these delicious Thanksgiving leftover recipes, leftover holiday ham recipes, and turkey leftover recipes for delicious meals even after your guests have departed. And while you are thinking amazing appetizers and cocktails featuring mushrooms, check out our Ultimate New Year's Eve spread recipes!
1. Leftover Mashed Potatoes? Make Blended Shepherd's Pie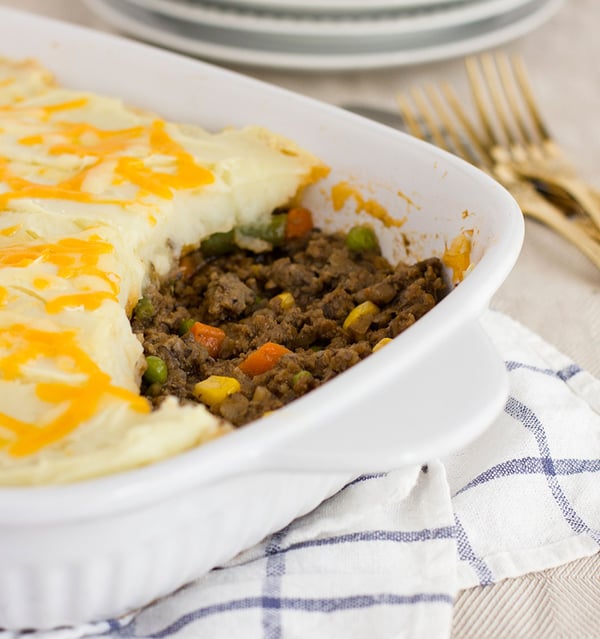 It's easy to make too many mashed potatoes during the holidays. While this delicious starch goes great with meat and veggies, it's super filling— and a little can go a long way on a dinner plate. There is no need to waste any mashed potatoes with this recipe.
Take your leftover tatters and whip up a blended Shepherd's pie.
Savory beef is a great match with this recipe's bite of Worcestershire sauce and garlic, and the creamy potatoes come to life with a bit of cheddar. There are even a few vegetables in there if you are already planning your New Year's resolution to eat healthier.
The ingredients below include a frozen vegetable mix, and you can either add in or substitute your own favorite vegetables. Of course, our favorite Shepherd's Pie add-in is mushrooms and we recommend White or Baby Bella mushrooms.
Ingredients
2 cups leftover mashed potatoes
1/2 lb. Monterey® White or Baby Bella mushrooms, finely chopped*
1 lb. lean ground beef
1 small onion, chopped
1 tsp garlic & herb seasoning
2 tbsps flour
1/2 cup beef broth
2 cups frozen mixed vegetables (carrots, corn, green beans, peas), thawed
1 tsp Worcestershire sauce
2 tbsps tomato paste
1/4 teaspoon salt
1/2 cup shredded cheddar cheese (optional)
*If you prefer, use Monterey Mushrooms® High Vitamin D sliced White or Baby Bella mushrooms. Find out where you can buy your Vitamin D mushrooms here.
Get the baking temperature and time here.
Love Shepherd's pie? Here are three more variations of our favorite pies using mushrooms.
2. Leftover Ham? Make Homemade Mushroom Ham Cheese Pockets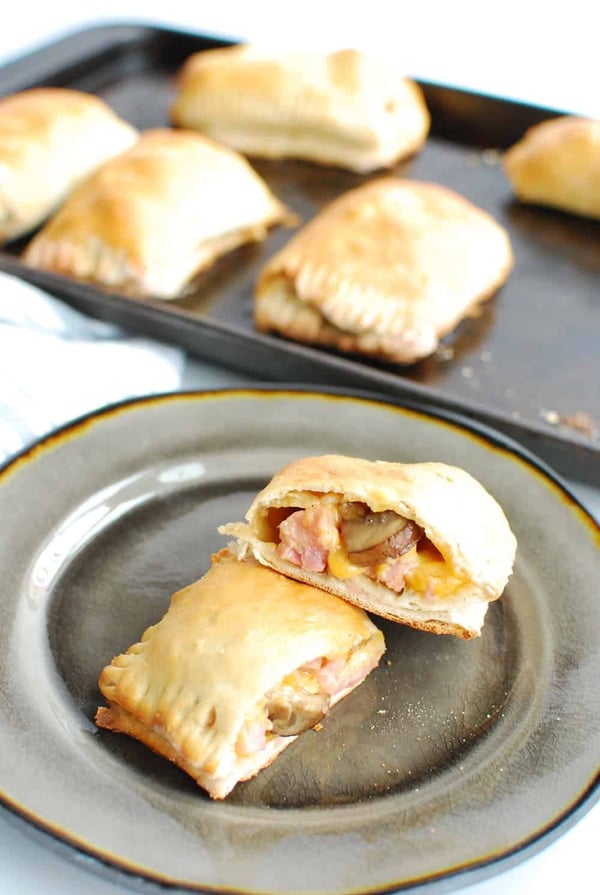 It is common around this time of year to hear people wondering what to do with leftover holiday ham. You can't go wrong with a juicy ham around the holiday, but you most likely will end up with plenty of leftover meat. You could add it to more traditional leftover holiday ham recipes like delicious soup or classic sandwiches, but why not get creative?
One of the things we love most about mushrooms is how they can easily take a simple ingredient like ham and completely transform it into something unique. Instead of the boring and tasteless frozen versions you can buy, homemade ham and cheese pockets are an out-of-the-world flavor explosion when you include the humble and heavenly mushroom.
So, grab your rolling pin and smooth out some freshly kneaded dough. Then stuff square cut-outs with your leftover ham, savory mushrooms, and soon-to-be-drippy cheese. These hot pockets are easy to grab on the go and are freezer-friendly to enjoy later.
Chrissy from Snacking in Sneakers created this fabulous concoction for us. We hope you love them as much as we do.
Dough:
2-1/4 tsp active dry yeast
1 tsp sugar
1 cup warm water
2 tbsps olive oil
1 tsp salt
2-1/3 cup flour
Filling:
1/2 tbsp butter
1-1/4 cups Monterey® White mushrooms, chopped*
1-1/4 cups ham, chopped
1-1/4 cups cheddar cheese, shredded
*Monterey Mushrooms® High Vitamin D Sliced White Mushrooms are a great substitution. Find out where to buy them here.
Egg Wash:
Spoil your friends and family with cheesy hot pockets the day after your feast. Pin the full recipe here.
3. Leftover Chicken or Turkey? Make Easy Mushroom Soup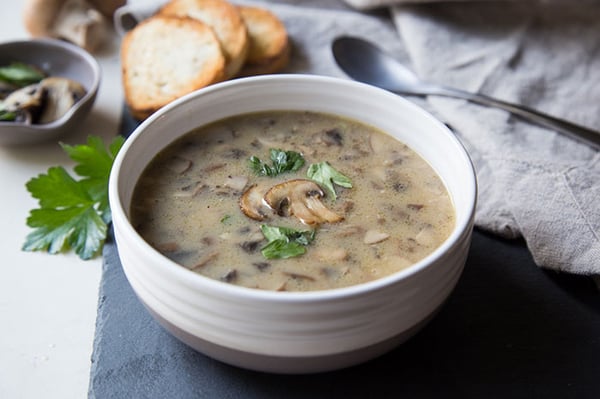 We named this "Easy Mushroom Soup" for a reason: this recipe only takes 10 minutes to prepare— making it the perfect reuse of your extra chicken after the big holiday feast without a lot of time or effort.
Our original Mushroom Soup recipe didn't include meat, but we think a creamy chicken soup combined with the rich flavor of White and Baby Bella mushrooms is the perfect holiday leftover recipe. And, as mushrooms are becoming widely recognized as part of a healthy, balanced diet, this recipe transforms the flavor and nutritional value of a traditional chicken soup.
Best of all, many of the ingredients items you already have in the pantry, so you won't even have to hit the grocery store!
Ingredients
3 tbsps unsalted butter
2 garlic cloves, minced
1 shallot, finely chopped
4 oz Monterey® Baby Bella mushrooms, chopped*
4 oz Monterey® White mushrooms, chopped*
2 tbsp all-purpose flour
3 cups chicken or turkey stock
1 lb. chicken or turkey, pre-cooked and chopped or shredded**
¼ tsp fine sea salt, or to taste
¼ tsp ground black pepper, or to taste
Sliced sautéed mushrooms for garnish, optional
Chopped parsley for garnish, optional
1 cup milk, cream, or another dairy, optional
**Monterey Mushrooms® High Vitamin D Sliced White Mushrooms are an excellent source of Vitamin D; you can find out where to buy them here.
**The original recipe for our Easy Mushroom Soup doesn't include meat, but we recommend adding the chicken (or even turkey or ham) after adding the stock.
Stick your pot on the oven and fill your kitchen with the aroma of mushrooms and chicken in a creamy base. Save this holiday leftover recipe here.
BONUS RECIPE: If you make this soup, we have a leftover recipe for your leftover recipe! Add this soup to some fluffy puffed rolls by making our Creamy Mushroom Puffed Shells.
4. Leftover Broth? Make Mushroom Gravy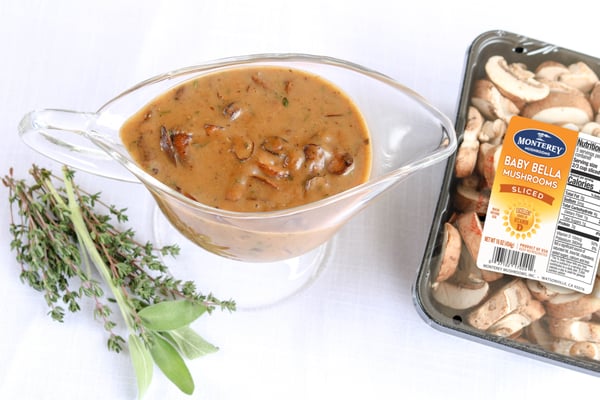 You may already have turkey leftover recipes, but do you know what to do with leftover broth?
You probably had gravy with your holiday feasts, but gravy tastes amazing year-round. This recipe will let you use any leftover broth to make gravy to freeze for later. Whether it's from a roasted chicken or a plump turkey, there's nothing like juices straight from the oven.
This gravy recipe uses salty and savory Baby Bellas to give your broth a richer taste. Plus, the coconut aminos and fresh herbs give it a sweet and earthy touch. Freeze in ice cube trays for small portions, or in a large tub to use all at once.
We love that this recipe calls for Baby Bella Mushrooms. Not only do they last longer than White Mushrooms, but they add great flavor and nutritional value.
Ingredients
1 tbsp butter*
2 tsp minced garlic
16 oz Monterey® Baby Bella mushrooms, sliced**
4 tbsp butter*
4 tbsp gluten-free flour (1:1 all-purpose flour)
2 cups broth, from chicken or turkey
2 tsp coconut aminos
2 tsp fresh thyme
2 tsp fresh sage
1/2 tsp salt
1/2 tsp pepper
3-4 tbsps of water, for desired consistency (more if you like a thinner gravy)
*Substitute ghee for lactose-free gravy
*Monterey Mushrooms® High Vitamin D Sliced Baby Bella Mushrooms are a great substitution. Find out where to buy them here.
Did you know this recipe is gluten-free? Pin the directions here.
Looking for More Holiday Recipes?
Tired of serving the same old green bean casserole and yams every holiday? Download our Holiday Recipes with Mushrooms Cookbook. This handy digital cookbook includes a variety of appetizers, sides, main dishes, and even fancy cocktails. That's right, mushroom cocktails! Be sure to check it out.
Related Recipes
Are you looking for more helpful recipes for the holiday season? We've got you covered from delicious recipes for chilly nights in or health-conscious recipes to help you get prepared for your New Year's diet: